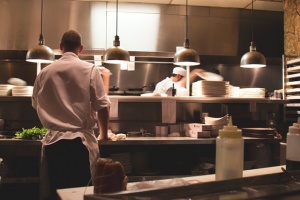 Denver, CO – Fire is always a threat to commercial kitchens. In fact, a single fire outbreak can cost thousands of dollars in damages, not to mention lead to injury and loss of life. As a restaurant manager, owner, or operator, you should know how to prevent fires from occurring in your restaurant or foodservice business.What many don't realize is that fires can spark from several sources, so it is best to be aware of all the worst-case-scenarios to keep the risk of fire to a minimum to keep your employees and kitchen safe at all times.
Fire Prevention Tips
Install a Fire Suppression System: You should always be prepared for a fire breakout. Having a fire-suppression system installed in your kitchen is your first line of defense. There are many systems to choose from, but a professional installer will be able to tell you which system will be best for your kitchen size and level of activity. Remember to have your fire suppression system inspected at least twice yearly to keep response times at optimum levels.Portable Fire Extinguishers: You should have a few hand-held fire extinguishers easily accessible from several strategic access points around your kitchen, as well as in the dining area. Be mindful that there are various classes of fire extinguisher, one for each type of fire. ABC fire extinguishers are used for fires involving wood, paper, textiles, and plastic. Class K extinguishers are intended for grease fires only.Routine Maintenance: Frequent cleaning and service of your exhaust system and electrical equipment will keep any negative surprises from popping up unexpectedly. Without this, your equipment can become dirty or even malfunction, which happens to be two of the most common reasons for kitchen fires. A certified commercial kitchen cleaning company can help.Regular Testing of Alarms and Sprinklers: A professional should inspect your sprinkler and alarm system at least twice yearly to ensure everything is in fine working order. And, just in case, make sure you have backup batteries for your smoke detectors and change them regularly.Don't Put Off Repairs: If a piece of equipment breaks or malfunctions, or there are other changes to your fire prevention system, call a professional to fix any issues immediately.Conduct Regular Fire Safety Checks: Management and the owners should make frequent passes through the kitchen and dining room areas to maintain adequate fire safety. Paper and cardboard should be kept away from heat-making equipment, and flame-retardant material should replace as many cloth items as possible.
How to Prevent Grease Fires
Change Grease Filters Often: The National Fire Protection Association (NFPA) states that grease filters must be constructed of steel or another material approved by the NFPA. To be acceptable, the alternate material must not bend or crush under normal operation and cleaning procedures. The material also cannot be made of mesh. When installing filters, they should be arranged at an angle not less than 45 degrees so that the exhaust air passes through the filter material. The filters you use should be easily accessible and removable for cleaning purposes.Clean Grease Thoroughly: Any grease left behind on ducts, walls or other surfaces is a potential fire hazard. Make sure staff cleans grease from all equipment, walls, floors, and anywhere else that isn't a designated grease container. Grease traps should also be cleaned regularly to prevent an overflow or potential fire.Inspect and Clean Your Exhaust System: An exhaust system that hasn't been cleaned in some time can lose its efficiency. The clean air you come to expect in your kitchen could become contaminated, creating greater danger to your staff. A regular cleaning schedule will keep fans and the rest of your HVAC system operating at optimum levels, maintaining a kitchen environment free of debris, smoke, and of course grease.
Preventing Chemical and Electrical Fires
Regular Maintenance of Electrical Equipment: When checking the electrical equipment around your kitchen, look for frayed cords or wires, as well as cracked or broken switch plates. Some of these may be difficult to spot with an untrained eye, so it pays to have a professional conduct a thorough secondary check. Even if your electrical equipment is working properly, take care that combustible materials are kept away from all power sources.Store Flammable Liquids Properly: Flammable liquids should be kept in their proper containers in a well-ventilated space. The space you choose should be far away from stoves or other heat producing equipment.Safely Store and Use Chemical Solutions: Never mix chemicals unless the directions say so, and make sure the directions come from a reputable source. All spills should be cleaned immediately, and a clean-up space should be provided for employees in case of skin exposure.
How Your Staff Can Prevent Fires
Have an Emergency Plan: Train your employees to head for the nearest exits in case a fire does break out. Regular fire drills never hurt, and at least one employee should be designated to call 911 and lead the evacuation protocol.Teach Employees How to React to Fires: All staff should be trained to use a fire extinguisher. Teaching employees the PAST acronym – 1. Pull the pin 2. Aim at the base of the fire 3. Make a sweeping motion 4. Ten feet from the fire. – will prevent them from panicking when it comes time to fight a fire. All employees should know where the fire extinguishers are located in the kitchen and dining areas, and all emergency exits should be clearly marked for safe evacuation.No Smoking! All commercial kitchens produce some sort of smoke, but cigarette smoke is never acceptable. Even if your employees smoke outside, ensure the cigarette butts are disposed of well away from grease or storage areas.These fire prevention guidelines can help to protect commercial equipment, staff, and patrons from the risk of fire. To learn more about commercial kitchen fire prevention and the cleaning of all hoods, vents, fans, and exhaust systems, call (800) 750-7313 or email Apps-Hoods today.About Apps-Hoods: For over 20 years, Aps-Hoods has been providing commercial kitchens and food service businesses with fire prevention installation and cleaning. Based in Denver, Colorado, the dependable employees at Aps-Hoods are prepared to service clients across the state, as well as in Cheyenne, Wyoming, and Los Angeles, California. © 2017 Millionairium and Farazandeh.  Authorization to post is granted, with the stipulation that Millionairium and Farazandeh are credited as sole source. Linking to other sites from this document is strictly prohibited, with the exception of herein imbedded links