Commercial Kitchen Equipment Installation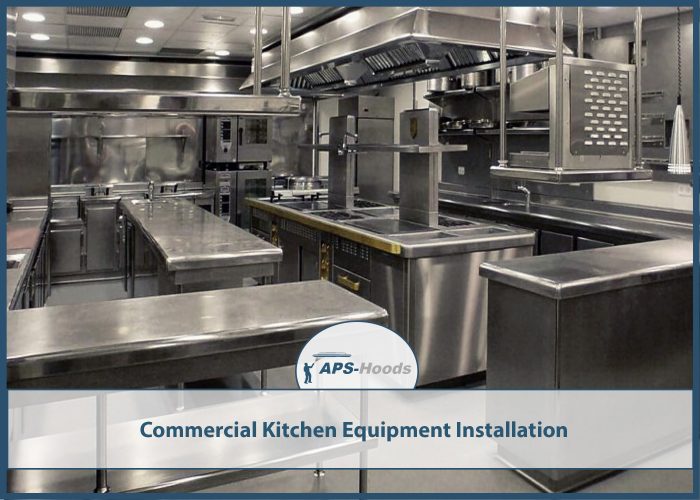 The installation of commercial kitchen equipment is not easy to accomplish. You cannot just buy an equipment or machine and plug it in. When it comes to setting up a kitchen, you will need to do a great deal of planning so that all the specific requirements are met in a proper manner and there are no space issues. Plus, you also need to adhere to the local safety standards in order to keep your workers as well as the property protected and clean at all times. Manufacturers of commercial kitchen equipment remain focused on the use of advanced technology, so that the specific needs of every restaurant or commercial kitchen are fulfilled.
That is why you should always rely on a restaurant equipment company that specializes in the professional installation of kitchen hood, HVAC, range hood, exhaust hood and other essential equipment. If you are in Denver, CO, you should head straight to APS Hoods for kitchen equipment installation.
Essential Pieces of Commercial Kitchen Equipment
Based on your specific needs, you may either want to redesign your kitchen set up or start a new restaurant kitchen altogether. Whichever is the case, you will first need to have a list of what specific equipment you are going to need and plan their installation ahead of time.
Cooking Equipment:
No matter what the size of your kitchen, you will certainly need an entire range of cooking equipment to fulfill the day-to-day cooking needs of your commercial restaurant. Key equipment for cooking includes ovens, stoves, grills, ranges, deep fryers etc.
The ovens you buy are much more powerful than traditional ovens. Whether it is baking, cooking vegetables, roasting, broiling or drying, these ovens are an essential equipment that need to be installed in a large, commercial kitchen. Likewise, every cooking machine and component needs to be installed in a proper manner, so as to make the functioning of the kitchen smooth. Working with experts will ensure that you have a well structured and fully functional restaurant kitchen, which caters to the guests and visitors without any kind of hassle.
Refrigerated Equipment:
When running a commercial kitchen, you will need to store a wide range of foods. Using the right type of refrigerated machines and freezers allows workers to properly and safely store food items as well as prevent food spillage in the kitchen. Commercial refrigeration systems are specially designed to meet the specific requirements of large kitchens.
Main refrigerated equipment in a restaurant kitchen include upright freezers, under counter freezers, ice machines, walk-in freezers, walk-in coolers, refrigerated displays, reach-in refrigerators and freezers. These are the same type of equipment you might have seen in supermarkets and specialty food stores. When buying and installing all these kitchen equipment, you will need the help of an expert. Every piece of refrigerated equipment should be installed in a proper manner so that there are no functioning or space issues in the kitchen.
Commercial Hood:
Installation of hoods is an essential part of the overall set up of a commercial kitchen. Also referred to as range hood or exhaust hood, it is a device of utmost importance. The commercial hood hangs right above the stove or cooking station in a large kitchen.
The purpose of range hood installation is to keep the kitchen area free from smoke, heat and greasy air. When you operate a commercial restaurant, it is your duty to take steps for the safety of your workers and guests. This is exactly where the exhaust hood plays a crucial role by removing the contaminated air from the kitchen and filling it up with fresh air from outside. As a result of this, the kitchen as well as the restaurant area remains safe from the risk of fire.
For more information on the design of commercial hoods and kitchen hood installation, feel free to talk to one of our specialists at APS Hoods. We are one of the most trusted suppliers of commercial kitchen hoods. Plus, we specialize in the installation, repair and maintenance of range hoods.
HVAC System:
The installation of a commercial HVAC system is conducted to perform three crucial functions: heating, ventilation and air-conditioning. Workers inside a large, commercial kitchen need a safe and comfortable environment. Whether it is winter time or the summer season, comfort of restaurant employees always remains an important concern. A high quality and properly installed HVAC system ensures that the indoor air quality of the kitchen is excellent.
There are different types of commercial HVAC systems. Before HVAC installation can begin, you need to get an inspection done by an expert and then have the heating, ventilation and air-conditioning system customized to suit the specific needs of the type of restaurant you operate.
Grease Trap:
When it comes to kitchen equipment installation, you can never ignore the potential of grease traps. Instead of smelling like grease, your restaurant should attract guests with a delicious, mouth-watering aroma. If the grease traps in your kitchen are dirty, they will produce foul odors that will spread in the entire restaurant. That is why you need to install grease traps properly as well as pay serious attention to their cleaning, repair and maintenance.
As you see, the range of equipment installed in a commercial kitchen is huge. You need all the essential equipment, right from cooking and refrigerated equipment to range hoods, hvac system, grease trap installation, hood fan etc. If you plan for an ideal set up and correct installation, you should seek the help of our experts at APS Hoods. Based in Denver, CO, we serve and work with a wide range of commercial kitchens, cafeteria, restaurants, food service centers and cooking facilities and help them remain efficient, functional and protected against hazards.
The Process of Installation Matters!
For top quality installation of all commercial kitchen equipment, professionals follow a well-defined procedure. It is important to make sure every step of the process is followed in a proper and correct manner.
Site Survey:
The process begins with a survey of the restaurant site. The goal of the survey is to identify the exact needs as well as the goals of the restaurant or the commercial kitchen. Without a clear understanding of the goals, it will be difficult for technicians to select the right kind of equipment for installation in the kitchen, cafeteria, food service center or restaurant.
Technicians will collect all the details and key measurements in order to proceed to the next step of the kitchen equipment installation. The survey also enables experts to give you a quote for the installation.
Planning:
The next step involves planning for all equipment installation as per the space available in the kitchen. Based on the measurements, the professionals will plan out the exact type and size of the equipment that should be installed in your commercial kitchen. The planning stage also includes an internal inspection of all the kitchen equipment for quality and standard.
Installation:
Now, the team of specialists will arrive at the site so that the installation of all the equipment and components can be carried out. Technicians will perform their job with a high degree of precision. Once all the cooking, refrigeration, range hoods, grease traps and exhaust fans have been installed, the technicians will review all utility connections. This is to ensure that all the installed components function in a smooth and hassle-free manner.
Warranty:
The process is not over yet. Along with the installation of all the equipment in your restaurant kitchen, the company will also provide you with a warranty on the quality and usage of the products. Professionals cannot disappear right after their job of setting up the kitchen is complete. A warranty means the installation company stands behind all of their products and helps the restaurant owner with an open-door communication for hassle-free operation of the kitchen.
While the installation of the commercial kitchen equipment should be done with the highest level of accuracy, the process needs to be free from headaches. Being the restaurant owner, you should have complete peace of mind feeling confident that the entire process has been carried out in a correct manner while following all the fire safety codes and building codes in the state. APS Hoods has a solid team of highly trained and certified technicians to ensure top quality installation of kitchen equipment, range hood, HVAC, hood fan installation etc.
Why You Should Rely on Experts
The installation of every piece of commercial kitchen equipment is a job that requires a great deal of knowledge and expertise. Whether it is the cooking equipment, freezers, refrigerators, commercial hood or the HVAC system, the installation of each of these should be done in a professional and reliable manner. Only experts will be able to ensure premium quality installations.
Every food preparation facility has its own unique requirements. That is why there is no one-size-fits-all approach when it comes to the installation of various components in a large, commercial restaurant.
Expertly trained professionals will pay adequate attention to understanding the specific needs of a commercial kitchen and then plan out everything in proper detail and carry out the customizations as required. At APS Hoods, we focus on every step of the kitchen equipment installation procedure in a proper manner as well as ensure that the lifespan of all the equipment increases. We assist restaurant owners with everything from equipment design and selection to implementation and installation. All our technicians are factory trained and highly competent for carrying out the job as per your specific needs and expectations.
Need Expert Help with the Installation of Commercial Kitchen Equipment?
Whether you need help with the complete setup of a commercial kitchen or want to replace one or few components in it, you can always count on highly skilled and trained technicians from APS Hoods in Denver, CO. With our professionals by your side, you can feel confident that every piece of the commercial kitchen equipment will be installed in a proper and accurate manner. We specialize in commercial hood installation, HVAC installation, grease trap installation, hood fan installation as well as the maintenance and repair of all these components.
For your free consultation, you can call our office phone number or write us an email using the contact form on our website.