Do You Have a Smoky Kitchen? We Have the Perfect Solutions.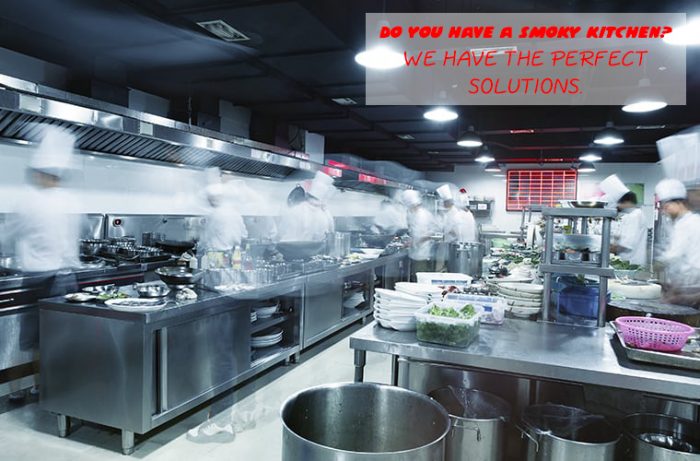 Running a restaurant kitchen is not a small feat. As the owner, you have to pay attention to an array of tasks for smooth operation. After you are done choosing the right type of kitchen appliances and creating a great menu, you need to deal with greater challenges such as ventilation, fire suppression, and the overall air quality of your restaurant. Unlike a home kitchen, a large commercial kitchen generates a lot of smoke and grease on a regular basis. A smoky kitchen poses a range of health and safety risks that you must avoid in an effective manner.
If you are struggling with a smoky kitchen and want to improve the ventilation of your restaurant kitchen, you should always invest in a top-quality exhaust hood system as well as perform its maintenance on a regular basis. This is exactly where you are going to need the help of experts.
At American Professional Services (APS Hoods), we offer the most ideal solutions to keep your commercial kitchen smoke-free. Our services include exhaust hood cleaning and commercial kitchen cleaning as well as installation and maintenance of exhaust hood systems by experts. If the exhaust hood system is top quality and the hood fans function effectively and you maintain the system well, you can get rid of smoke and improve air quality in the kitchen.
Importance of Ventilation for Your Restaurant Kitchen
The high volume of cooking in a large kitchen produces a range of contaminants such as smoke, steam, and grease. As a result of this, the air quality inside the kitchen becomes poor. The airborne contaminants make it difficult for the staff to productively work inside the kitchen. Not just the staff, it also puts the health and safety of your customers and neighbors at risk. If you plan to properly run your kitchen and keep your business growing, you must always see to it that the airflow is proper and the ventilation system functions with maximum efficiency.
Health and Safety
You can never run a successful restaurant business unless you pay serious attention to the health and safety needs of the staff and guests. The smoke and odor generated in a commercial kitchen contain a number of harmful contaminants which can cause multiple types of skin and eye allergies as well as respiratory problems. A high-quality exhaust ventilation system removes the smoke and odor from the kitchen and keeps your staff and customers safe and healthy.
Comfortable Working Environment
Working inside a large kitchen for hours on end is a difficult job in itself. It is your duty as the owner to provide a comfortable working environment to your employees and staff. If the workers feel comfortable, they will be able to work efficiently and their productivity will increase. Happy and productive employees translate to getting more work done in an appropriate manner.
Therefore, make sure the ventilation system in your kitchen is functioning efficiently. If it is not, you should either get it repaired without any delay or replace it with a top-quality exhaust hood system.
Energy Efficiency
Proper ventilation improves airflow inside the kitchen and enhances the efficiency of the HVAC system. As a result of this, the energy consumption is reduced and you are able to save on your utility bills.
Kitchen Odor Management
In a large kitchen, you can't avoid odors that are produced from cooking and food itself. But you can certainly manage it so that the odor is removed quickly and it does not pass on to other areas of the restaurant. Your kitchen exhaust system does this quite well. Provided you maintain the system well, the exhaust hood prevents odors from the kitchen to escape to other areas.
We Provide Expertly Engineered Kitchen Exhaust Hood Solutions
All kitchen exhaust hoods are not the same. They vary in design, designation, size, and other features. In the market, you will come across a variety of exhaust hood systems of multiple qualities. It is crucial to select a system that is the most ideal match for the kind and volume of cooking you do.
At the APS Hoods, we follow a well-defined procedure to equip your restaurant with the most perfect exhaust hood design.
Type of Cooking:
What type of cooking you do matters more than the volume of cooking in your restaurant. Certain cooking procedures generate more smoke and grease than others. The first thing our team does is to inspect the kind of cooking that is done in your commercial kitchen. If you are only frying, boiling, and grilling, one specific type of hood will be required. There is another exhaust hood system for kitchens where cooking also involves baking and steaming.
The volume of Smoke:
The volume of heat, smoke, and grease your kitchen produces is also a crucial factor that plays a role in the selection of the right kind of exhaust hood for your restaurant. Depending on this volume, your commercial kitchen will require a hood with a specific exhaust rate.
Our ventilation experts will conduct a proper inspection of your commercial kitchen to calculate the exhaust rate. APS Hoods specializes in providing restaurant kitchens exactly the type of exhaust hoods they need. If you are not sure what the exhaust rate for your commercial kitchen should be, feel free to reach out to one of our professionals for a detailed consultation.
Design of Kitchen:
When it comes to getting the perfect solution for a smoky kitchen, the design of the kitchen also needs to be considered. The hood design should be in line with the design of your commercial kitchen. There are different types of exhaust hoods including Proximity Hoods, Wall-mounted Canopy Hoods, and Island Canopy Hoods. Each of these comes along with its own unique features and requires a specific type of hoods installation. With the help of our professionals, you will be able to select the best matching hood for your kitchen.
Size of Kitchen:
Apart from the type of cooking you do, the exhaust rate, and the design of your kitchen, you also need to take into account the size of your commercial kitchen. To craft the most ideal solution for the proper removal of smoke, heat, and grease and to create an effective capture zone, our team of ventilation experts will measure the size and height of your kitchen. The exhaust hood installation must be done at the correct height to maximize efficiency.
The hood needs to be installed in a way that the smoke from the kitchen does not pass to other areas of the restaurant. That is why consulting with experts should never be ignored, if you want the perfect hoods.
Our Full Suite of Commercial Kitchen Exhaust Hood Services
APS Hoods offers a whole range of services to cover everything related to the proper installation and maintenance of kitchen exhaust hoods. Whether you are already running a restaurant or you are planning to start one soon, you can always rely on us for the highest quality of services.
Kitchen Hood Installation
For a smoke-free environment, your kitchen needs a highly efficient ventilation system. Based in Denver, Colorado, APS Hoods has been offering expert installation services for a range of restaurants and large kitchens. There are multiple factors that must be considered to carry out a hood installation in a correct and effective manner. No matter how much cooking you do and what the size of your commercial kitchen is, we will fit your kitchen with the most ideal kitchen hood that properly replaces the contaminated air with fresh, breathable air.
We specialize in the installation of hoods over each of your main cooking appliances and equipment which includes air ducts, exhaust fans, and many other components of your restaurant's HVAC.
Exhaust Hood Repair
In a large, commercial kitchen, anything can go wrong with your exhaust hood due to various reasons. The ventilation system can malfunction or the exhaust fans can stop working all of a sudden.
As a smart restaurant owner, you should always invest in a high-quality exhaust hood system that performs its job well. You need ventilation that functions at the highest level of efficiency so as to continuously replace the smoky and heated air with fresh air from outside. If you notice any issue with your exhaust hood, reach out to us and our technicians will do the repairs. For exhaust hood repair, we employ advanced methods and the latest equipment and tools.
Kitchen Hood Cleaning
Every commercial kitchen requires thorough cleaning on a regular basis, due to the high volume of cooking that goes on in it. Most importantly, the kitchen hoods need deep cleaning by professionals. At the APS Hoods, we provide thorough vent hood cleaning, exhaust fan cleaning, duct cleaning, and the removal of grease, dirt, and grime to have a bright and squeaky clean kitchen.
Talk to Kitchen Exhaust Hoods Specialists
It is essential to keep your commercial kitchen free from heat, smoke, and grease and offer your workers and visitors a healthy and safe environment. Whether you are in need of exhaust hoods installation, repair, or maintenance, head straight to APS Hoods. Located in Denver, Colorado, we help a wide range of restaurants and large kitchens run smoothly and safely. You can reach out to our hood installation experts and technicians via a quick phone call or email.
Some Related Psts: