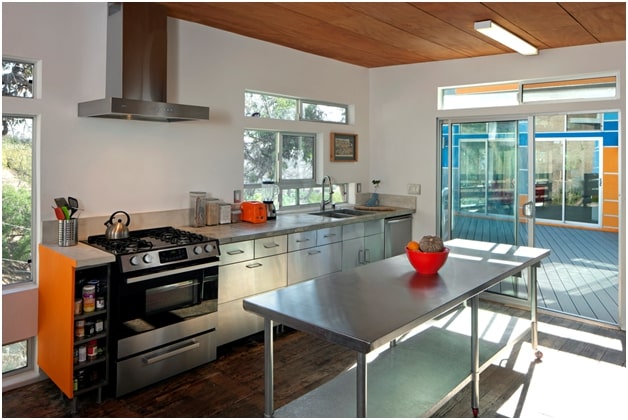 Restaurant Cleaning Instructions – Denver, CO: Restaurant cleaning is no easy feat. Even on a slow day, crumbs could find their way into the carpet, a little grease could get splashed onto the walls, and the bathrooms could end up looking like a war zone.
That's not even mentioning all the places there are to clean in your average restaurant. The floors, walls, ceilings, kitchen, bathrooms, and other areas will need to be scrubbed thoroughly. Because you know what happens if you don't engage in the necessary cleaning. Your health inspector could become displeased.
No restaurant owner wants an unhappy health inspector. You could face foul marks that could make their way to the news, and you could be levied with fines or even be forced to shut your establishment down.
Let's prevent any of that from happening, shall we? Here are some steps to take to ensure that the health inspector always gives you rave reviews for every future inspection. 
Call APS-Hoods for a free estimate
Restaurant Cleaning 101
Most restaurants have their staff clean the floors, tables, and kitchen on a nightly basis. Doing so prevents rodents and insects from becoming guests of your establishment and makes the place nice and presentable for the next wave of customers. 
However, sweeping and vacuuming the floors and wiping down the tables, even giving the kitchen a complete scrub-down is inadequate at best for keeping your restaurant clean. For a more thorough job, you should consider hiring a restaurant janitorial company. 
Advantages of Restaurant Cleaning by Professional Janitors
You may think you are saving money by having your staff do all the cleaning, but restaurants who choose to hire janitors get to enjoy the following benefits.
Safe & Sanitary Environment
Your staff may not have the training or experience to get all the grease off the floors, which can lead to slips and falls. If your staff misses some crumbs in the corner or fail to get the hidden grease off the walls, you could be inviting roaches, rats, and dangerous microbes into your restaurant. 
Learn more about: Restaurant Kitchen Deep Clean: How Long Will the Kitchen be Down and is It Worth It?
Professional janitors make your restaurant safer for staff and customers and will sterilize your environment to make it unappealing to pests while simultaneously making your restaurant inviting to customers. 
Health Code Compliance
Most local health codes require you to get your restaurant professionally cleaned on a regular basis. This is necessary for safety and sanitation, which we have mentioned, but it's also a good idea if you want to serve excellent food that won't make your customers sick.
They Can Clean Hard to Reach Places
Professional janitors can clean the walls, floors, ceiling tiles, and every other area of your restaurant. They don't cut corners like staff might when they're trying to get off early. Janitors will clean in the corners and in every nook and cranny to ensure a complete restaurant cleaning job.
Complete Restaurant Cleaning Checklist
Keeping the Back of House Clean
When we talk about "back of house" we are referring to the kitchen and other areas that customers aren't readily exposed to. 
Daily Restaurant Kitchen Cleaning
Clean the fryers until every remnant of food or grease is gone.

Sanitize all food preparation surfaces, including the cutting boards.

Brush and scour the grills until all the crusty gunk is removed.

Empty the trash cans and wipe them down with a damp rag and antimicrobial soap.

Take all the rags to the laundry to be professionally cleaned (unless you do this in-house).

Launder all the chef's aprons and coats while you're at it. 

Sanitize the meat and cheese slicers. 

Make sure all refrigerated food items are kept in air-tight containers and properly labeled.

Sweep and mop all floors, including the walk-in cooler and freezer.

Wipe down the outside of the ice machine.

Clean the grease traps. 

Clean the ventilation hood filters by running them through the dishwasher. 

Replace the tin foil liners on the grills and ranges.

Empty all the trash and recyclables. 

Wash the floor mats.

Empty and clean the steam tables. 

Sanitize the sinks, faucets, and soda dispensers.

Properly dispose of all grease and oil.
Weekly Kitchen Cleaning
Clean the ovens by adhering to the manufacturer's instructions. 

Empty, clean, and sanitize the walk-in cooler. 

Clean the coffee machines. 

Wash the walls. 
Monthly Kitchen Cleaning
Wash behind the fryers, flat tops, stoves, and oven. 

Remove all built-up grease, which can become a fire hazard.

Empty and clean the walk-in freezer.

Empty the ice bin, then clean and sanitize the inside. 

Wash the ceiling tiles.

Check the equipment: Are the knives sharp? Is the thermometer calibrated?

Check the entire restaurant for signs of pests and rodents. If you notice droppings or other signs, call pest control immediately!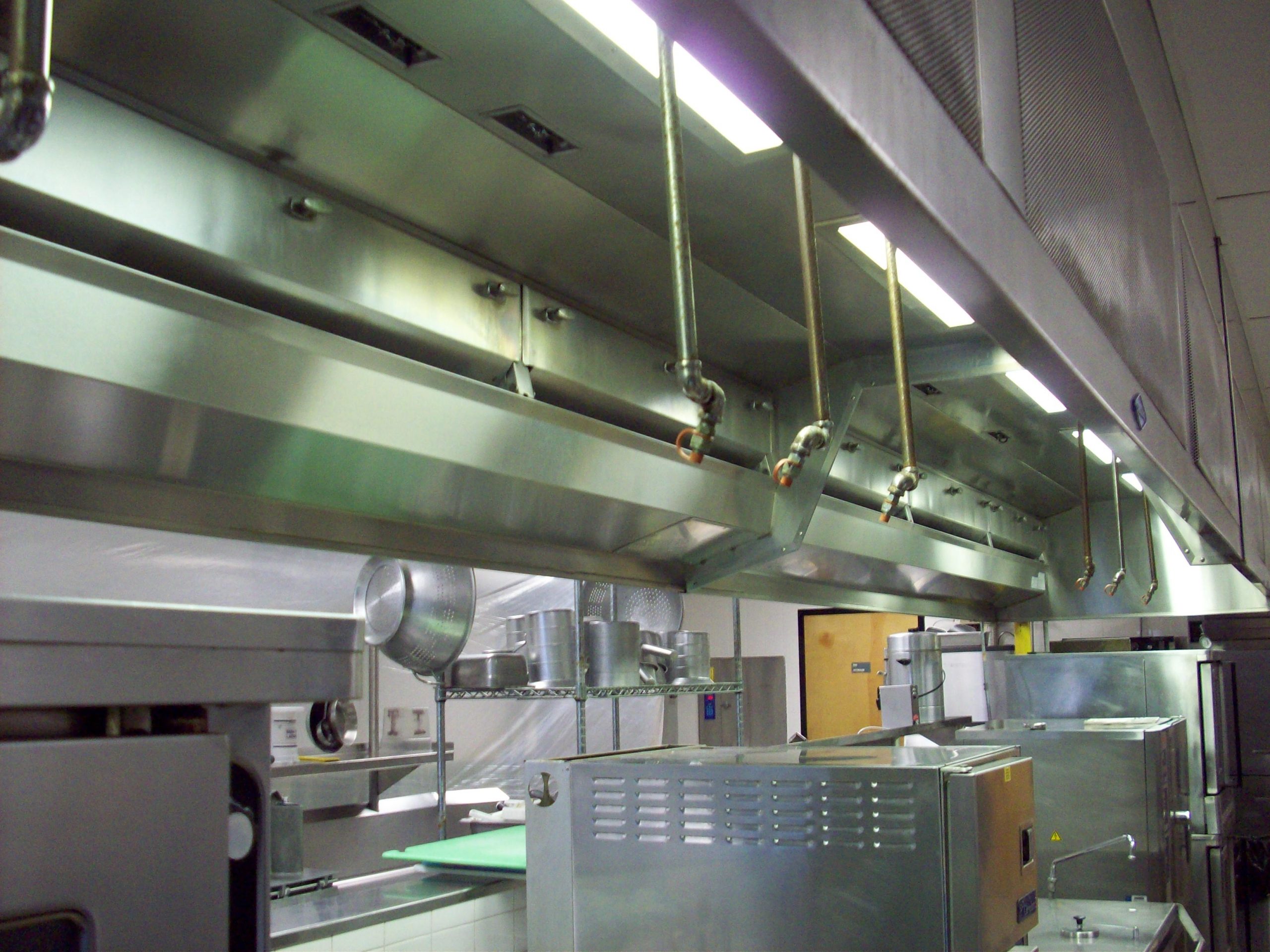 Keeping the Front of House Clean
The front of the house includes all the areas staff may come into contact with, including your entrance, dining areas, bar, and others.
Daily Restaurant Cleaning
Wash every surface of the restaurant (walls, floors, ceilings, countertops, bar, tabletops, chairs, and booths) with clean and sanitized rags. 

Clean and sanitize the restrooms (you should also check them multiple times per shift and clean them as necessary).

Sweep and mop the floors.

Wipe down the condiment dispensers.

Check the menus for cleanliness and wipe them down as needed.
Weekly Restaurant Cleaning
Dust the blinds, ceiling fans, walls, picture frames, and anywhere else dust has gathered. 

Clean the table and chair legs.

Wipe down the baseboards.
Restaurant Ceiling Cleaning
Even though the ceiling tiles are way up high doesn't mean they can't become caked with grease and other contaminants. The fact is, the ceiling is positioned above everything, including your cooking appliances. That means that everyday food is being cooked and prepared, and your ceiling tiles are absorbing everything, from fumes and oil to grease and odors. 
Failing to clean your ceiling tiles can make your entire restaurant look old and dingy. On extreme bases, the ceiling tiles can begin to negatively affect the air quality of your restaurant, leading to a fire hazard and failed health inspections. 
Whether you have your staff clean the tiles or you hire a professional janitorial service, make sure the following steps are performed. Missing even a single step can leave your restaurant susceptible to disaster, and you may end up turning off your customers. 
Cover Everything in the Kitchen
Cleaning the ceiling tiles means that all those contaminants are going to come raining down on your tables, floors, cooking appliances, and everything else. Therefore, make sure you cover everything down below with plastic tarps or drop cloths. You can also use old sheets or butcher paper. While you're at it, cover your eyes with protective eyewear before the cleaning begins. 
Remove the Tiles
If your restaurant sports a drop ceiling or suspended ceiling tiles, you will first want to remove all the tiles from along the ceiling grid. Use a shop vac and clean all the areas that aren't readily available, like the vents, corners, and light fixtures. If your shop vac has a dusting attachment, use it to get into the nooks and crannies. If the tiles are excessively filthy, alternate between vacuuming and dusting until the tiles look clean. 
Whatever you do, don't use disposable dusting cloths on ceiling tiles, as they will snag and tend to leave behind fibers. These fibers, in turn, will catch and attract additional dust and dirt. Use rags or towels instead. 
Clean the Commercial Ceiling Tiles
With the dusting complete, you will next want to wash the tiles using a mixture of ten parts water and one-part dishwashing liquid. Next, use a wet sweeper to swab the tile's surface. Don't over-wet the tiles, as you can warp them or cause water damage. Make sure you wring your sweeper out before applying it to the tiles to avoid any water mishaps. 
Instructions for Cleaning Permanent Ceiling Tiles
If you are tasked with cleaning restaurant tiles that are permanently set into the ceiling, use a static duster to first eradicate any loose dirt. From there, use the shop vac to get to all the hard to reach places, then use a wet sweeper dampened in the same dishwashing solution directly onto the ceiling tiles. Don't get the sweeper too wet so that it doesn't drip and cause a mess.
Finally, use a lint-free cloth to get the ceiling tiles as dry as possible. 
Call Aps-Hoods Now!
Restaurant Fire Cleaning
The above advice is for standard restaurant cleaning, but what happens when the fire has reared its ugly head? Whether you suffered a small fire, or your restaurant has been gutted, there are strict protocols in place for how your restaurant should be cleaned.
Cleaning and Removing Smoke Odor
After a fire, your entire establishment could end up smelling like a giant ashtray. The first course of action is to give your restaurant a thorough scrubbing while eradicating the foul stench of acrid smoke.
Cleaning the Walls, Furniture, and Floors
To remove soot and smoke from surfaces like walls and floors, and from your furniture, use a mild soap or detergent. You can also mix four to six tablespoons of tri-sodium phosphate and one cup of household cleaner or chlorine bleach to every gallon of warm water. Always wear rubber gloves when cleaning up after a fire and be sure to rinse all the surfaces afterward with clear warm water before drying thoroughly.
Wash the walls one small area at a time. The best technique is to work from the floor up while taking care to prevent streaking. Rinse with clear water immediately after washing. 
You should always wash the ceilings last. If you are considering repainting, only do so after the walls and ceilings are completely clean and dry. You can further reduce the chances of mold growth and mildew by wiping down all the surfaces with a solution comprised of one cup of bleach to a gallon of water. Always test the solution on small areas first to prevent unnecessary discoloring. 
If you have drywall or insulation that was soaked by water from sprinklers or fire hoses, you should consult with a professional for assistance. You cannot dry these areas out and reuse them, as mold and mildew can result. The areas will have to be replaced completely by a professional before your restaurant can reopen. 
Commercial Kitchen Fire Cleaning
Wash all the appliances and pots, pans, and utensils with soapy water. Then, rinse them down before polishing them. They can also be run through the dishwasher. 
If any food or other items were damaged, they must be removed from the premises immediately, preferably before cleaning is conducted.
If your business is closed for renovation or repairs, your establishment will need to be reviewed and inspected by local authorities before you can reopen for business. This is why it is critical that you hire a fire restoration and cleanup service so you're not handling everything on your own. A service can make sure all steps are completed for a faster and more efficient reopening. 
Learn more about: Restaurant Kitchen Deep Cleaning Checklist for Commercial Operations in Denver, CO
Construction Cleaning
There is one more aspect of cleaning a restaurant that we haven't discussed, and that's to clean up after new construction or a renovation project. Whether you recently built your establishment, or you remodeled it, you likely have a big mess on your hands. 
Post-Construction Cleanup Checklist
Sweep and vacuum all the surfaces, including all the ceilings and walls.

Sweep, mop, and disinfect the floors.

Vacuum the upholstery. 

Wipe down the doors, knobs, baseboards, moldings, and hardware. 

Give a thorough wipe-down and sanitization of the bathrooms and kitchens, including the appliances, cabinets, and counters. 

Dust and wipe down all the window interiors, including the sills and frames. 

Dust the air ducts, grates, vents, ceiling fans, blinds, and lighting fixtures.

Clean hardware such as hinges and handles and clean the outside of all shelves and cabinets.
Cleaning inside all cabinets is essential.
You have to clean the inside of the cupboards.
Remove all trash and debris (though your construction contractor should have removed this already as part of your contract).
Some Related Posts:
Why Not Trust the Restaurant Cleaning to the Experts?
Instead of putting your staff to work on these really tough jobs, call APS-Hoods in Denver, Colorado instead. We can perform restaurant cleaning, kitchen cleaning, fire cleaning, and construction cleaning. Not only will you have less stress, but you can keep the health inspector happy, preventing fines and potential shutdowns. 
Call today for a free estimate and let APS-Hoods make your restaurant the cleanest in town.