Commercial Kitchen Exhaust Fan Offered to Denver, Colorado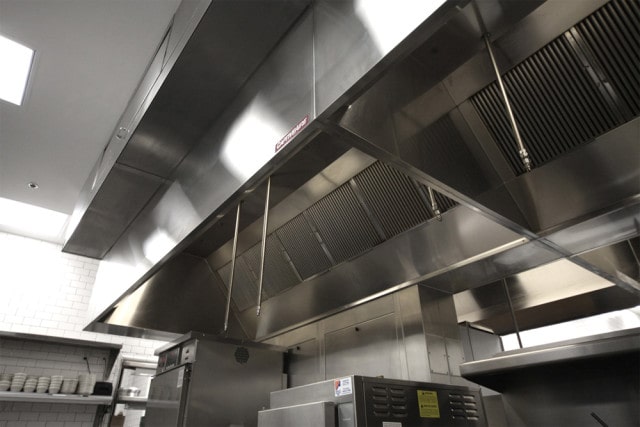 Hood, Duct, & Fan Cleaning and Servicing
Complete system cleaning and servicing includes hood, plenum, duct work and rooftop fan, to comply with the National Fire Protection Agency's Standard 96
An exhaust fan going down during operating hours can be devastating to any commercial kitchen operation. The kitchen and dining area begin to fill with smoke, the cooking line becomes too hot to work on, and there is a great risk of a fire occurring.
Extend the life of your exhaust fan and keep your hood system running smoothly by having one of our trained technicians perform a fan service for your unit or units. This includes greasing the bearings, checking and replacing the fan belt if needed, and cleaning dust and debris out of the motor housing. This will help extend the life of the fan motor as well as the mechanical components of the unit. We can include this service at a discounted price if done at the same time as the hood cleaning.
At APS-Hoods we recognize that each day, hundreds of restaurants across the nation open their doors to the public. Our society's demand for eating out has led to an escalation in the number of restaurants and of course the volume of cooking, resulting in the inevitable increase of combustible grease in kitchen exhaust systems, and a subsequent increased risk of fires.
One of the most fundamental ways to combat this risk is to eliminate built-up grease and other cooking by-products that serve as fuel sources. APS-Hoods will clean your kitchen's exhaust systems down to the metal, ensuring that these systems are in proper working order.
Our mission to safeguard life, property, and the environment is second to none. We hold paramount the safety, health, and welfare of your clients and staff. To that end, our safety protocols meet our personal code of ethics, as well as both local and national standards.
Hood, Duct, and Fan Servicing and Repair includes:
Scheduled cleaning of hoods, ducts, plenum, grease removal devices and rooftop exhaust fans to bare metal Complete cleaning and servicing of HVC air ducts using vacuum units, compressed air, mechanical and hand brushes Inspection after each cleaning by our professionally-trained and certified staff to National Fire Protection Association standards Fan belt replacements Grease filter replacements Hood globe (*?) light and bulb replacements Stainless and sheet metal manufacturing and repairs
| | |
| --- | --- |
| Type or Volume of Cooking Frequency | Frequency |
| System serving solid fuel cooking operations | monthly |
| System serving high-Volume cooking operations such as 24-hour cooking, charbroiling, or wok cooking | quarterly |
| System serving moderate-Volume cooking operations | semiannually |
| System serving low-Volume cooking operations, such as churches, day camps, seasonal businesses, or senior centers. | annually |
NFPA Code 96: Commercial Kitchen Exhaust System Inspection Protocol