Power Washing: What You Need to Know to Keep Your Restaurant Clean Inside Out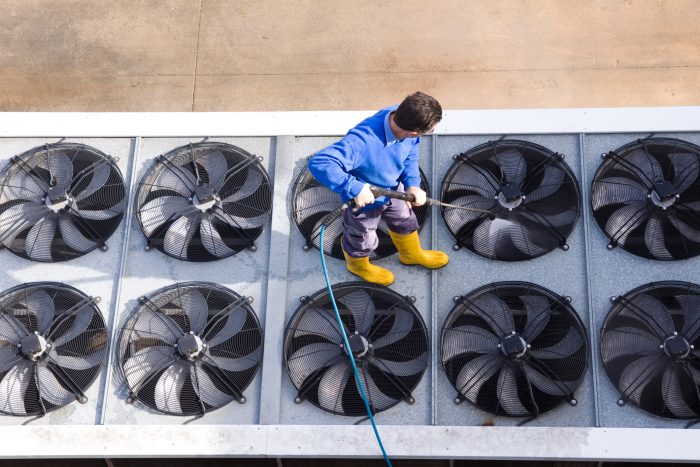 If you operate a restaurant or commercial kitchen, it is your foremost duty to keep it neat and clean at all times. It is not just the interiors where your focus should be. But a tidy exterior is also equally important. Many restaurant owners give more focus to the interiors and ignore the exteriors. If you plan to make your restaurant come alive with a fresh and clean environment, you should keep it clean both inside and outside. Though you can use many techniques for restaurant cleaning, vent hood cleaning and wall and floor cleaning, power washing is one of the most effective of all techniques. Using this method, you will be able to clean up a large area quickly while also reaching those areas that are usually hard to reach.
In this article, we will discuss how you can use power washing or high pressure washing to keep your restaurant and commercial kitchens thoroughly neat and clean and create an appealing look for visitors.
Myth: Power Washing Uses a lot of Water
All cleaning methods are conducted using water. Some methods consume more water while others consume less. It is a common misconception among restaurant owners and managers that high pressure washing systems require the use of a huge amount of water. However, the truth is exactly the opposite; power washing helps you clean more effectively with less water.
Water is a precious gift and it must be saved as much as possible. The technology behind power washing or high pressure washing is designed in order to reduce the consumption of water in cleaning.
If you have been using other commercial kitchen cleaning methods till now, it is time to turn to power washing. No matter which part or area of the facility you want to clean, high pressure washing does it all with a high degree of effectiveness. Pressure washers are designed to carry out grease trap cleaning, restaurant hood cleaning, trash chute cleaning, kitchen cleaning, wall cleaning, floor cleaning etc. In fact, this precision method is used to clean both the inside and the outside of a restaurant, cooking facility or commercial building. It is only that you are aware of how to perform pressure washing in a proper manner. Only experienced professionals will be able to conduct restaurant cleaning using high pressure washing.
To find out more about how power washing will be carried out in a large kitchen, cooking facility, restaurant or cafeteria, feel free to reach out to one of our specialists at APS Hoods in Denver, CO.
Benefits of Power Washing for Restaurant Owners
Power washing has a host of benefits to offer to restaurant and commercial kitchen owners. It is one of those cleaning methods that serves all in one cleaning purpose. This means you can use high pressure washing to clean every bit of your facility, right from the parking lot and entrance to the dining areas and the kitchen interiors. Not only that, power washing can do a lot more.
Here are some of the most important benefits of power washing or high pressure washing for commercial kitchen owners.
Remove Graffiti and Unwanted Markings
For restaurant owners, unwanted markings on the outside walls is a constant pain. But you don't have to worry at all, as power washing will take care of everything. No matter where you have these graffiti, you can remove them all with the help of power washing tools and techniques.
Restaurant owners often wonder about how to remove different kinds of graffiti on their walls. You may have these unwanted markings on concrete, wood or metal. Feel confident that high pressure washing is powerful enough to help you get rid of all kinds of graffiti and even older markings. In fact, you will be able to get the task done in half the time of what it usually takes. Adding some natural additives to water and then spraying it via a power washer is a proven and highly effective technique to clean up the exterior walls and remove all graffiti.
Wash Exterior Signage
It is crucial to keep the exterior signage of your restaurant clean. It is a part of the first impression that you make on visitors. However, restaurant owners often miss out on this element when carrying out restaurant kitchen cleaning. One of the reasons behind this is that the signage is difficult to reach.
Just because you find it hard to reach the exterior signage doesn't mean you will ignore cleaning it. If you use the right method for commercial restaurant cleaning, you will be able to reach every area and surface, not just outside the facility but also inside it. High pressure washing is one method that helps you perform thorough cleaning outside and inside the restaurant. Equipped with the right set of tools, you will be able to easily reach, wash and clean the exterior signage of your facility. Pressure washing lances and spray water guns are highly effective tools to carry out exterior cleaning. All you need to do is use the right wand extension in order to reach the signage without any kind of difficulty at all.
Once the exterior signage is sparkling clean, it will look professional to every visitor and diner to your restaurant. Most of all, it will increase the confidence of visitors to enter and eat in your facility. Having neat and clean signage sends a clear signal that you genuinely care about cleanliness.
Clean Sidewalks and Parking Lots
If you care about cleanliness in a genuine way, you should show it to visitors and guests the moment they step into your facility. Neat and clean sidewalks and parking lots play a crucial role in making a good, positive impression about your business. Pressure washing proves effective at this task.
Many restaurant owners often ignore the proper cleaning of the sidewalks and the parking lot. Dirty and stained spaces leave a negative impression on the minds of the restaurant visitors. That is why you should never oil spills, grease and excessive dust and dirt on the sidewalks and in the parking area. Use surface cleaners to wash and clean all these areas. Most of all, use pressure washing tools and techniques to get rid of stubborn stains and chemicals.
Proper cleaning and maintenance will not only make the sidewalks and parking lots look good, but it will also extend the longevity of the flooring material. Welcome your visitors into a fresh and clean environment.
Clean Dumpster Areas
Trash receptacles and dumpster areas should never be missed out. When it comes to restaurant pressure washing, one of the most neglected areas is the dumpster area. It is very important to clean the inside and outside of the dumpster corrals as well as the space surrounding it. Due to spills around the dumpster area, a lot of pests and insects get attracted. If not cleaned on a regular basis, the dumpster area will soon turn into a breeding ground of several pests.
Bad smells from the trash receptacles and dumpster areas can linger around in the air and spread to other areas of the restaurant. This will create hygiene issues and the risk of health hazards.
That is why it is extremely important to keep a watch on the overall maintenance of the garbage receptacle and dumpster corrals. Power washing is a highly effective method to clean up this area. This type of cleaning will remove all the dirt, grease and other spills while keeping pests and insects away. By using the right power washer as well as a liquid degreaser, you will be able to keep the dumpster area looking good without having any bad odor lingering around. To find out more on high pressure washing the dumpster area in your restaurant facility, you should get in touch with one of our experts at APS Hoods in Denver, CO.
Power Washing the Commercial Kitchen and Interior Areas
After the cleaning of exteriors is done, it is time to power-wash the interior areas of the restaurant and the commercial kitchen. A commercial kitchen consists of several appliances and equipment. Each of these items require focused attention in order to ensure thorough cleanup.
Interior areas cleaning include:
Kitchen cleaning
Vent hood cleaning
Vent cleaning
Grease trap cleaning
Trash chute cleaning
Duct cleaning
Wall cleaning
Floor cleaning
Pressure-washing the interiors of the restaurant requires a great deal of experience and skills. Not using the right tools and cleaning in an incorrect manner can lead to improper cleaning and lead to damage.
Right from Range hood filters and hood ducts to kitchen equipment and ovens, each of these require proper degreasing and cleaning. In a commercial kitchen, grease buildup is very common. If the grease deposits are not washed and cleaned properly, this can lead to potential fire hazards. Unless power washing tools are used, it can be difficult to degrease the hood and other appliances. All restaurant cleaning should be done in a manner that is completely safe.
Using power washing surface cleaners, you can wash all the walls and floors inside the restaurant and commercial kitchen. Power washing is a proven method to keep the interiors of your facility clean and safe.
Power Washing Tips You Can Use
If you lack prior knowledge and experience, you are not yet ready to operate power washing tools. Power or high pressure washing is a specialized method to get rid of grease deporits, oil spills, stubborn stains, excessive dust etc. Not operating it correctly and safely can lead to serious injuries.
First of all, you should know about how different nozzle tips work. There are nozzles with 40 degrees, 25 degrees, 15 degrees etc. Based on your specific needs, you will need to use different nozzles with wide tips, narrow tips, very narrow tips etc. Different nozzles are needed to remove grime on the concrete surface and to remove stains on a metal surface. The red power washer (zero-degree) nozzles should never be used close up on any type of surface.
Before you can operate the power washing tools, you will need to understand the function of various nozzle tips.
High pressure washing tools are available in two models: gas powered and electric powered. Usually, gas pressure washers are considered to be more powerful than the electric ones. However, gas-powered pressure washers are also known to make more noise than the electric-powered ones. That is why it is very important to select the right type of power washer for your needs.
Most of all, anyone who operates power washers should be fully aware of how powerful these machines are. If handled in the wrong way, these machines can inflict serious wounds and injuries. Before starting to use the machine, the operator should dress himself or herself in proper safety gear, which includes eye protection, ear protection, boots, hand gloves, long sleeves etc. You can never handle or operate power washing tools without training and experience. These machines, if operated incorrectly, can damage doors, windows and screens.
Always hire experienced technicians to perform power washing to clean your restaurant, cafeteria, commercial kitchen or cooking facility inside-out. Professionals will first do all the prep work, use the machines correctly and adjust the spray angles as required while adhering to all the safety guidelines.
Talk to a Commercial Restaurant Cleaning Expert
Cleaning and maintaining a restaurant or large kitchen in a proper manner requires seeking the help of trained professionals. If you plan to select the right power washing products and carry out high pressure washing in a proper and correct manner, you should head over to APS Hoods in Denver, CO. Our technicians are quite well-versed with the use of all kinds of power washer tools and carry specialization in commercial kitchen cleaning, restaurant hood cleaning, vent hood cleaning, duct cleaning, grease trap cleaning, trash chute cleaning, wall cleaning, floor cleaning etc. Plus, we provide hvac installation and repair services.
For your free consultation, feel free to talk to one of our highly trained and experienced restaurant cleaning specialists via a phone call. You can also write to us an email using the contact form given on our website.