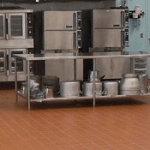 Some business owners avoid searching for professional hood cleaning services because they feel their staff can perform the task better.
However, if you truly want to protect your restaurant, and your time and financial investments, you owe it to yourself to hire professionals who can deliver the training, experience, and proper tools to do a thorough and inspection-passing job.
There are quite a few reasons why you would be better off searching for restaurant hood cleaning services rather than let your staff perform all the cleaning for you.
The Importance of Restaurant Hood Cleaning Services
Greater Health Standards: Professional hood cleaners know that you face fire and health inspections and that you'll be fined heavily if your restaurant isn't kept up to code. With spotless ventilation hoods, your restaurant will be seen by inspectors and customers alike as having one of the cleanest restaurants in town.
Diminished Risk of Fire: Ventilation hoods can quickly accumulate oil, grease, and other contaminants. That sludge coating may look harmless, but all it takes is a spark to put your restaurant, staff, and customers in grave danger. Professional vent hood cleaning services are designed to keep your vent hoods free of all fire-causing substances, protecting your business and everyone inside.
Better Air Quality: The job of your ventilation hood system is to scrub the air of impurities and to provide your staff and customers with clean, breathable air that all good restaurants are known for. When all that oil, grease, soot, and other contaminants are left to accumulate, those particles can get trapped in your HVAC and make-up air systems, filling your restaurant with foul odors and harmful air. Professional vent hood cleaners will ensure your air is always clean and pleasant to breathe for staff and customers alike.
Remain Fire & Health Code Compliant: Every restaurant faces regular fire and health code inspections. A single violation could cause your business to face heavy fines or even a shut-down until any issues are corrected. Filthy vent hoods are one of those aspects of restaurant safety inspections that can send up major red flags. Dirty air and fire are certainly major risks of an unclean vent hood, but there is also a potential risk of dirty particles getting into your customers' food. Professional vent hood cleaning services are in the business of making sure you pass all NFPA and health code standard inspections.
More Energy Savings: Cleaner vent hoods don't have to work as hard to replace the air in your commercial kitchen environment. This means that your HVAC system and make-up air systems will have an easier time maintaining a healthy environment for staff and customers. When you hire professionals to clean your vent hoods, you'll begin to notice a decrease in your monthly energy bills. Find the right service, and before long your vent hood cleaning services may just pay for themselves.
A Cleaner Working & Dining Environment: Every commercial kitchen is going to get some grease and grime on their vent hoods. By remaining vigilant with regular cleaning, however, you can ensure that your staff and customers both have an environment they'll love to spend time in. To put it simply, hiring professional vent hood cleaning services is simply good for the restaurant business.
The Qualities All Good Vent Hood Cleaning Services Possess
You have a lot of choices when it comes to finding the ideal cleaning services to keep your vent hoods in tip-top and spotless condition.
1. Experienced Technicians
Vent hood cleaning is not for amateurs, which is another reason why you should never let your staff tackle the job. Technicians who work on ventilation hoods know how to clean the hoods of top brands on the market.
Using specialized tools and techniques they've honed for years, professionals are able to dig down into the tiniest nooks and crannies where grease, oil, and debris like to hide. Furthermore, professional vent hood cleaning services typically employ technicians who can maintain and repair your equipment.
While cleaning a vent hood, a technician may notice that a fan has a defective part, for instance. If that's the case, the technician should be able to identify the problem and troubleshoot the issue to restore the fan to optimal conditions. Many companies not only provide cleaning services but also vent hood and component repairs. These companies work with top brands and can furnish you with any type of part for quick service done right.
You could say that these are all-in-one vent hood services, which is what you want when the protection of your business and the success of your restaurant are always firmly on your mind.
2. Known for Keeping Clients NFPA Compliant
When searching for a company for your needs, ask about other restaurants they've helped, and make sure those businesses remained compliant with the National Fire Protection Agency. Only restaurants that remain code compliant are able to avoid fees and shut-downs that can cost you big.
With referrals from other restaurants around the area, you can ensure that your restaurant will remain compliant long into the future.
3. Works Around Your Schedule
Your ventilation hoods can't be cleaned during your peak hours when your equipment is heated up and flames are active. Instead, a professional service works around your schedule, ensuring that your business operations are never interrupted as your vent hoods are cleaned.
A professional vent hood cleaning service will operate when your kitchen is either shut down for the night or during slow periods if you happen to operate 24/7. This ensures your commercial kitchen remains clean and safe, no matter what hours of operation you keep.
For best results, you are encouraged to ask about monthly cleaning services. This keeps your restaurant as clean as possible, even during the busy seasons. The company of your choice should be able to show up and clean without delaying your normal operations or disturbing your staff and customers. Instead, the best vent hood cleaning services will work in the background, doing a thorough job until your entire commercial kitchen cleaned and maintained just as it should be.
4. Possesses the Necessary Accreditation
A company worthy of your money will have no problem showing you the proper accreditation certificates that prove the organization is authorized to clean vent hoods in your area. You have put too much time and money into your business to trust your vent hoods to anyone who can't hold or refuses to possess the proper credentials. Ask for accreditation and get proof before hiring the vent hood cleaning services for your needs.
5. Provides Photo Documentation
Not every cleaning service offers photo proof that your vent hoods have been cleaned, but this is a good perk to ask about when searching for a nearby company. The companies that do offer photo proof use this method as a way of going above and beyond, and there are many benefits to having before and after photographs in hand. For one, you get to see just how much grime and gunk were removed from your vent hoods, ducts, and fans.
Furthermore, you can show the fire and health inspectors the photographs to prove that proper kitchen cleaning is a priority to your business. For those reasons, it may pay to ask the vent hood cleaners you're interested in if they offer photo proof, as photographic evidence can help you remain confident that your restaurant kitchen is always as clean as it could be.
6. Offers Preventative Maintenance
A good company will know how to check for faulty fan components, frayed wires, and appliances that aren't working as well as they should. By hiring a vent hood cleaning service that employs experienced technicians, you can ensure that you're always getting the most out of your vent hoods and all associated components while they're being cleaned.
7. Performs a Thorough Job
Professional vent hood cleaners have their reputation on the line when it comes to doing a thorough job. If only one restaurant owner complains about a service online or off, that could damage the company's ability to drum up new business. For that reason, search online reviews and ask other businesses in the area to see which vent hood cleaning services are the best nearby.
When you find a company with an observable penchant for helping customers like you, you can remain confident that your vent hoods will be cleaned with precision and that your business investment will always be well protected.
8. Charges Affordable Fees
You should be able to have your vent hoods thoroughly cleaned without breaking the bank. Companies that clean vent hoods and other commercial kitchen equipment charge based on a variety of factors. You may be charged based on the number of vent hoods you have, the intricacy of your HVAC and make-up systems, whether or not you also require vent hood maintenance and repairs, and if you have multiple restaurant locations. A company worthy of your business will work with you to ensure you get a fair deal for all hood cleaning services and maintenance, repairs, and whatever other tasks you require.
9. Has the Proper Hood Cleaning Equipment
Vent hood cleaning services require heavy-duty tools and powerful chemical solutions in order to cut through all that grease and grime. Examples of equipment that professional hood cleaners might employ include power washers, chemical degreasing solutions, hand-held scrapers, brushes, and others. These tools and chemicals are specially designed to remove pesky grease, oil, and other contaminants to keep your business protected from fires, foul odors, noxious air, and broken equipment, all of which can bring your business to a standstill. Keep your business always operating at its best by finding vent hood cleaning services that deliver the proper tools to perform any sized job.
10. The Company Guarantees That You'll Pass Inspection
When searching for a company to clean your vent hoods, ask the representative if the organization guarantees you a passing score for all fire and health inspections. A company that isn't certain of their ability to have you pass the necessary inspections is not worthy of your business. On the other hand, if the company promises to help you pass, no matter what, an organization like that may be worthy of your contention.
Only when you get a guarantee that your restaurant will receive stellar marks the next time the fire and health inspectors come calling will you be able to find the cleaning crew that's perfect for your needs.
Get Vent Hood Cleaning Services by the Best
If your restaurant operates in Denver, Colorado, we encourage you to contact APS-Hoods, the local leader in commercial kitchen cleaning services. Our vent hood cleaning services, most specifically, are designed to keep your ventilation, ducts, and fans spotless while protecting your business from dangerous fire.
We only employ the most experienced and well-trained cleaning, maintenance, and repair technicians, which means that we not only do a good job, but we also protect your business investment in several key ways.
Our professionals clean with precision, ensuring that all nooks and crannies are free of grease, oil and other debris. We guarantee that you will pass the necessary fire and health code inspections. When inspectors get a glimpse of our thorough work, they'll have no choice but to deem your business NFPA and health code compliant.
Furthermore, we are able to identify issues and troubleshoot the sources to keep your appliances and vent hood equipment consistently operational and at maximum efficiency. This saves you money in energy costs and keeps the air in your restaurant pure for complete staff and customer satisfaction.
We are fully-accredited to operate in Denver and bring the necessary tools, training, and experience to finish any sized job.
For vent hood cleaning services you can always count on, contact APS-Hoods, your local source in Denver, Aurora, Lakewood, Centennial, Colorado for precision hood cleaning done right.