All You Wanted to Know About Commercial Vent Hoods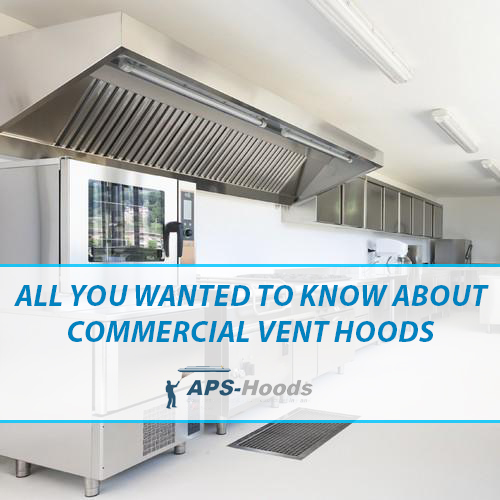 Every commercial kitchen needs to fulfill some legal requirements in order to operate in a healthy and safe manner. Heat, smoke, and grease are consistently produced in a large cooking facility. As a result of this, the indoor air in the kitchen gets contaminated and unsafe for employees. In fact, an unsafe kitchen atmosphere also takes a toll on the other areas of the restaurant. That is exactly why every facility manager needs to install a ventilation system in their kitchen. Commercial vent hoods play a crucial role by allowing a large kitchen or restaurant to properly remove the contaminated indoor air and replace it with fresh air from outside.
Commercial vent hoods vary in terms of type, size, and design to match the specific needs of a large kitchen facility. In this article, we will talk about the commercial vent hood, how it works and how the kitchen hood is installed, repaired, cleaned, and replaced in a professional manner.
What is a Commercial Kitchen Hood?
A commercial vent hood is a device that is installed over the cooking station or appliance to facilitate ventilation.
A commercial vent hood is called by different names such as exhaust hood, range hood, and kitchen hood. The function of the vent hood is to pull out the contaminated indoor air of the kitchen. The exhaust hood also improves the indoor air quality by bringing down the deposits of smoke and grease.
Types of Commercial Vent Hoods
Broadly speaking, all commercial kitchen hoods fall under two categories: Type I and Type II. The range hoods can be differentiated from each other on the basis of what type of materials they filter out.
Type I Vent Hood:
This vent hood is specially designed to remove smoke, heat, and grease from the kitchen. Hence, it is also termed grease hoods. Inside a commercial kitchen, you will find Type I hoods mounted over cooking appliances such as deep fryers, grills, broilers, etc.
Type II Vent Hood:
This vent hood is designed to throw out moisture such as steam and vapor from the indoor air. In addition to these, some range hoods can also remove odor from the indoor air. You will often find these hoods fitted in a cafeteria over coffee machines, pasta cookers, rice cookers, and some pizza ovens. These hoods are also referred to as condensate hoods.
Which type of commercial vent hood to use depends on what type of cooking you do in your commercial kitchen, cafeteria, or restaurant. Type II vent hoods do not have grease filtering capacity. Before you install a vent hood, you should seek the help of an expert hood builder or hood design specialist. If you are in Denver, CO, you should feel free to talk to one of our experts at APS Hoods.
Commercial Vent Hood Design
The design of all commercial vent hoods is not the same. Based on the specific layout of your kitchen, you need to opt for a suitable design. To finalize the hood design, you will need to consult with professionals.
Three most common vent hood designs include:
Wall Canopy Hoods:
These exhaust hoods are hung on the wall, right behind the cooking equipment in the kitchen. They are mounted in a way that they remain stretched out over the cooking appliances.
Island Canopy Hoods:
These vent hoods hang from the ceiling, above the cooking equipment in the kitchen. The specific design is used where the cooking equipment is located away from the walls. One key feature of this design is that all four sides of this canopy hood remain open. Island canopy hoods require a much stronger exhaust fan than those fitted in other hoods.
Low Proximity Hoods:
These vent hoods are located in close proximity to the cooking equipment and appliances, hence the name. Also referred to as back shelf hoods, the low proximity hoods are installed in commercial kitchens where the cooking equipment is placed at counter-height.
When it comes to vent hood installation, the design of the hood is of utmost importance. If the hood design is not proper and suitable for your kitchen's needs, the quality of the ventilation will be affected.
How Does a Commercial Vent Hood Work?
Commercial vent hoods are fitted over the cooking appliances in a kitchen. As the cooking goes on, a motor-powered fan pulls the contaminated air and other particles into the ventilation machine.
Next, the contaminated air passes through the ductwork, which remains attached to the ventilation unit. In this way, the heat, smoke, grease, vapor and other particles are expelled outside. The hood system also has a make-up air device, which replaces the removed air with fresh air from outside. The entire unit functions to keep the indoor kitchen air fresh and cool.
Vent Hood Installation
Installation of vent hoods or range hoods in commercial kitchens is a detailed procedure involving multiple steps. Setting up the hoods is not just about selecting the most ideal type and design. But it is also about meeting the local laws and regulatory guidelines for the safe and hassle-free operation of the restaurant facility. If the building and fire safety codes are not followed in a proper manner, you should expect to fail inspections and face many kinds of safety hazards.
The vent hood should be designed and installed to effectively manage the amount of exhaust that will be produced in a commercial kitchen. If the hood is larger than the required size, energy bills will go up. On the other hand, smaller vent hoods will fail to properly ventilate the kitchen area.
In order for the installation to be proper and as per exact need, you will need to fulfill these specific requirements:
Minimum overhang requirements should be at least 6 inches.

The elevation range should not surpass 4 feet.

Installation of a Type I hood should also have a fire suppression system.

One type of hood cannot replace another.
The vent hood installation requirements will vary depending on whether the range hood being installed is Type I or Type II. In fact, the regulatory guidelines for different hood types are also different. Placement of the hoods at the correct height, approval of the materials, proper grease duct support, and proper air displacement are other important guidelines that must be adhered to.
At APS Hoods in Denver, CO, we specialize in the professional installation of a variety of commercial vent hoods and designs. Let us help you outfit your kitchen facility with a safe and legal vent hood system.
Vent Hood Repair
The overall functioning efficiency of a kitchen HVAC system depends on the quality and condition of the vent hood. Since the vent hood or the range hood works very hard in a commercial kitchen setting, it also needs repair from time to time. When the vent hood needs repair or maintenance, it will give you some warning signs that you should never ignore. Any negligence in this regard can worsen the problem even more leading to costly repair or full replacement.
Key signs of commercial vent hood repair include:
Haze in the kitchen or other areas of the restaurant

Hot and smokey restaurant facility

The exhaust fan motor makes loud noises

Defective control board or electrical issues

Odors do not go away

Smoke hovers in the kitchen

Problem with heating and cooling unit
If you come across any of these issues, this means the vent hood of your kitchen range hood system is in need of repair.
Multiple issues can arise as a result of a failed vent hood. If the vent hood does not function with full efficiency, the gravest danger you can face is the risk of a kitchen fire. So, always keep an eye out for minor issues and have them repaired by qualified experts as soon as you can. Most issues are related to the exhaust fan or the make-up air fan of the kitchen vent hood.
At APS Hoods, we have a highly trained and qualified team of technicians who can repair all kinds of problems with the vent hood. Give us a quick phone call and we will dispatch our specialists to diagnose the root cause of every commercial vent hood issue and fix it in a swift and correct manner.
Vent Hood Cleaning
The kitchen vent hood needs to be cleaned in a proper and timely manner. While you will often remember to clean the flyers and the oven in your commercial kitchen, the vent hoods are often overlooked.
The vent hood is a magnet for deposits of grease and other contaminants. These buildups do not just ruin the indoor air quality, but they increase the risk of a fire in the kitchen manifolds. As per the NFPA guidelines, you should get the vent hoods cleaned by professionals every few months or once a year. The frequency of vent hood cleaning depends on the volume of cooking done in the kitchen. Right from cleaning the grease traps and the filters to cleaning the interiors as well as the exteriors of the hood, every component requires proper cleaning.
Get in touch with APS Hoods for proper cleaning of every part of the commercial vent hood installed in your kitchen. Whether it is the essential components or the interior and the exterior of the kitchen hood, our technicians will properly degrease, wipe off and clean the entire vent hood.
Kitchen Vent Hood Replacement
When the hood components have worn out completely or sustained damage beyond repair, it is time for their replacement.
APS Hoods is a highly trusted supplier of all range hoods parts for large kitchens, dining centers, food service facilities, and other commercial cooking establishments. Our kitchen vent hoods are one of the most durable you will find in the market. Whether it is the quality of vent hood parts and accessories or compliance issues, you can always rely on our company for the best service.
Talk to a Commercial Vent Hood Specialist
If you still have a question about kitchen vent hoods or need expert help with the repair, cleaning, or replacement of your facility's range hood, head straight to APS Hoods in Denver, CO. Our specialists will educate you on every crucial aspect of the vent hood as well as the entire exhaust hood system. Our goal is to ensure you have a highly efficient vent hood in your restaurant facility so as to ensure a safe and comfortable atmosphere for your kitchen staff and guests. You can reach out to us via a quick phone call or send us an email using the contact form given on our website.
Some related post: