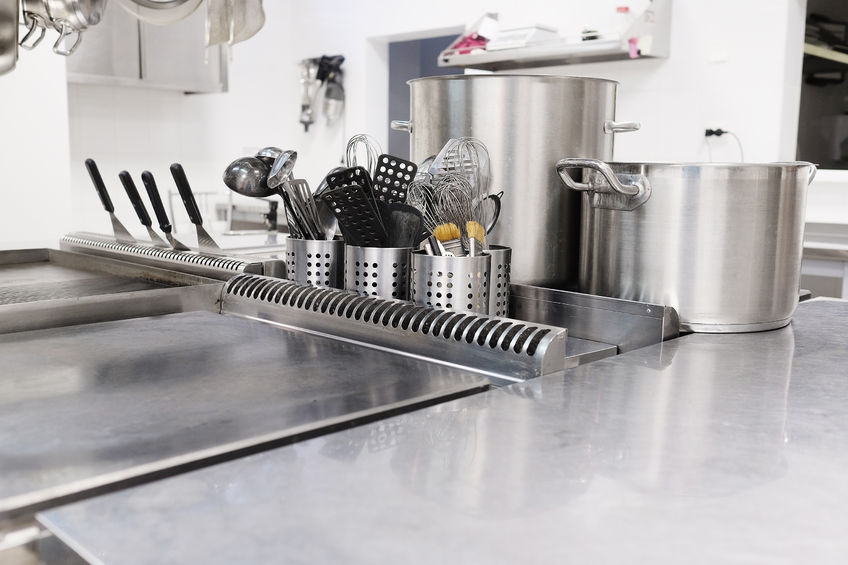 Restaurant Cleaning in Denver, Colorado
Commercial Kitchen Cleaning Services
We guarantee the sanitization and thorough cleaning of all kitchen exhaust hoods, equipment, appliances, counters, walls, floors, and walk-in coolers and freezers
Kitchen equipment cleaning can be a tedious process that can seem to take forever. For that reason, you should leave the sanitization of your appliances and commercial kitchen equipment to the professionals. Aps-Hoods ensures a job well done for any type or size of kitchen layout. We can maintain your equipment for optimum safety and longevity while keeping your commercial kitchen operating up to code long into the future.
An unclean restaurant is a hotbed for bacteria and mold growth, which could make your staff and customers sick. Then there is the buildup of grease, which could affect your food quality and lead to the breakout of fire. For improved quality and better safety, commercial kitchen cleaning can keep your restaurant bacteria free and safe from fire. Aps-Hoods can clean your vent hoods, filter systems, ducts, and grease traps for a complete deep clean. Your customers will experience the difference on their taste buds when their food isn't tainted by leftover grease and grime. Your air ducts will maintain a dust-free and mold-free environment, keeping the air inside your establishment cleaner and healthier. Professional kitchen cleaning will also significantly reduce the chances of fire flare-ups, improving safety and preventing damage to your business.
Call Aps-Hoods for a free estimate
Keep the Health Inspector Happy with a Complete Kitchen Deep Clean
Your staff likely keeps your commercial kitchen clean with their nightly closing duties. However, over time, even a decent scrub down by competent kitchen staff can miss many of the impurities that can lower your food quality over time. That is why we recommend a complete commercial kitchen deep clean, which includes all cooking and food preparation surfaces, appliances, walk-ins, floors, ceilings, and walls.
One of the primary reasons we recommend a deep clean of your commercial kitchen is to ensure the health inspector always gives you positive marks. We can ensure your commercial kitchen always makes the grade the next time the inspector runs a finger along your countertops or checks the stickiness of your floors. With a combination of pressure washing, degreasing, steam cleaning, mopping, scrubbing, and washing, we can keep your surfaces and food prep areas clean and healthy.
Countertop and Food Prep Area Cleaning
Every countertop and hard surface in your kitchen could be crawling with bacteria. That doesn't include the bits of dried food, beverage spills, dirt, and grime that can accumulate over weeks, months, and years. No matter how long it has been since you had your restaurant deep cleaned, Aps-Hoods guarantees a thorough job. We keep all your surfaces and appliances clean and ready for the next busy shift.
So that you always know what to expect when you call Aps-Hoods for commercial kitchen cleaning, here is a quick rundown of our services. Choose the areas you want to be cleaned, and we will show up ready to get the job done. We can walk you through our processes to keep you informed every step of the way and guarantee the thoroughness and professionalism of our experienced cleaning technicians.
With years of experience keeping restaurant owners like you happy, we guarantee that you will be satisfied with the cleanliness of your commercial kitchen. No matter how complex your layout or how many appliances you use, when you choose APS-Hoods, your kitchen cleaning project is always in the best of hands.
Commercial Appliance & Equipment Cleaning
Our restaurant kitchen deep cleaning services include the sanitization of all cooking equipment. This means that your fryers, ovens, ranges, cooktops, and grills will be cleaned and degreased so that they shine by the start of the following shift. We understand that these appliances can develop significant buildup, even if your last deep clean was only a short time ago. It doesn't take long for impurities to accumulate, but we have the tools and processes to remove food, grease, and debris for improved cleanliness and health.
The cleaning process we employ involves the use of heavy-duty degreasing agents that are safe to use in commercial kitchens. We use soft cloths that will not harm or otherwise mark stainless steel equipment, and we can maintain and repair parts as needed to keep your appliances in excellent working order. This is just a small example of how we go above and beyond during every kitchen cleaning project.
Walk-In Refrigerator Deep Cleans
Your kitchen employees use the walk-in refrigerators all day long. From the handles and doors to the racks, walls, and floors, we deep clean every surface to keep bacteria and food-borne illnesses from thriving. This process keeps the environment inside your walk-ins healthier and codes compliant. The result is more efficient refrigeration and improved cold storage for the health and safety of your loyal customer base.
Exhaust Hood and Vent Cleaning
We want to help you keep your restaurant kitchen clean and the air breathable and healthy. A deep clean of your ventilation system can allow for this level of cleanliness and healthiness. You don't have to be told that too much grease and grime in your exhaust hood and vents can restrict airflow in your commercial kitchen space. By cleaning the grease filters and removing buildups in these hard to reach places, we keep the clean air flowing for a healthier environment and a boost to employee morale.
Commercial Kitchen Floor, Wall, and Ceiling Cleaning
Grease buildup and food particles aren't just relegated to surfaces, cooking equipment, and vent hoods. Over the course of a few shifts, these contaminants can easily come to coat the floors, walls, and ceiling. It would be one thing if discoloration was all you had to worry about, but these buildups can also produce foul odors, not to mention make people sick. To keep buildup and bacteria at bay and your kitchen smelling fresh, we recommend a deep clean of your floors, walls, and ceiling on a regular basis. Aps-Hoods can keep all your commercial kitchen surfaces sanitized and smelling great while preventing slips, falls, and other accidents.
Sink Deep Cleaning
Your employees use your sinks to keep your restaurant clean, but the sinks themselves should be deep cleaned regularly by our experienced technicians to ensure proper function. Our deep cleaning services include a thorough scrub down of your sinks, faucets, drains, and piping to prevent scale and lime buildup while alleviating clogs.
Storage Area Deep Cleaning
A deep clean of your commercial kitchen is never complete without a complete sanitization of your storage areas. From racks and shelves to pantries and cabinets, we will remove dust, crumbs, and other loose debris. This process not only keeps your storage areas clean but it also successfully keeps pests from invading your commercial kitchen space.
A Deep Clean Schedule to Accommodate You
American Professional Services is acknowledged nationwide for our all-inclusive kitchen cleaning services, which includes appliances, equipment, air duct cleaning, and kitchen surface cleaning. We also offer air duct repair, commercial hood installations, and fire protection services. Our experienced cleaning technicians will make your commercial kitchen look presentable all the year through while eliminating odors and keeping fires at bay. Call for commercial cleaning or any of our other services in Denver, CO
Contact Us
Every complete commercial kitchen job includes the following premium services: