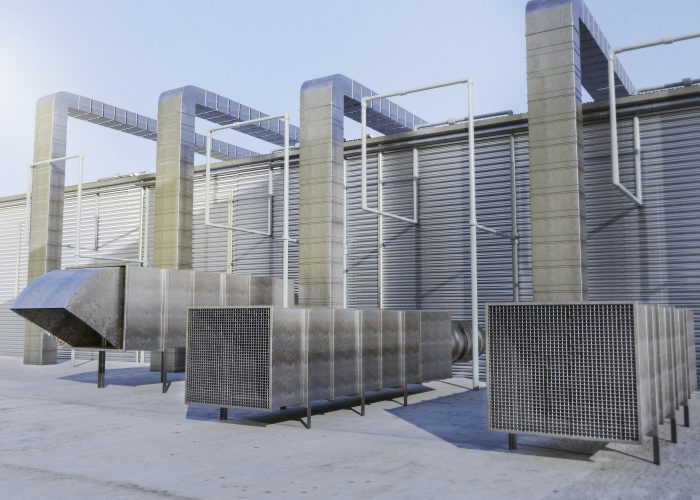 Commercial kitchens use a wide range of heavy-duty cooking equipment and appliances that create plenty of heat and smoke. Unlike regular kitchens, these kitchens are designs in accordance with the current fire safety and building codes and strict sanitary standards. One of the key requirements for setting up and smoothly running a large restaurant kitchen is proper ventilation. If you already run a commercial or community kitchen, you should pay serious attention to its proper maintenance and cleaning by trained professionals. If your cooking facility is well-ventilated, you will be able to create a safe, comfortable and healthy environment for employees to work and guests to have a wonderful dining experience.
As a responsible restaurant owner and cooking facility manager, you should understand the importance of proper commercial kitchen ventilation and make sure the entire space remains free from heat, smoke and odor. 
Introduction
Inside a commercial kitchen, the air often gets contaminated with smoke, grease and other pollutants. Particularly, contaminants are produced when the kitchen fuel continues to burn for hours on end. That is exactly why every large, commercial kitchen requires a high quality HVAC system. The role of kitchen exhaust systems is to keep the indoor air fresh and contaminant-free.
The success of a restaurant or dining center depends on the kind of environment it provides for workers and guests. Cleanliness is extremely important for a commercial kitchen to function in a proper manner. If you keep the kitchen well-ventilated, you will keep the entire area free from contaminated air. If the contaminants are not removed and the indoor air is not fresh, this kind of environment is going to create potential safety hazards for everyone in the facility. You need to install a ventilation system in order to improve kitchen air quality. A proper ventilation system will regularly function to make the kitchen environment suitable for workers.
Installing a ventilation system will not just improve the air quality in the kitchen, but it will also keep the environment of the dining area fresh and free from different kinds of odors and smells. If you have a restaurant, cooking facility or cafeteria in Denver, CO, you should reach out to one of our specialists at APS Hoods and find out more about local health codes and regulations.
Dangers of Poor Ventilation
Poor ventilation will take a toll on people and business. If you run a restaurant, cafeteria or community kitchen, you should definitely remain fully aware of the dangers of poor quality ventilation. Let us take you through the health and safety risks associated with poor kitchen ventilation.
Health Risks
Commercial cooking facilities produce so much smoke, heat and grease that the indoor kitchen air becomes contaminated. If the indoor air quality continues to be poor, it is going to pose health risks to workers.
Continued exposure to commercial kitchen contaminants can lead to a wide range of health problems for workers. Headaches, dizziness, eye irritation and respiratory illnesses are some of the problems contaminated indoor air can cause. It is your obligation to provide complete safety and protection to your employees as well as diners. Increased health risks will ultimately affect the operational efficiency of your restaurant business and your bottomline.
Fire Hazards
One of the major dangers of ineffective commercial kitchen ventilation is the risk of fire hazards. Without proper exhaust hood cleaning and maintenance, grease and other air-borne contaminants will continue to deposit inside the hood filters and the ductwork of the HVAC system. This grease build up is one big reason for the origin and spread of kitchen fire, causing loss of property and even human lives. Therefore, it is crucial that you build and maintain your restaurant and commercial kitchen as per the fire safety codes and regulations in your area.
Legal and Financial Consequences
Not staying code-compliant can bring a lot of trouble for restaurant and commercial kitchen businesses. It is mandatory to adhere to all the fire safety codes and building codes applicable for the area where you have the facility. If it is found during inspections that you are up to code, you may find yourself caught up in legal tangles, which can drain your energy, time and money.
In the worst case, you may have to pay a heavy penalty for violating the necessary code or even close your business altogether.
If you are in search of a company that specializes in restaurant hood installation and kitchen ventilation maintenance, head over to APS Hoods in Denver, CO. Our experts will answer all your questions with full clarity so that you are fully aware of the dangers and take the right steps to avoid them.
Benefits of Proper Ventilation
There are several advantages of a well-ventilated restaurant kitchen. But you need to invest in a high quality ventilation system that is ideal for the day-to-day needs of the type of restaurant you have. You need to consider some essential factors before you make a decision on getting a vent hood system installed in your facility. For this, you need to have an expert by your side or rely on a company that specializes in creating various types of kitchen ventilation design. 
Odor Control
Owing to a wide variety of cooking and food preparation, the kitchen gets filled with smells and odors. In the absence of a high quality HVAC system, the odor will linger inside the kitchen and travel outside as workers come in and go out. As a result of this, the odors will reach the dining area as well.
If you plan to provide guests with an unforgettable experience, you should not just create a wonderful ambiance, but you should also keep the dining area free from all kinds of food odor and smells. That is exactly where the role of a right type of and properly installed vent hood system comes into play. HVAC systems for restaurants can be custom-designed as per your specific requirements. If you are in search of a kitchen hood design company, you should reach out to APS Hoods, which caters to the needs of restaurant facilities all over Denver, CO.
Improved Air Quality
Maintaining proper ventilation throughout the kitchen area and the entire restaurant is essential for improved air quality. HVAC systems for restaurants are designed to perform exactly that function.
Installation of an HVAC system is a surefire way to circulating proper ventilation through all the areas of the restaurant, cafeteria or community kitchen. The role of an HVAC system is a crucial one, as it doesn't just keep the commercial kitchen and all the other rooms well-ventilated, but it actually promotes air circulation and keeps the temperature under control. But when it comes to building a commercial kitchen ventilation system that is a perfect match for your needs. Whether it is the installation of the pollution control units, kitchen exhaust systems or restaurant hood installation, you should get it all done by seasoned professionals. Having experts by your side means the project will be done right first time and completed within the given timeframe, while abiding by all the local codes, terms and regulations.
Increased Energy Efficiency
There are multiple reasons for high energy bills. If your energy consumption is failing to stop, poor kitchen ventilation can be a major reason. To reduce energy bills, you should definitely reach out to a kitchen hood installation company and have their experts custom-design an HVAC system for your restaurant and commercial kitchen according to your specific needs.
Enhanced Kitchen Efficiency and Productivity
Work productivity is of utmost importance, no matter what type of business. When you are running a large, commercial kitchen, you should make sure the productivity levels of your employees are high.
For enhanced productivity, you must give your kitchen workers a safe and comfortable environment to work in. This further stresses the need for installing a proper commercial kitchen ventilation system. Fitted with a top quality and highly efficient HVAC system, your facility will make working for employees easy and fast. This will boost their productivity levels.
Compliance with Local Codes
One of the key benefits of maintaining proper ventilation in your restaurant means you will remain code-compliant.
Adherence to local health codes and regulations is crucial in order to operate a large kitchen or restaurant in a hassle-free manner. First, you need to familiarize yourself with all the local building and fire safety codes and then get your kitchen ventilation design developed in accordance with the same.
Key Components of Commercial Kitchen Ventilation Systems
A commercial kitchen ventilation system is made up of several components. When it comes to developing an exhaust hood system, professionals will work on each of the key components and assemble them together in an accurate manner so as to deliver the best performance on a daily basis.
Essential ventilation system components include:
Exhaust Fans
Range Hoods
Hood Filters
Make Up Air Systems
Ductwork
Before investing in a ventilation system, you should evaluate the exact needs of your commercial kitchen or community kitchen in a proper manner. Your system will be up to par only when it is ideal for your needs and has been designed by seasoned engineers such as those from APS Hoods.
Choosing the Right Ventilation System for Your Kitchen
If you are not an expert yourself, selecting the right kind of kitchen ventilation design and restaurant fire suppression systems can prove to be quite daunting. This is where you will need the help of a professional.
All ventilation systems installed in kitchens and dining centers are not the same in design, features and quality. Based on your needs, you will need to invest in the right kind of system as well as get it installed by expertly trained technicians. Whether it is the exhaust hood systems, hood design, rooftop equipment or the fire protection system, you need to choose it all correctly.
For expert advice on which HVAC system to install, reach out to one of our specialists. Our professionals will equip you with genuine and unbiased advice to help you make the right decision.
Maintenance and Cleaning of Ventilation Systems
All ventilation systems required regular cleaning and maintenance, no matter what type or size a system is. When you get a vent hood system professionally installed, the technician will explain every crucial detail, so that its cleaning and maintenance is never ignored or delayed. Timely ventilation system maintenance, repair and replacement will not only keep the entire system functioning in a smooth manner, but it will also extend the lifespan of all the components. In any case, don't forget to ask the technician for some valuable maintenance tips. Following some simple but effective tips will help you a great deal in maintaining the kitchen systems.
At APS Hoods, we provide commercial kitchen ventilation installation as well as expert cleaning and maintenance of the system. If you have a question in this connection, feel free to get in touch with us.
Conclusion
Hopefully, you have by now understood the importance of having proper ventilation in the commercial kitchen and throughout the dining rooms and other areas of the restaurant. It is crucial to invest in a high quality and ideal type of vent hood system in order to remove steam, heat, smoke and odor from the kitchen in a proper manner and create a fresh and healthy environment for employees and guests. If you are in search of ventilation design specialists in Denver, CO, APS Hoods is the ideal destination to fulfill all your installation needs. Plus, we have highly trained technicians to carry out fast repairs and replacements of the equipment. Our aim is to help you have the best ventilation design for your exact needs.
Our range of commercial kitchen services include installation of HVAC systems for restaurants, ductwork installation, exhaust hood cleaning, range hood repair and replacement, vent hood system maintenance, fan service etc. For your free consultation, you should give our office a phone call or write us an email using the contact form given on our website.