The Benefits of Custom Commercial Kitchen Design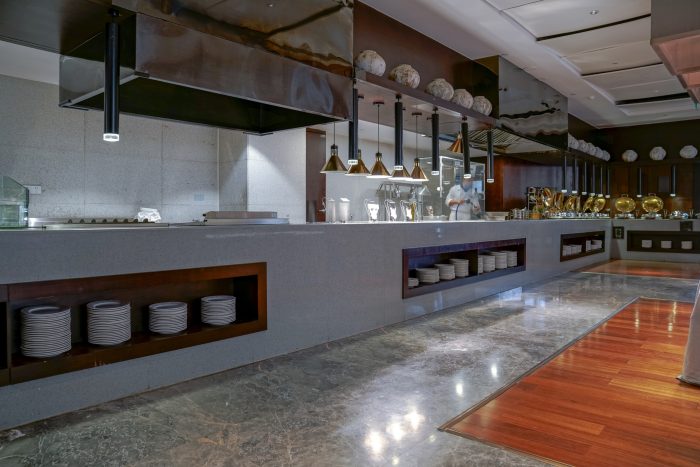 Setting up a commercial kitchen is not an easy feat. Whether spacious or small, every commercial kitchen has different needs. Based on the specific day-to-day needs, the kitchen should be designed to remain functional in order to prep, cook and serve food in a timely manner. A great deal of expert planning is required to optimize the operational efficiency of a commercial or community kitchen. That is exactly where the need for a custom commercial kitchen design comes in. During the design process, you need to carefully consider all the key aspects of the kitchen design, right from food preparation and storage to cleaning. So, never go for a one-size-fits-all approach, as such a design will not be suited to your specific needs.
Let us broaden your knowledge about custom-designed commercial kitchens and explain what kind of benefits it has to offer.
What is Custom Commercial Kitchen Design?
If you operate in the food service industry, you should definitely understand how a custom commercial kitchen design is different from a standard commercial kitchen design. Unlike a standard or regular design, a custom-designed restaurant kitchen or community kitchen is designed based on your everyday needs and vision. Such a kitchen includes high quality industrial cooking equipment and appliances with a highly customized design and components.
Essential design elements of a customized commercial kitchen include:
Service requirements
Cooking
Food storage
Food preparation
Cleaning
A high-performance, custom design refers to a highly organized, functional and efficient commercial kitchen. Such a kitchen makes use of the entire area in a well-planned manner without wasting a single inch of the valuable space. The good news is that it doesn't take more time to design such a restaurant kitchen, compared to a standard or regular commercial kitchen.
If you have a question in this regard, feel free to get in touch with one of our experts at APS Hoods in Denver, CO.
Benefits of Custom Commercial Kitchen Design
There are ample benefits of building a custom-designed commercial kitchen for a restaurant, cooking facility, food preparation center etc. If you plan to build a commercial kitchen soon or want to remodel or upgrade an existing restaurant kitchen, you should become aware of all the important benefits that a fully tailored and professional kitchen design has to offer. Understanding these benefits will keep you well-informed and help you make the right decision.
More Efficient Use of Space
The success of a restaurant business largely depends on how functional and efficient its commercial kitchen is. So, when you start building a new restaurant, cafeteria, pub or cooking facility, you should see to it that the kitchen you design fulfills all your specific needs in a proper manner.
If the commercial kitchen is well-planned and expertly designed it will make the day-to-day operations in the restaurant fast and easy. The staff will move without any difficulty and the visitors will also experience ease of movement as a result. Since the size and requirements of every commercial kitchen is different, the best idea is to custom-design this space. Customized design means you will make the best and most efficient use of the space available.
Increased Productivity and Workflow
The purpose of setting up a commercial kitchen is to prepare and serve food to a large number of customers. That is exactly why it is crucial to focus on productivity and workflow during the designing of the facility. If the utilization of space is proper and the cooking equipment and machinery are organized in a clever manner, the productivity will increase. When you choose to custom-build your restaurant kitchen, you will get the best performance and results. Kitchen employees will be happy doing their jobs in a hassle-free and comfortable environment.
Increased productivity will ultimately boost your bottom line. So, make sure you get your commercial kitchen design tailored to your specific needs with the help of highly trained restaurant design professionals.
Better Hygiene and Sanitation
Great food and excellent customer service will bear no meaning, if you fail to maintain proper hygiene and cleanliness in a commercial kitchen. Abiding by hygiene rules are important in order to prevent the risks of food contamination and food-borne illnesses. When you are designing a restaurant kitchen, the set up and arrangement should make cleaning and maintenance easy and quick. Custom commercial kitchen design will help you achieve this objective.
Improved Safety for Staff and Customers
Accidents may happen in a commercial kitchen anytime. The kitchen staff work in a hot and smoky atmosphere surrounded by many different types of machinery, appliances and equipment. When it comes to building a restaurant kitchen, it is crucial to keep all these factors in mind and design the cooking facility in a manner that reduces the risks of safety hazards. You need to provide your employees with a safe working environment where they don't remain exposed to slips, trips, falls, burns, cuts, lacerations, sprains etc. Not just for the staff, the commercial kitchen safety is important from the customers' point of view as well.
By planning for increased safety for employees and customers, you will set the business up for success. Your customers will also feel safe when dining in your restaurant and you will attract more customers as a result.
Enhanced Customer Experience
No matter which city, customers constantly look for restaurants that will provide them with a unique experience. If you plan to open a new restaurant or transform an existing eatery, you should pay attention to customer experience. Unless you provide customers with a new and refreshing experience, they will not be satisfied and will not return. It is not just food for which customers visit a particular restaurant, but the ambiance also is one of the crowd-pullers.
By hiring professionals and building your restaurant kitchen and dining area as per your specific needs, you will be able to create a perfect atmosphere for everyone including the employees and the customers.
Tailored to Specific Needs and Requirements
One of the biggest benefits of creating a custom-designed commercial kitchen is that it serves you specific needs in a perfect manner. In fact, the very procedure of designing a custom commercial kitchen begins with a detailed assessment of what you exactly need on a day-to-day basis. Based on the kind of menu, every restaurant has different requirements. It is these specific needs that professionals focus on when designing the restaurant kitchen and the dining area. Whether you plan to open a cafeteria, pub, bar, community kitchen, fast food service center, a customized design will fulfill your exact needs and requirements.
If you have a question about the benefits of designing a custom commercial kitchen, feel free to reach out to APS Hoods in Denver, CO. One of our specialists will answer your questions and clear your doubts.
Factors to Consider in Custom Commercial Kitchen Design
Unlike a standard design, a custom design for a commercial kitchen takes all essential aspects into account. Experts think of the commercial kitchen as an efficient factory within a restaurant. Regardless of what your specific goals are, design engineers and specialists will create exactly what you need. Here are some of the key considerations for custom commercial kitchen design.
Menu and Food Preparation
The entire custom design project begins with the menu type. What kind of menu have you planned for your eatery? You need to look at all the menus you will serve including for breakfast, brunch, luncheon, afternoon, dinner etc. There are many different types of menus that you can plan and serve at your restaurant. Based on the menu and your requirements for food preparation, professionals will start to evaluate what type of kitchen design will be ideal.
Equipment Selection and Placement
A commercial kitchen is outfitted with a wide range of heavy-duty, industrial equipment and machinery. In commercial kitchen design, selection and installation of all the equipment will be an important factor. The design specialists will plan for the set up and arrangement of all the kitchen machinery as they create the commercial kitchen layout. Whether it is the cooking equipment, HVAC systems or the ventilation units, a custom design will include details on each of these. You will be guided on selecting the right type and quality of equipment.
Traffic Flow and Workspace Design
Traffic flow is a crucial factor in commercial kitchen set up. Employees should be able to move through the restaurant building without any kind of difficulty or hassle at all. If movement is fast and easy, waiters will be able to pick up food, deliver food to customers and clear the tables very quickly. Likewise, the workspace should be highly functional. You need to create a very safe and comfortable workspace for the staff in order to have smooth operations.
Budget and Timeline Considerations
When getting a custom design for your commercial kitchen, one of the first things you will want to know is how much the entire project will cost you. You will need to have a budget for project design and management, cooking equipment and appliances and the cost of installation. Restaurant building contractors and commercial kitchen designers will sit with and discuss all these. The delivery of the project will be done as per the timeline given by the contractor.
Compliance with Local Regulations and Codes
The NFPA has given crystal-clear instructions for the food service industry to follow in order to minimize safety hazards. If you are going to open a restaurant, you should become familiar with all these fire safety and building codes and regulatory guidelines and follow them in a proper manner.
The local regulations and safety codes may vary depending on where exactly your restaurant or eatery is located. When you have professional restaurant design experts by your side, you will never have to worry about compliance with these codes when building a commercial kitchen. Professionals will create the design in accordance with the safety regulations and obtain all the necessary permits so that the project can be completed without any hassle.
At APS Hoods, we have a strong and highly dedicated team of commercial kitchen design professionals. Feel free to talk to one of us to find out how we can help you and create a customized design to meet the everyday cooking, food preparation and serving requirements of your kitchen. We are a one-stop shop for all kinds of restaurant and commercial kitchen design in Denver, CO.
The Importance of Working with a Professional Designer
Building a restaurant and designing a commercial kitchen is no easy fit. For such an important and complex project, you cannot depend on amateurs or people with little experience. Instead, you need to work with seasoned professionals who have ample experience in creating the entire commercial kitchen set up including the selection and installation of all the cooking equipment, machinery, appliances and fire suppression and HVAC systems.
When you work with trained professionals, you will be able to choose the right type and quality of cooking equipment and complete all the installations exactly as per regulatory guidelines. Professional designers and engineers will do extensive research and come up with an ideal solution that helps you stand out and beat out the competition as well. Restaurant design contractors have tie ups with other vendors and professionals so that you don't have to worry about all this.
Whether it is the build process, budget or timeline, you will be able to discuss everything in detail with the experts. With restaurant design specialists by your side, you will get a better return on your investment.
Examples of Successful Custom Commercial Kitchen Designs
It is a great idea to check out some of the successful past projects when you decide to work with professionals. This will give a fair idea about the process a restaurant design company follows to accomplish projects. Plus, you will understand the key design features such as commercial kitchen efficiency, workflow, safety, sanitation etc. You will find out the benefits of these features. Whether you plan to build a new commercial kitchen or remodel an existing one, you should definitely check out a few examples and case studies to set expectations right.
At APS Hoods, we proudly share examples of successful commercial kitchen designs we have created in the recent past.
Talk to a Commercial Kitchen Design Specialist
Customized design is a surefire way to build an ideal commercial kitchen to fulfill your exact day-to-day needs of cooking and preparing food and serving them to customers in a timely manner. There are a host of other benefits of creating a tailor-made commercial kitchen design. Most of all, it will set your restaurant business up for success. If you have a question or want to know about how it works, reach out to one of our specialists at APS Hoods in Denver, CO.
For your initial consultation, you can dial up our office a phone number or send us an email using the contact form on our website.