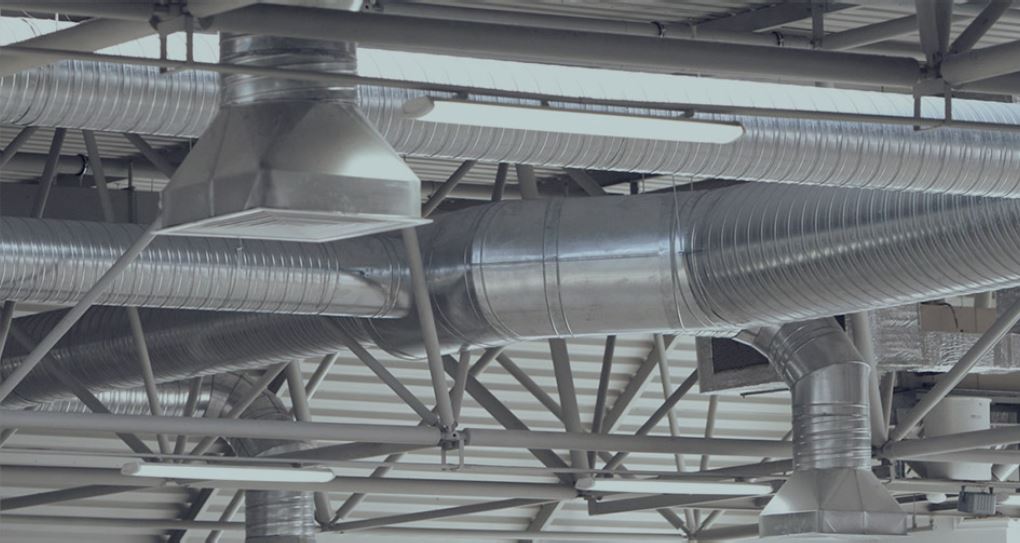 Air duct cleaning is important for commercial businesses of all types. Whether you have a bookstore, a pet supply store, a restaurant, or a dental clinic, your vents likely need cleaning. When is the last time you had the proper work done?
Even if you keep a spotless establishment, even the cleanest commercial operations can end up with dirty vent ducts. 
Six reasons for keeping your air vents cleaned
Depending on the type of business you operate, you have at least six reasons for keeping your air vents cleaned. 
Better Air Quality:

Over time, commercial air ducts can become filthy and coated in dust. All that gunk can find its way into the air your staff and customers breathe. If you don't put effort into keeping the air breathable, illnesses could result. Employees could call in sick and customers might stop coming. You might also get a nasty writeup from commercial reviewers or on customer review sites. A clean establishment is a customer draw and that requires squeaky clean ventilation ducts.

 

Cleaner Environment:

Not only could the air become contaminated with dirty ducts, but dust and grime can find its way on your store shelves. For restaurants, greasy air ducts can contaminate the food, leading to poor customer experience.

 

Healthier Staff:

Your staff show up daily and work hard to fulfill your business interests. Reward your staff by keeping all of your vents free of dust and debris. Otherwise, your staff can be forced to inhale contaminants like dust, spores, mold, and microbes on a regular basis, leaving them susceptible to illness and expensive time off. 

Pleased Customers:

Your customers won't want to spend much time in your establishment if your air ducts are mucking up the air and throwing dust everywhere. Instead, customers prefer a pristine environment, and keeping sanitized air vents is an excellent first start.

 

Reduced Costs:

It is much easier to keep your commercial air ducts clean if you do a thorough cleaning on a regular basis. Soiled ducts also force your HVAC system to work overtime, putting a strain on the system leading to potential burnout and replacement. Your energy costs could also potentially skyrocket even though your environment never really gets comfortable. An efficient HVAC system keeps your costs low, and that's where a clean air vent comes into play.

Happy Health and Safety Inspector:

If your commercial business gets regular visits by health and fire inspectors, you can avoid hefty fines and keep your business healthy and safe by keeping your air ducts squeaky clean.
Air Duct Cleaning 101
Now that you know the importance of duct cleaning, here is how to gain all the benefits of spotless ducts with a few well-placed tips. 
Cover All Supply Registers:

It is recommended that you clean the supply air registers, which are the openings that supply heat into the rooms, with paper towels before you begin the process of cleaning your vents. You can cover the vents by lifting the register and wrapping paper towel on top before replacing it.

 

Turn on the Fan:

It is best to keep the fan running while your vents are being cleaned. As you vacuum and brush away the dust, you want it moving along so that it can be collected easily. Set your thermostat to "fanon" and turn off the "heat/cool" mode so that only the fan runs. If your HVAC system doesn't have a fan-only option, run the heat or install a new, more modern thermostat. 

Change the Furnace Filter:

Over time your filter can throw up a lot of dust and debris. Changing the filter ensures that your air ducts are kept clean while the system runs.

Shop Vac the Air Ducts:

Use a shop vac with a heavy-duty and decent hose to collect dust, dirt, rodent droppings, mold spores, and anything else that can collect inside commercial ventilation ductwork.

Brush the Ducts Clean:

Vacuuming the inside the ventilation ducts is only the first step. You should always follow up on the shop-vac work with a toilet brush or similar employment. A stiff-bristled paintbrush could also work for heavier duty debris that won't readily vacuum away.

Clean the Supply Registers:

Now you can start sweeping the dust that has collected in the supply registers. Keep the vacuum running and the end of the hose pointed toward the register, then lift the register. The hose should catch any dust that is being pushed out by the fan. You can then sweep the dust and debris into the hose using the brush. Then, sweep out the return air registers, which are usually fastened in place with screws. Try to get as far back into the register piping or cavity as possible. 

Shut Off the Fan:

Once the registers are clean, shut the fan off at the thermostat and turn off the power to the furnace via the breaker switch panel. 

Clean the Blower Compartment:

Once the HVAC system is turned off, remove the panels on the front to access the blower compartment and return air boot. Using the shop-vac, sweep up the dust that has built up inside the blower, and return air boot. While you are at it, clean the furnace fan to ensure your system is free of dust that can then find its way into your clean air vents.

Access the Main Ducts:

There are likely duct compartments that cannot be accessed with a shop-vac hose and toilet brush. For those areas, you can remove the end caps from the rectangular ductwork to access the inside of the air vents. Slide the drives down the duct and pull the cap out of the slips. Use a flashlight to look inside the old ducts for dirty areas, but the majority of dust will be in the easily accessible areas and inside the HVAC unit.

Clean the Basement Registers:

If you have registers installed throughout your HVAC system to distribute air to the basement, you will want to remove and clean these registers as well. Use the same procedure you did for the upstairs registers. You will soon find that cleaning the basement registers has the added benefit of giving you further access to the main trunk line. 
Follow these steps regularly for air vents that are always clean for happier customers and staff and better savings. 
3 Expert Tips for Vent Cleaning by Air Duct Specialists 
1. Break Contaminants Loose
For a thorough job, you need to be able to locate the sources of any and all contaminations. For an accurate visual, use a flashlight and look for unusual spots along with the inner ductwork. Then, work these spots clean using vigorous hand-brushing and contact vacuuming. For stubborn contaminants, you can even use compressed air nozzles, which is how the experts clean stubborn air vents.
2. Collecting Contaminants
Each stroke of your brush or sweep of the shop-vac is likely to kick up dust and debris, sending them airborne. Professional ventilation duct cleaners use negative pressure by way of heavy-duty vacuums to prevent the spread of contaminants. Using room ionizers can usually remove airborne particles that may result from a proper vent duct cleaning.
3. Sanitize Ductwork with Antimicrobial Chemicals 
A good way to put a final seal of approval on your duct cleaning project is to apply an antimicrobial solution to keep mold and microbes from spreading. A good cleaner can also help to control odors, giving your environment a professional shine your customers are sure to love. Look for chemicals that are registered with the United States Environmental Protection Agency or EPA. 
Is It Worth Hiring Air Duct Cleaning Companies?
Absolutely! Only a professional commercial air vent cleaning company will have the tools, know-how, and experience to ensure your business remains sanitized and protected. 
A company like Aps-Hoods, for example, will not only ensure the air ducts stay clean, but will also inspect and scrub the coils, drain pans, registers, grills, air plenums, blower motors, air filters, heat exchangers, and air cleaners. This allows the vent duct cleaners to potentially maintain and replace components as needed for clean and efficient airflow.
Average Price for Air Duct Cleaning
The price you can expect to pay for air duct cleaning can range between $400 and $1000, depending upon several factors. These figures come from studies by the Environmental Protection Agency (EPA) and the National Air Duct Cleaners Association (NADCA). 
Your fees will depend upon the following factors. 
The size of your ductwork and type.

The level of contamination.

Accessibility of your vents and ductwork.

Number of crew members required.

Potential duct repairs.

 
Where to Find Air Duct Cleaning Near You
When looking for commercial vent hood cleaners, you have several to choose from, no matter where you operate your business across the country. Aps-Hoods, for instance, has locations in both Denver, Colorado. Both of those locations have several competitors each to contend with.
However, our customers continue to turn to us for proper ventilation cleaning because we possess the following qualities. 
Licensed:
Our duct cleaning technicians are all bonded, licensed, and insured by the state they operate in. If you are in Denver, you can ensure that your ventilation service will be conducted with the utmost skill and precision as mandated by the federal, state, and local regulations. 
Experienced:
Each of our technicians has vast experience cleaning all types of HVAC systems and ventilation ducts. We can get access to even the most hidden-away places to eradicate contaminants to keep your business healthy and safe. 
Professional:
Each of our technicians shows up in the appropriate company issued uniform and is prepared to demonstrate a solid work ethic until the duct cleaning job is complete. You can be assured a job well done, which means that your vent hoods will be free of dust, dirt, mold, and microbes after every cleaning, guaranteed. 
Affordable:
We provide all of our customers with fair pricing that is based on industry averages. We also work with manufacturers directly to deliver parts at a discount, in case any components are seen to malfunction during the vent cleaning process. Our goal is to help you maintain a clean and healthy environment for staff and customers while saving you in cleaning fees and energy costs. 
All-in-One Vent Hood Cleaners:
We can clean, maintain, and replace any components during the ventilation duct cleaning process. If fans aren't working, wires are frayed, or we notice that your HVAC system is running inefficiently for any reason, we will sniff that reason out and provide you with affordable repairs for a clean and well-maintained business.
Free Estimates:
Our customers always know that there is no obligation when they call Aps-Hoods for commercial duct cleaning services. We show up to assess your system and offer free quotes for all work and no surprises, giving you all the information you need to make an educated decision when hiring our air duct specialists.
Call Now for a Free Estimate and Green Clean Duct Cleaning 
Whether you live in the greater Denver area, Aps-Hoods is your local leader in professional ventilation duct cleaning. We can assist you with any level of cleaning, even if your ducts have been left to fester for quite some time. We can help with all sizes of commercial operations and all industries, from retail and restaurants to industrial warehouses and office buildings. Your vents deserved to be cleaned by the experts. Call Aps-Hoods today for a free estimate and let us do the job for you when you want clean ducts and immense savings.