Commercial Hoods Motor Seal, Repair and Replacement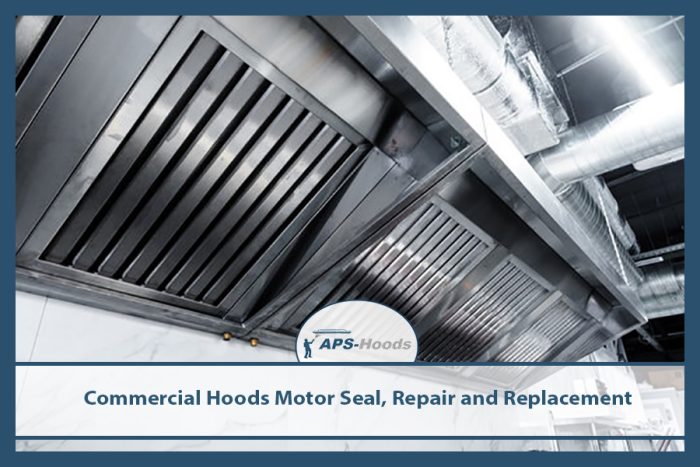 The commercial hood system of a large kitchen consists of three major parts: kitchen hood, grease duct and exhaust fan. The exhaust hood or the range hood of a commercial kitchen is an essential device, which is installed to ensure a safe working environment for the staff and a fresh and odor-free atmosphere for guests. As a smart and responsible restaurant owner, it is your duty to keep the entire hood system in excellent working condition at all times.
After you have outfitted your restaurant with a high quality kitchen exhaust hood system, you should give it proper maintenance, particularly the exhaust fan motor, so that the smoke, heat and the airborne grease leave the kitchen area in a proper manner and the staff can stay safe while working.
Common Exhaust Fan Issues
Various issues with the exhaust fan may arise from time to time. What is important is that you spot the signs early and call in hood fan repair experts in time so as to avoid the failure of the exhaust hood system.
Before the system stops to work efficiently or fails altogether, you will hear rattling or unusual sounds. Too much vibration is yet another sign that there is something wrong with your commercial hood. If the hood system fails to turn on and there is no problem in the circuit, you should know that there is a major issue. Among other reasons for the system failure is the burned out motor. This is the stage where you should immediately seek professional help. Avoid fixing these hood issues yourself, as DIY techniques can worsen the problem even more.
At APS Hoods, we specialize in the maintenance, repair and replacement of the exhaust fan and the hood motor. If you have a motor failure, our professionals will look into the problem and fix it in a proper manner. Whether you need a hood motor seal, repair or replacement, our technicians will troubleshoot issues swiftly and provide the best fix to maximize mechanical efficiency.
Types of Exhaust Fan Motor
Exhaust hood systems use different types and capacities of motor. You will find the standard or single phase motor in small exhaust fans. For industrial purposes, systems use split-phase motors. Capacitor-start motors are ideal for use in large industrial machinery. Powerful motors are designed to effectively deal with a large amount of mechanical stress and give the best output.
The motor in a commercial range hood rotates the fan blade so that it can pull air via the range hood vent. In the event of a worn out or burned out motor, the motor will not spin the blade properly and the air will not be circulated as a result. In this case, the fan motor will need to be replaced with a new one.
At APS Hoods, our technicians are proficient in accurately identifying the issue and then repair or replace the motor as per need. We also deal in hood motor sales and provide restaurants with high quality products.
Range Hood Motor Replacement
The installation of a new motor is carried by following a number of steps in a correct and proper manner. Our range hood technicians are quite proficient in the entire procedure and skillfully perform the entire job.
The key steps include:
Disconnect electrical power to the exhaust hood
Pull the filters out of the hood
Remove the side panels
Pull the range hood down
Remove the fan blade
Remove the motor
Install the new hoods motor
Reinstall the fan blade and range hood
Reassemble the hood
Restore electrical power to the hood
Each of these steps needs to be followed in a skillful manner. To replace the range hood motor, technicians use a set of right tools and safety equipment. Trying to fix this on your own can prove to be hazardous. Plus, a specific fan motor must be replaced with a new motor of the right model and size. So, always seek the help of qualified technicians to get these replacements.
Range Hood Motor Repair Symptoms
If there is a motor failure, the commercial exhaust hood will not function with maximum efficiency. There are some common symptoms that you can use to immediately identify something is wrong.
The hood's fan does not pull enough air
The exhaust hood does not function properly
The exhaust fan makes a noise
The hood's fan does not work
The hood's fan gets turned on by itself
All these symptoms indicate that your commercial range hood is not in good shape. If you spot any of these signs, you should reach out to APS Hoods in Denver, Colorado, to identify the issue and get it fixed.
Properly Maintain Exhaust Fans to Remain Code-Compliant
The repair and maintenance of exhaust fans is not important just to ensure hassle-free operation and longer lifespan of the equipment. You need to maintain the device also to eliminate fire safety hazards.
Exhaust fans installed in large kitchens, cafeteria or a catering facility need cleaning on a regular basis. Grease-laden vapors lead to buildup in the range hood and this increases the risk of fire. As per the guidelines put forth by the National Fire Protection Association, it is mandatory for restaurant owners to get their exhaust fans regularly cleaned by certified professionals.
If you are looking for highly trained and qualified technicians for proper maintenance of your kitchen exhaust hood, you should head straight to APS Hoods, which operates in Denver, Colorado.
Do You Have Issues with Your Exhaust Hood Motor?
If the exhaust fan of the range hood in your commercial kitchen is not working in the most efficient manner, the system has an issue. Ignoring the symptoms or delaying the seal, repair or replacement of the hood moto can cost you dearly. So, you should take professional help before it is too late. At APS Hoods, we do not just repair and replace range hood motors but also have different types, sizes and models of motors on sale to suit your specific requirements.
Give our Denver, Colorado, office a phone call or write us an email to talk to one of our commercial hood specialists.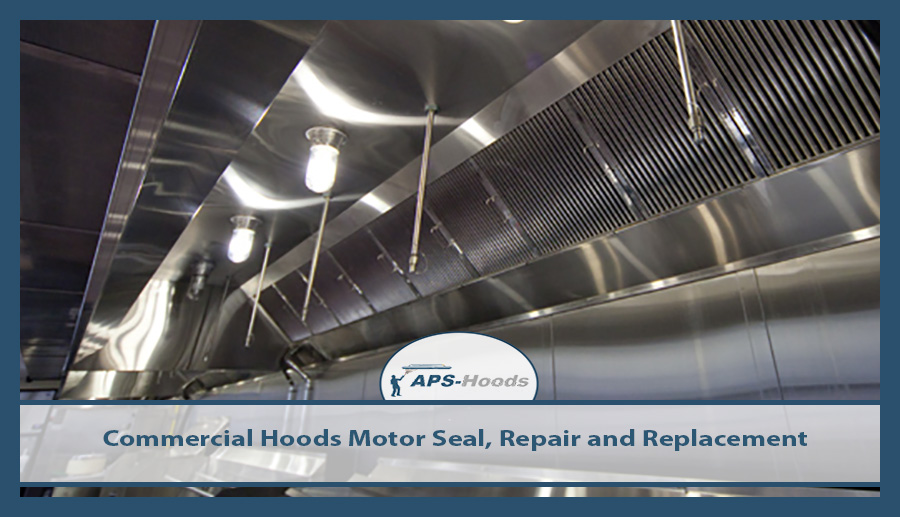 Some More Post Related: