Troubleshooting Tips For Your Commercial Restaurant Ventilation Hood System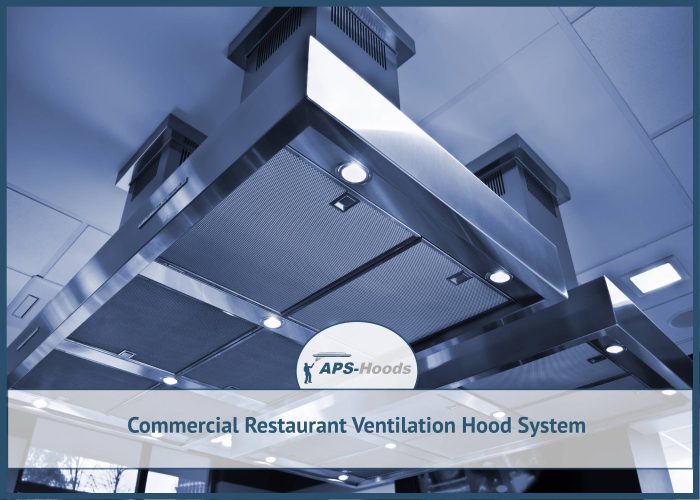 If you plan to run your commercial restaurant in a smooth manner, you should always pay attention to the proper functioning of the kitchen ventilation system. If the ventilation hood system does not work with full efficiency, all kinds of problems will continue to arise while interrupting business. You may have to deal with poor indoor air quality and increased risks of fire and safety hazards. That is why it is crucial to keep a close watch on how the kitchen ventilation system works and address every issue as quickly as you spot it. Accurate troubleshooting is essential not just to address various problems but also prevent them in the future.
Let our experts at the APS Hoods in Denver, Colorado, help you with some of the most useful troubleshooting tips for your commercial restaurant ventilation system. Our company specializes in the installation, repair and maintenance of HVAC systems for a range of commercial kitchens.
Why Proper Kitchen Ventilation is Crucial!
Before food is ready to serve, everything happens in the kitchen. A large commercial kitchen generates a great deal of heat, smoke and odor on a regular basis. If all of this is not handled in a proper manner, it can become really hard for the staff to work in the kitchen. Not just the workers, but the uncomfortable and unsafe kitchen environment takes its toll on the guests too.
Installation of a high-grade ventilation system is essential in a commercial kitchen. The system is specially designed to maintain better air quality inside the kitchen and ensure a comfortable working condition. All the heat and smoke that is generated in the kitchen on a daily basis makes the indoor air impure and contaminated. Poor indoor quality affects the health of the workers. Deposits of grease in the range hoods enhances the risk of kitchen fire. Proper ventilation is a proven way to deal with all these issues and ensure smooth running of the kitchen as well as the restaurant. Though it is important to invest in the right type of HVAC system, it is also essential to give the system proper attention and maintenance. Timely inspection, repair and maintenance will also extend the life of your commercial ventilation system.
Different types of problems can arise with any commercial restaurant ventilation system. What is important is that you get the problems solved without any delay. Ignoring even some minor issues can worsen the situation further and affect the entire ventilation system and reduce its lifespan.
Useful Troubleshooting Tips for Your Kitchen Vent Hoods
It is a good idea to have some knowledge of how a typical ventilation system in a large or commercial kitchen works. While you may come across various types of problems with the commercial vent hoods, there are some issues that you can troubleshoot yourself. Using some troubleshooting tips means you will be able to fix problems fast without affecting the business.
Given below are some of the most useful troubleshooting tips you can use the next time your ventilation system is not working.
Ventilation System Doesn't Turn On
If you turn on your kitchen ventilation system but it won't start, you will certainly feel concerned. When it happens, you may also think that the entire system has been damaged. However, you should not worry much and do some troubleshooting to find out what exactly is the reason for it.
When an issue arises with your vent hood system, many things will come to your mind. But unless you find out the exact reason, you can never be sure what has caused a specific problem. If your ventilation system fails to start, you should first take a look at the breakers and the wiring. The problem may arise due to the failure of a power-related component in the vent hood. You may be able to troubleshoot the commercial vent hoods in this case and fix it quickly. In case you are unable to detect the problem, the best idea is to seek professional help.
For more details on this problem and how to fix it, feel free to talk to one of our HVAC repair specialists at APS Hoods.
Rattling Sound Comes from the Vent Hood System
One problem that may arise with a commercial kitchen ventilation system is a rattling sound heard when the system starts.
If you hear rattling noises coming from the vent hood system, this means one or more components are loose. The components that make the noises may be located either in the external or internal part of the system. It can be easy to take a closer look at all the external parts and see if there is anything loose. But finding a loose component inside the system will be difficult. In such cases, it is important to locate the component that is producing the noise. Any delay in this regard can worsen the problem and the system can sustain costly damages.
If you cannot find a loose component you can fix yourself, you should immediately reach out to a trained technician or a kitchen hood installation specialist in or near your location. If your restaurant is located in Denver, CO, APS Hoods is an ideal destination to hire highly trained technicians.
Breaker Needs Constant Resetting
Do you have to reset the breaker of your ventilation system? You may come across this issue when running the system. While you would think that it is the fuse that is the culprit, the cause may be something else.
It is not always the fuse that requires you to repeatedly reset the breaker of the kitchen vent hood system. Many times, it happens because the HVAC motor is faulty. Apart from checking whether the motor is damaged, you should also have a look at the motor starters, located on the back side of the access panel. Both the trip button and the reset button are located inside the access panel of the vent hood system. If you find that you have to push the trip button over and over again, this means you need to replace the vent hood motor with a new one.
The problem in question may arise due to other causes. It is for a highly trained HVAC technician to troubleshoot the restaurant ventilation system and find out the exact cause and fix it in a proper manner.
Kitchen Air is Smokier than Usual
Heat and smoke are common in a commercial kitchen. But if you find that the level of smoke is higher than usual, it is troubleshooting time. Another problem with a smokier kitchen is that the indoor air temperature rises too. When a problem like this arises, you will certainly be worried.
The environment inside a commercial kitchen should always remain comfortable and healthy. Too much smoke and heat will make it hard for workers to do their job in a proper and effective manner. That is why you should take action as soon as you see your kitchen atmosphere is smokier than usual. One common culprit behind this problem is greasy vent hoods. Over time, the range hoods collect a lot of grease and this is how more smoke is formed. In particular, you should take a look at the vent hood, exhaust hood filters and exhaust fan.
While you may be able to handle minor problems on your own, it is always best to take the help of an experienced technician. At APS Hoods in Denver, CO, we specialize in exhaust system cleaning, vent hood cleaning, grease trap cleaning, duct cleaning, trash chute cleaning etc. For more information, reach out to one of our highly trained and skilled vent system specialists.
A professional will perform vent hood cleaning in an effective manner as well as replace the damaged hood filters, if required.
Kitchen is Infiltrated by Excessive Moisture
If a lot of moisture infiltrates your kitchen, it can cause health and hygiene issues. To find out whether you have this problem or not, the quickest tip is to take off the exhaust hood fan's cover after shutting off power.
You will always see some amount of moisture, which is not a problem. But if the amount of moisture crosses limits and it infiltrates your commercial restaurant kitchen, you should be concerned. As a result of excessive moisture, you will face sanitation issues as well as mold growth. If the problem is not taken care of in a timely manner, your restaurant will be badly affected.
Reach out to a professional for an inspection of the kitchen exhaust system and get the necessary repair and maintenance done.
Excessive Heat in Restaurant
When you have a problem with your ventilation hood system, it is not just the kitchen that is affected. In fact, the entire restaurant as well as the building can get affected as a result of that. If your restaurant feels hot, it is definitely time to take a closer look at how your vent hood system is functioning.
Too much heat in a restaurant is an even bigger problem during summer months. The reason for excessive heat is negative pressure created by the exhaust hood system you have installed. As the ventilation system operates, it throws out hot and contaminated indoor air and draws in fresh air. There has to be a certain balance between the two for your kitchen and restaurant to remain cool and comfortable. If the vent hood fan stops to perform its function in an efficient manner, the air inside the kitchen becomes hot and it gradually heats up the entire restaurant.
The solution to this problem is air balancing. If you are in search of a company that specializes in commercial air test and balancing, head over to APS Hoods that operates in and near Denver, Colorado.
Prevent Problems with Regular Vent Hood Maintenance
At all times, you should ensure the ventilation system of your commercial kitchen runs in a hassle-free manner. While problems with the system may arise from time to time due to various reasons, you should never ignore any of the problems – even if it appears to be a minor one. In fact, you should try to understand how the commercial vent hoods in your restaurant work as well as know how to find out when the system is not working in a completely efficient manner. As soon as you spot an issue, you should wear your troubleshooting hat or seek the help of an expert to address the vent hood problem in a fast and efficient manner.
Hopefully, the troubleshooting tips above will help you solve a number of problems in a speedy manner. One surefire way to prevent vent hood problems is to give the system timely repair and proper maintenance.
When you run a commercial restaurant, your goal is to pull as many visitors as possible and increase the bottomline. That is why it is extremely important to provide both your kitchen workers and guests a safe, healthy and comfortable environment. When diners feel great comfort, they will visit your establishment over and over again while also spreading the word about it. So, always take proper care of your vent hood system and ensure it runs efficiently and smoothly.
Talk to a Commercial Vent Hood System Specialist
Ventilation hoods serve a crucial role in a restaurant's kitchen. As a restaurant owner, you definitely have a number of things to handle. But you should never ignore the regular maintenance of the vent hood system. When it comes to troubleshooting, inspecting and cleaning the system, you should always remain proactive. If you spot ventilation hood problems you can't handle on your own, you should reach out to an expert for an ideal solution. At APS Hoods in Denver, CO, we provide professional commercial hood services, kitchen equipment cleaning, vent hood cleaning, grease trap cleaning, exhaust fan services etc.
For your free consultation, you can give our office a quick phone call or write an email using the contact form on our website.