7 Tips to Keep Your Commercial HVAC Units in Good Health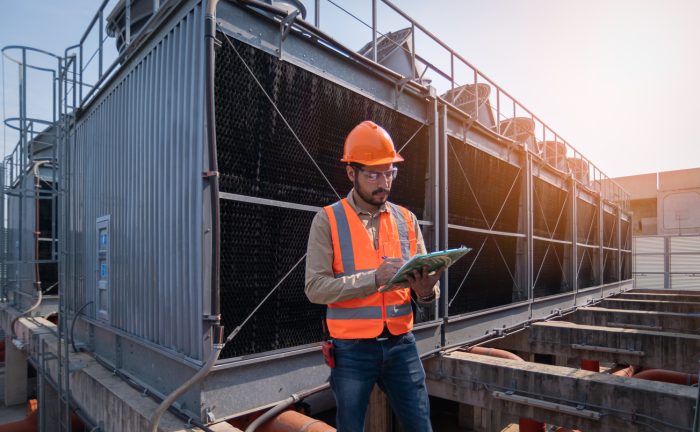 One of the most crucial responsibilities of a restaurant owner or building manager is to pay attention to the proper functioning of the HVAC systems. A commercial HVAC (heating, ventilation and air-conditioning) system is made up of various elements and components. If any of these parts of a unit has an issue, it can affect the efficiency of the entire system and can even lead to total failure. This, in turn, can disrupt business and drive clients away. If you operate a restaurant, commercial kitchen or a food service center, you should always make sure your HVAC system functions to its fullest potential. But how exactly do you keep HVAC machines in good health? In this article, we will discuss that and a lot more.
Being a commercial HVAC system specialist, we at APS Hoods possess an in-depth knowledge of how these systems function and how you should care for the units to keep getting the best results. Our services also include hood exhaust cleaning, grease trap cleaning, HVAC installation, HVAC repair etc.
Why Install a Commercial HVAC System
When running a restaurant or large kitchen, you constantly need to maintain better indoor air quality and regulate the indoor temperature. Composed of heating units, ventilation system and air-conditioning units, the HVAC performs a crucial role by providing a safe and comfortable environment to both kitchen employees and guests in the dining area. HVAC systems are complex machines, designed to keep large areas well-ventilated and fresh. That is why you should seek the help of trained professionals for HVAC installation, service and repair.
Every restaurant or cooking facility is different, and it requires custom-made HVAC machines for high efficiency and use on a regular basis. Some of the key benefits of these machines and units are as follows.
Control and regulate indoor temperature
Improve indoor air quality
Reduce energy consumption
Improve work environment
Avoid extreme temperature fluctuations
When running a restaurant, it is your first priority as the owner or the manager to give workers a safe and comfortable work environment. By installing commercial HVAC systems, you will protect your employees against different kinds of health hazards and increase their productivity levels. Once you have these machines installed in a proper manner, you should give them proper maintenance in a timely manner to avoid any kind of major issues or sudden system failure.
At APS Hoods in Denver, CO, we specialize in HVAC installation, HVAC repair, HVAC make up air and HVAC balancing as well as in commercial kitchen cleaning and restaurant hood cleaning among others. To find out more about our services, get in touch with one of our professionals.
How to Keep the Efficiency of Your HVAC Units at Maximum Levels
Maintaining HVAC systems properly can be difficult. Equipped with some useful tips, you can ensure the HVAC machines installed in your restaurant kitchen functions at their peak efficiency levels. Here are some proven tips to help you get the most out of your heating, ventilation and AC units.
#1. Be Proactive about Maintenance
After the installation of your HVAC machine, you should create a proper schedule for its regular maintenance. Many restaurant owners seek HVAC services for maintenance only when an issue arises. However, this is not the right approach, if you plan to get the best results from your heating and air conditioning system. A proactive approach is always the best advice in this regard.
Instead of waiting for a problem to come up and then get the maintenance done, you should give your HVAC units proactive maintenance. This means you should plan a maintenance schedule as soon as you get the units installed in your restaurant kitchen or commercial building. Regular maintenance brings facility managers a number of benefits such as keeping your energy costs down as well as avoiding unexpected failures or outages. Most of all, scheduled maintenance will help you avoid major problems and expensive repairs as a result.
Here is a quick look at what regular HVAC maintenance includes:
Checking and cleaning blower assembly
Replacing filters
Replacing fan belts
Cleaning combustion blower housing
Hood exhaust cleaning
Grease trap cleaning
Trash chute cleaning
Vent hood and duct cleaning
Cleaning condenser coils
Cleaning drain lines
Cleaning fan blades
Cleaning burner assembly
HVAC make up air
HVAC balancing
These are part of a routine preventative maintenance. Every HVAC unit requires proper attention and maintenance. Since these are complex machines, you should get its repair and maintenance carried out only by highly trained and experienced technicians such as those from APS Hoods in Denver, CO. Professionals carry deep knowledge and expertise in cleaning and maintaining each key element of components of the heating, ventilation and AC units. Right from cleaning and inspecting to testing and lubricating all components, our technicians will carry out the entire maintenance in a careful and detailed manner.
#2. Keep a Watch on Energy Consumption
One of the key tips to keep your HVAC machines in good health is to monitor the consumption of energy on a regular basis. If you struggle with constantly increasing energy bills, you should take it as a warning sign and find out if your HVAC system has problems, as soon as possible.
Every system requires regular upkeep and maintenance. Your HVAC machines are no different. Even if you have installed the high quality units, the system will stop giving peak performance without regular maintenance. Just by getting regular upkeep by professionals, you can save up to 20% on your energy bills. Trained technicians conduct a thorough inspection of each element of the HVAC system and understand exactly how much energy the system is consuming. Finally, the technicians find out the issues and carry out maintenance and repair in order to increase energy efficiency. As a result, your energy bills go down.
Therefore, never let your energy bills rise simply because of poor or delayed HVAC maintenance. As soon as you see energy consumption go up, reach out to us for an inspection of the units in your facility.
#3. Conduct Regular HVAC Inspections
One of the best ways to ensure highly efficient functioning of your HVAC is to conduct inspections on a regular basis. Most of all, regular audits or inspections will keep costly repairs away. Since these machines are made up of several intricate components, the inspection will help you find out if there is anything wrong with these parts and fix them before major problems can arise.
During a routine inspection, the technician will take a closer and detailed look at the inner workings of the HVAC system.
Checking HVAC controls
Checking refrigerant levels
Checking electrical connections
Checking thermostat
Inspecting wiring
Cleaning condensation drains
Cleaning drip pans
Checking motors and switches
In fact, the technician will inspect each and every key component of the HVAC system including both the indoor and outdoor units. Usually, the technician also cleans and replaces HVAC coils during the audit.
How frequently you should get the inspections done depends on exactly what size and type of commercial HVAC you use. It is ideal to get it done at the interval of every three months. If you are not sure about your exact needs, you should definitely consult one of our HVAC system specialists at APS Hoods in Denver, CO. Based on your specific needs, our professionals will recommend the best frequency and schedule for carrying out the inspections of your systems.
#4. Create a Predictive Maintenance Plan
It is always smart to address problems before they happen. If you plan to maintain the peak health of your heating, ventilation and air-conditioning systems, you should create and execute a predictive maintenance plan.
Predictive maintenance planning is one of the most effective tips for restaurant owners to follow. This kind of maintenance means you will get advanced maintenance in order to detect components that might stop functioning. Predictive maintenance will give you adequate time to order the parts that need replacement. In this way, you will be able to avoid a number of serious safety hazards and keep your commercial kitchen workers safe as well. To do this, you can use an HVAC health tool to conduct diagnostic tests on your units and systems. Such a diagnosis will immediately make you aware of what might happen to the HVAC or any of its parts in the near future. The tool will also help you troubleshoot the problems.
Based on the results of the HVAC diagnosis tests, you can schedule the inspection and maintenance without any delay.
#5. Use an Energy Management System (EMS)
Run by computer-aided tools, an EMS or energy management system is a highly useful tool to monitor the performance of a wide range of commercial and industrial machines. If you want to keep a close watch on the performance and efficiency of the HVAC system in your facility, using an EMS is a great idea. The system is based on the latest AI (Artificial Intelligence) technology. Using this technology, the energy management system gathers valuable data about your systems including its use of energy and system issues. You can use this data to identify issues ahead of time and schedule HVAC repair and maintenance.
The use of an EMS helps you avoid costly repairs while ensuring your heating and ventilation systems perform with maximum efficiency continuously. Plus, this enables you to prolong the life of the equipment.
If your energy bills are constantly rising, using an EMS is an excellent idea to monitor the consumption of energy by your HVAC units and then reduce high consumption by taking the necessary steps. In fact, one of the major roles of an energy management system is to immediately increase cost savings. Using these advanced AI systems can help you bring down energy bills by up to 30%. Most of all, you will be able to keep your HVAC units at peak health as a result.
#6. Beware of Commercial HVAC Problems
It is a good idea to make yourself aware of the common issues that arise with a heating and ventilation system in a commercial facility. If you spot these problems and take remedial measures immediately, you will be able to turn them into major problems. Often, many facility and building managers ignore many of the common problems and deal with expensive repairs later.
Some of the common HVAC problems include short cycling, leaking refrigerant, dirty filters, dirty condenser coils, squeaking motor sound, unbalanced fan vibration, rattling sound from the blower etc.
Apart from these, there are many other common problems that can arise with your heating and air conditioning system from time to time. While you cannot avoid these minor issues, it is crucial to address them immediately. Preventative and predictive maintenance is a surefire way to keep most of these problems from happening and keep your HVAC units working at its maximum efficiency. To find out more about common commercial HVAC problems, feel free to get in touch with our expertly trained professionals at APS Hoods in Denver, CO.
#7. Seek the Help of a Professional
When it is about maintaining the health of your HVAC units, you should rely only on highly trained and experienced professionals. After reviewing your machines and units, professionals will assess the size and complexity of your commercial heating and air conditioning system and then suggest an ideal frequency for the regular and predictive maintenance. With an in-depth and customized maintenance plan, you will ensure that your HVAC system works at peak efficiency levels while you save costs and bring down your energy bills in a significant manner.
Many commercial kitchen owners and building managers wait for issues to arise and take action after something has happened. Instead of being one of them, you should plan good HVAC health in advance.
Talk to a Commercial HVAC Technician
Now that you have understood that commercial HVAC machines are robust, complex and sophisticated structures, you should make sure you give them proper attention and maintenance on a regular basis. If you operate a restaurant, commercial kitchen or food preparation facility in Denver, CO, you should head over to APS Hoods for all kinds of heating, ventilation and air-conditioning needs including HVAC installation, HVAC repair, HVAC maintenance, exhaust system cleaning, duct cleaning, vent hood cleaning, hood installation, restaurant kitchen cleaning etc.
For your free consultation, you should give our Denver office a phone call or write us an email using the contact form on our website.