Tips for Maintaining Commercial Kitchen Equipment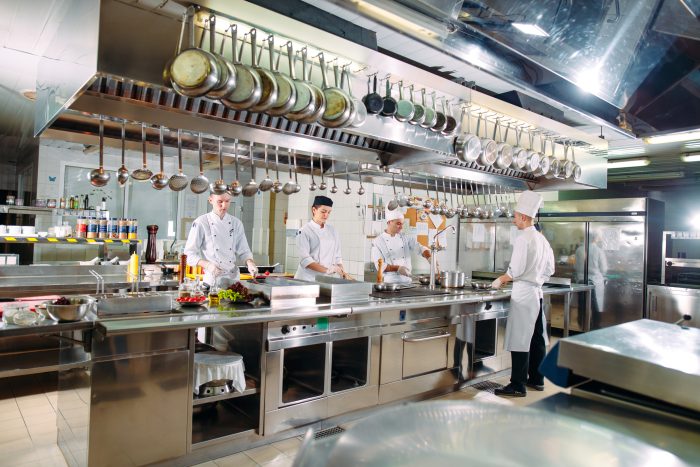 It requires a lot of time and effort to properly set up a commercial kitchen. If you plan to run your restaurant successfully, you should pay serious attention to the maintenance of all the equipment, systems and appliances fitted in the commercial kitchen. Whether it is the cleaning of the cooking equipment or the cleaning of the hood exhaust system, it should all be done in an effective manner. With timely commercial kitchen equipment maintenance and cleaning, you will be able to avoid many kinds of issues and run your restaurant business in a hassle-free manner. By doing so, you will minimize the risk of safety hazards, keep the environment fresh and welcoming and remain compliant with the fire safety and building codes. 
If you are a restaurant owner or manager, this guide is for you. We'll discuss all those practical tips and recommendations that you should follow in order to maintain all your commercial kitchen equipment in a proper manner while enhancing the safety and well being of your employees and visitors.
Benefits of Restaurant Kitchen Cleaning
Keeping all the equipment and systems in your commercial kitchen will bring you a host of benefits. Here are some of the key benefits of a neat, clean and well-maintained restaurant kitchen facility.
Lower your utility bills
Avoid unanticipated breakdows
Maintain quality and taste of food
Prolong equipment lifespan
Increase resale value of equipment
Keep workers and guests safe
Stay code-compliant
Grease deposits are very common in large kitchens. If not cleaned in time, the kitchen equipment and machines will gather grease buildup over time, leading to a risk of dangerous flare-ups. That is why you should seriously focus on maintaining the entire areas of the restaurant kitchen in a proper manner and schedule routine cleaning of all the systems, equipment and machines. As an essential part of the overall maintenance, you need to get the fire suppression system, fire sprinklers and fire extinguishers properly inspected, tested and repaired.
For detailed explanation of these benefits, feel free to reach out to one of our specialists at APS Hoods in Denver, CO. Our company specializes in the professional cleaning and maintenance of restaurant kitchens.
Cleaning and Maintenance Tips
It is crucial to keep the cleaning and maintenance standards for your commercial kitchen high at all times. This will be the proof of your commitment to providing the best and safest environment to employees and guests. In fact, you should keep your kitchen and the dining area sparkling clean, so that everyone is safe and you build a solid reputation as a restaurant business.
When it comes to kitchen equipment cleaning tips, our professionals at APS Hoods in Denver, CO, have to offer you some practical advice and suggestions in order to help you with the maintenance task.
Daily Cleaning Routines
Cleaning after each shift ends is a good practice that everyone in your restaurant facility should follow. The list of tasks that should be done on an everyday basis must include daily cleaning as well. Most of all, you need to get rid of the flow of food odors, which continues to become heavy, one shift after another. At first glance, daily cleaning may look like a lot of work. But once you divide this among workers into all stations, this will feel like a breeze.
It is important to understand that one dirty kitchen area will affect other areas. That is why every area and station requires urgent attention for proper cleaning on an everyday basis and maintaining high standards.
When you want to create a cleaning checklist for restaurant equipment maintenance, you should create a separate list for all cleaning tasks that should be completed on a daily basis. You should aim to get these tasks done at the end of a shift or at the end of the day. Some daily basis cleaning tasks for a commercial kitchen include wiping down all prep area surfaces and cooking equipment and appliances. Get rid of splatters from the surfaces of stoves and refrigerators. For cleaning the equipment, you may need to use a good quality oven and grill cleaner. Whether it is cooking utensils, dishtowels, aprons, uniforms or the dining dishes and glassware, they should all be washed and sanitized at the end of a shift in a proper manner.
Regular Maintenance Tasks
Regular maintenance is a highly useful practice that will keep your restaurant kitchen safe for work and dining. When it comes to restaurant equipment maintenance, you should pay attention to all the heavy-duty machines and systems that your facility is outfitted with. Tasks such as wiping down the griddles and grills, cleaning the burners and checking the grease filters should be an important part of the overall regular maintenance tasks for the facility.
Fryers are used to serve huge quantities of fried foods to guests on a regular basis. It is essential to regularly maintain the fryers by extracting dirty oil from the equipment, cleaning the fry baskets and combustion fans as well as checking for gas leaks. Ranges should be regularly maintained, as these are one of most used appliances in a large commercial kitchen. Clean the burners and grates and clean the ranges, particularly the rear of the ranges by moving it. Your regular maintenance tasks should include checking and inspecting all fridges and freezers.
While you focus on maintaining the commercial kitchen equipment and machines, you should not forget the floor maintenance. Use a degreaser to remove grease and oil on the floors. Watch out for any kind of cracks or bumps in the floor. Keep a close watch on the functioning of the floor drains.
Deep Cleaning Procedures
Basic daily cleaning and deep cleaning are two different things. While your own workers and staff can handle the daily cleaning, deep cleaning procedures will require hiring trained professionals. Deep cleaning a commercial kitchen is a detailed procedure, which requires both training and experience. Since the staff in your facility don't have this kind of training and expertise, you will need to reach out to a commercial restaurant hood cleaning expert in your area.
Since deep cleaning is not general cleaning, it gets rid of all the dirt and debris in every nook and cranny of the commercial kitchen. This is something that general everyday cleaning cannot achieve.
One of the biggest benefits of deep cleaning is that it takes the overall hygiene of the kitchen facility to the next level. Professionals invest time and effort into these elaborate procedures to clean and degrease the entire restaurant kitchen including cleaning the grease filters, ducting system, ovens, microwave, refrigeration units and all the ceilings, walls and floors as well. Conducting deep cleaning in your commercial kitchen prevents the risks of food-borne illnesses and helps you maintain safety and remain compliant to fire safety and building codes. Plus, it eliminates different kinds of pests that might have taken shelter in the kitchen.
To schedule the deep cleaning of your restaurant kitchen, reach out to one of our professionals at APS Hoods in Denver, CO. Our services include kitchen equipment cleaning, commercial HVAC system maintenance, pressure washing services, commercial hood cleaning, fan service etc.
Troubleshooting Common Issues
Problems with kitchen machinery can arise anytime. However, many of these problems can be avoided by focusing on daily cleaning and regular maintenance of all the cooking equipment and appliances. However, there are some common issues that can still pop up in a kitchen facility. So, it is a great idea to stay aware of them and find out how you can troubleshoot them immediately.
Some common kitchen issues include:
Overheating of cooking equipment
Fryer temperature problem
Warewashers not functioning properly
Clogged sinks and drains
Refrigeration issues
Overheating of the cooker is a common issue in commercial kitchens. You can get rid of this issue by keeping the filters and vents clean. For issues with the fryer, it is a good idea to use an external thermostat. This will help you monitor oil heat on a regular basis. If the commercial warewasher in the kitchen is not cleaning dishes in a proper manner, this could be due to a faulty spray arm or a clogged filter. Likewise, you may experience a number of other common issues, which you can troubleshoot fast and easily with some basic knowledge and training.
If you want expert tips on troubleshooting common issues in your restaurant kitchen, cafeteria or cooking facility, feel free to talk to one of our highly trained professionals at APS Hoods in Denver, CO.
Tips for Extending Equipment Lifespan
Setting up a commercial kitchen or a food service business is a big investment. It is crucial that you plan and take steps that will extend the lifespan of all the expensive cooking equipment in your facility.
If you want all your cooking equipment to last longer, you should keep a few crucial tips in mind. First, you should always rely on expertly trained professionals for the proper and correct installation of all the equipment. Second, you should perform regular cleaning and maintenance of all the kitchen machinery, equipment and appliances. Third, you should arrange for staff training and education so that they are ready for the proper use of each and every equipment. Most of all, you should invest in high quality kitchen equipment and systems.
For extending equipment lifespan, it is also important to keep abreast of the latest technologies and upgrade the equipment and systems as your needs evolve with time to fulfill changing customer requirements.
Specific Equipment Maintenance Tips
The cooking equipment is the core of your restaurant. In order to keep all the equipment and machinery efficient and functional, you should follow some of the most useful maintenance tips given below.
Refrigerators and Freezers
Cleaning of the interior and exterior of the refrigeration units and freezers should never be ignored. You should clean the condenser coil and the evaporator coil and check the gaskets on a regular basis. See to it that the fridge's air filters are ventilating in a proper manner. Keep the refrigerators dry.
Ovens and Ranges
Remove crumbs and splatters from the surface. Clean the interiors and the cooktop burners on a regular basis. Check out if there are any grease deposits on the fans and remove if there are. If these are specialized ovens, take the help of an experienced person for its proper cleaning. Create a monthly cleaning routine for the range hood filters to avoid unexpected issues.
Grills and Griddles
The best practice is to empty and clean the grease drawer at the end of every shift. The griddles will need deep cleaning on a weekly basis. Also, don't forget to remove the surface oils if they are present.
Fryers
Don't let the deep fat fryers in your kitchen become a fire hazard. Follow the manufacturer's recommendation to properly clean and maintain this cooking equipment. In addition to routine cleaning, get the fryers inspected by a trusted restaurant cleaning company at least once in a year.
Dishwashers
Get rid of food residue from the commercial dishwasher. Clean the exterior and see if there are any leaks. Drain the dishwasher in a proper manner. If the drain is clogged, unclog and clean it on a regular basis. Make sure the spray nozzles are clean and use the right detergent for washing.
Slicers and Mixers
After the end of each shift, clean and sanitize the slicers in a proper manner. This is very important from the viewpoint of food safety. Always use a clean slicer when you are going to serve a food item raw. Clean every component of the mixer and examine the electrical wiring of the equipment.
Coffee and Beverage Machines
Clean the coffee brewing unit and examine the steam pressure. Clean the water tank and sanitize it as well. See if the grinder settings are correct. Don't ignore the outside of the machines. Use a lint-free cloth to clean and wide the exterior of the coffee and beverage machines.
If you have a question about specific restaurant equipment maintenance, APS Hoods in Denver, CO, is the right place to get it answered. Our professionals will explain well and equip you with valuable tips.
Staff Training and Education
For a smooth functioning of your commercial kitchen, you should ensure your workers and staff are trained and educated in the correct use and proper maintenance of all the cooking equipment and appliances.
You should educate your staff on food safety, food storage, and food-borne illnesses. When you run a restaurant business, you need to ensure all your kitchen staff understand the crucial value of food hygiene. Train your employees in everyday cleaning and sanitation of the commercial kitchen equipment. Provide them training on food handling and storage in a proper manner.
Still Have a Question?
Hopefully, these tips on commercial kitchen equipment maintenance, deep cleaning procedures for kitchen equipment and extending equipment lifespan will help you run your restaurant business in a hassle-free manner. If you still have any questions or want to schedule your commercial restaurant hood cleaning, reach out to APS Hoods in Denver, CO. You can either give us a phone call or write to us an email using the enquiry form given on our website.