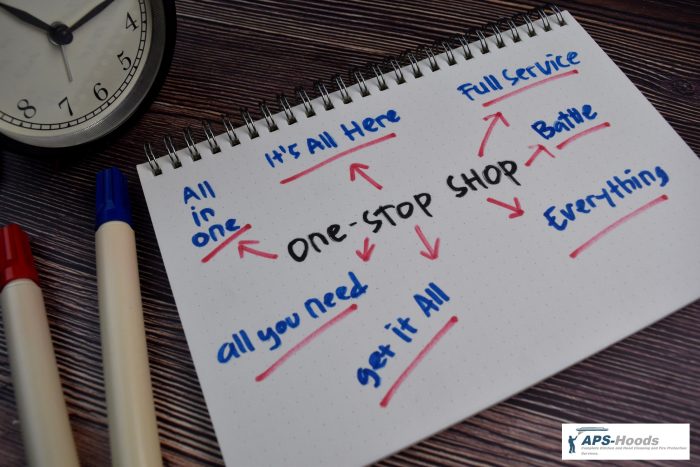 The overall design of a restaurant and large kitchen has a massive impact on the staff and guests as well as the restaurant's profitability. A great deal of planning goes behind how exactly all the cooking appliances and equipment will be arranged in the available space in order to make the kitchen both safe and comfortable for the employees to work in. During the construction of a restaurant, professionals pay serious attention and adhere to all the building and fire safety codes as prescribed by the local authorities. Whether it is the cooking appliances, water supply, drainage, heating and ventilation systems, every part and component of all the systems and units must be designed in a highly effective and accurate manner.
If you plan to build a new restaurant or remodel an existing one, you should reach out to APS Hoods in Denver, CO, a highly trusted company that specializes in commercial kitchen design, exhaust hood installation, HVAC installation, kitchen equipment cleaning, restaurant hood repair, duct repair etc.
The Restaurant Industry Has Reinvented Itself!
Over the last one decade, the restaurant industry has evolved and come a long way. This is to keep pace with the changing demands of the customers as well as the changing codes, laws and regulations.
When you start designing and building a kitchen, the first thing you should do is to familiarize yourself with the recent developments in the restaurant and commercial kitchen industry. If you are up-to-date, it will become easier to build a restaurant and commercial kitchen that caters to the specific needs of the modern-day guests and keep the employees happy. Right from investing in the right type of commercial cooking appliances to the methods of installation, you should carry out every project with a focus on the changing needs. Food safety, food handling practices and waste management should be paid serious attention.
Not just design and construction, but the maintenance of all cooking appliances and equipment in the commercial kitchen is an important concern. That is exactly why it is crucial to work with those professionals who have deep expertise in building a large kitchen from the scratch level.
Designing a Restaurant Floor Plan
A restaurant floor plan contains all the details about the physical arrangement of the cooking appliances and equipment and all other components including refrigerators, stoves, ovens, freezers, mixers, slicers, range hoods, sinks, fire suppression systems, tables, chairs, entrance area, waiting area, windows, doors, emergency exits and a lot more. If you plan to design and construct a large kitchen, the planning stage is of utmost importance. Here, it is extremely important to understand that one size does not fit all, particularly when it comes to designing restaurants and commercial kitchens. Every floor is different and unique.
It is the job of experts to create an ideal floor plan for a restaurant based on the specific needs of that restaurant. Design engineers and professionals are quite well-versed as to how the space can be maximized and made functional and practical for a hassle-free working experience in the kitchen.
Most importantly, the floor plan should be designed in accordance with the building and safety codes. A commercial kitchen is designed for employees in the first place and the dining area for guests in the first place. When a restaurant is designed and constructed, the focus should remain on the needs of the average customer. Apart from APS Hoods, we operate two other sister companies including the Hood Builder and Nationwide Fire Protection to provide clients with a one-stop shop where they can get all services for building a commercial kitchen, completing all the technician works and installation and maintenance of all cooking appliances.
To find out more about what exactly a restaurant and commercial kitchen floor plan will be designed and what it will include, reach out to one of our highly trained professionals at APS Hoods in Denver, CO.
What Equipment You Need in a Commercial Kitchen
The kitchen is the core part of a restaurant. It is the kitchen where all the different types of foods are prepared and dishes are cooked. A commercial kitchen has a wide range of cooking appliances and equipment to perform different functions for proper cooking and food preparation. The actual selection of the kitchen equipment depends on what kind of menu you have for guests.
Here is a list of some of the most important appliances and equipment you will need in your large, commercial kitchen.
Ovens
The moment you think about a restaurant kitchen, oven is the first word that comes to your mind. Before you choose ovens, you should be clear about exactly what type of restaurant you plan to operate. There are both specific ovens as well as multipurpose ovens. It is important to understand that ovens occupy a lot of space inside a kitchen. That is why you need to pick the right size and quality of commercial oven. It is always best to go through online reviews and testimonials before you invest in the right type and brand of commercial ovens. Always go for oven brands that have a solid reputation for providing top quality for years.
With our professionals by your side, you will find it easy to select the right type, size and quality of ovens for your commercial kitchen.
Exhaust Hoods
The air inside a commercial kitchen becomes contaminated and polluted due to the production of a large amount of heat and smoke. The function of exhaust hoods is to throw the contaminated air out in order to maintain better air quality inside the kitchen. There are two main types of kitchen hoods including Type I and Type II. Based on what type of cooking will be done in your commercial kitchen, you will need to select either the Type I or Type II exhaust hoods.
Range hoods or exhaust hoods are one of the most crucial pieces of commercial kitchen equipment. Experts will custom-design exhaust foods to fit the exact needs and size of the cooking station.
Heating and Air Conditioning
A perfect commercial kitchen offers a fully safe and comfortable working environment for employees. Without proper heating and air-conditioning, working inside the kitchen will be extremely difficult and unsafe.
No matter what season or weather it is, a properly installed heating and air-conditioning system will create a safe working environment. However, setting up this entire system requires planning. The heating and air-conditioning system is designed as per the size and type of your kitchen. While correct installation is essential, it is also important to give the system regular maintenance.
Ventilation
Like you design and plan for everything else, you should also plan for kitchen ventilation in a proper manner. Since a lot of people work inside the kitchen, it becomes crowded as well as sweaty.
Using a high quality HVAC system, you will be able to take care of each including heating, ventilation and air-conditioning together. If your kitchen is well-ventilated, the indoor air quality will improve and offer employees a cool and comfortable working environment for the staff. When it comes to the ventilation hood installation, it is very important to carry out the entire project while following all codes and safety regulations. The vent hoods should also be powerful enough to pull out contaminated air and pull in fresh air without any hassle.
HVAC makeup air and ventilation air volume are important considerations during the design and installation of the vent hood system. At APS Hoods in Denver, CO, we possess sound expertise in designing ventilation hood systems as well as provide HVAC service, HVAC repair and HVAC balancing. Feel free to get in touch with one of our experts to get more information.
Food Processors
Food processors are one of the most useful equipment placed in a restaurant kitchen. Whether it is chopping, slicing or blending, food processors make all these tasks feel like a breeze. When looking for these appliances, you will come across different types and varieties. Based on your exact needs, you should purchase the right type of food processors for your commercial kitchen. Some popular types of these processors include Batch bowl food processors, Continuous feed food processors, buffalo choppers etc. Over the years, the design of food processors has also evolved to maximize functions. When looking for these appliances, you should definitely take a look at the products' horsepower ratings.
Slicers
When it comes to the selection of food slicers, you should take your menu into account. Without having slicers, the staff will have a hard time prepping food. You should always select the most ideal type of food slicers for your commercial kitchen. Slicers are available with different horsepower capacities. If you will do a great deal of slicing in your kitchen, go for high HP slicers.
Freezers and Refrigerators
Refrigerators are essential equipment for storing foods and ingredients. You will need a highly efficient refrigeration system both for storing food as well as managing your inventory. Freezers and refrigerators used in a large kitchen are commercial-grade. These refrigerators are designed to fulfill the specific needs of a commercial kitchen on an everyday basis. Depending on what type of restaurant you plan to build, you can choose either reach-in or walk-in refrigerators.
Walk-in refrigerators are custom-designed to suit the specific needs of large restaurant kitchens. To find out more about what type of refrigeration system will be best for your kitchen, you should seek the help of experts.
Commercial Kitchen Cleaning and Maintenance
Building a large, commercial kitchen is a big investment. That is exactly why you need to pay serious attention to the proper cleaning and maintenance of every area, part and component of the restaurant kitchen.
Giving your commercial kitchen proper maintenance will extend the life of all the appliances, equipment and units. While you may want to do some general cleaning on your own, you should always call in professionals to clean all the commercial-grade equipment and cooking appliances. Without proper training, cleaning these appliances can be unsafe and dangerous. Plus, you may even end up damaging the expensive equipment in the process. Cleaning and maintenance of ovens, refrigeration system, exhaust hood system, cold rooms and fryers requires training and certification. At APS Hoods, we specialize exhaust system cleaning, grease trap cleaning, trash chute cleaning, kitchen equipment cleaning, range hood cleaning and duct cleaning as well as wall and floor cleaning.
Timely cleaning of kitchen equipment and appliances will help you boost efficiency and avoid costly repairs. Our company has a well-defined procedure in place for restaurant hood cleaning. Our professional cleaning includes degreasing the hoods, removal of grease deposits from other components and cleaning the duct work as well as repairing the exhaust hood fan belts.
Why You Should Work with Us
Whether it is the design and construction of a commercial kitchen or its proper cleaning and maintenance, we are your one-stop solution to all the needs. In addition to APS Hoods, we run two other companies to provide you all restaurant-related services under one umbrella. With our expertly trained professionals, you will be able to design and build the restaurant and commercial kitchen of your dreams while staying compliant to all the codes, laws and regulations.
Our track record for accomplishing restaurant building projects is well-proven. We cater to the needs of restaurants, hotels, food establishments, cafeteria, coffee shops and cooking facilities all across Denver, CO.
Talk to a Commercial Kitchen Design Specialist
Do you plan to launch your new restaurant and commercial kitchen soon? Whether you want to open a new one or remodel an existing one, head over to APS Hoods in Denver, CO. Being a restaurant construction and design company, we provide complete restaurant building services including the entire design, construction and maintenance as well as all the technical work. Our professionals will help you set up a restaurant, commercial kitchen, cafeteria, dining establishment or cooking facility while abiding by all the essential codes and regulations.
Along with APS Hoods, we also run Hood Builder and Nationwide Fire Protection to bring you all the restaurant design-related services in one place. For your free consultation with one of our specialists, you can either call our office phone number or write to us using the contact form.