Case Studies of How Commercial Kitchen Cleaning Has Improved Businesses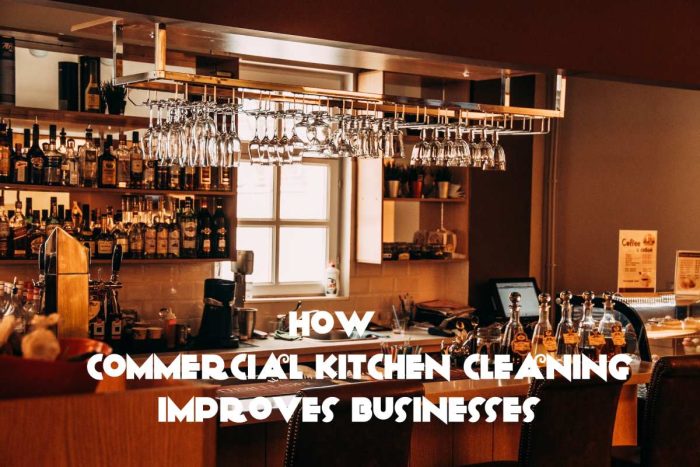 Commercial kitchens are legally licensed large spaces for cooking and preparing a variety of food products and delicacies. Unlike a small domestic kitchen, setting up a commercial or community kitchen requires a great deal of planning by a host of expertly trained professionals including civil engineers, designers, hood builders, fire protection system specialists, etc. Whether it is health and safety risks, efficiency and productivity, or commercial kitchen cleaning, experts pay serious attention to each essential aspect in order to build an ideal commercial kitchen. Business improvement is achieved by restaurants through a highly functional, efficient, and safe commercial kitchen, which is the heart of the food preparation business.
In this article, we will discuss five crucial case studies by APS Hoods in Denver, CO. We discuss how commercial kitchen cleaning can help restaurants improve their businesses and increase their bottom line.
Case Study 1: Transforming a Restaurant's Reputation through Proper Kitchen Cleaning
Improper cleaning and poor maintenance can really take a toll on the overall reputation of a restaurant. As a restaurant owner, you need to understand this fact from day one, if you plan to improve your business.
A diner in Denver was struggling to manage its reputation. In fact, the restaurant's reputation was not great and it needed some serious management. When the owner approached us, we first assessed the problem and tried to understand the problem on a deeper level. Our experts found out that the cleaning methods the restaurant used were not proper and the facility lacked proper hygiene and maintenance. Next, our experts developed a highly effective cleaning routine for the restaurant, based on its day-to-day requirements. The cleaning schedule was finalized after a detailed discussion with the owner and the senior management.
Cleaning Schedule
The cleaning checklist included:
Daily Cleaning
Weekly Cleaning
Monthly Cleaning
Daily cleaning was conducted during the shift and when closing out. Once a week, a more detailed cleaning was carried out. Deep cleaning was performed once a month throughout the entire facility.
Our cleaning specialists carried out every cleaning task with focused attention and a great eye for detail. Equipped with all the essential cleaning supplies and with the use of the right cleaning tools and products, our clean-up experts turned the commercial kitchen and the dining area into a spotlessly clean place that was ideal for the staff and visitors. The whole project was carried out in an effective and proper manner and results began to come very soon. In a couple of weeks, the overall reputation of the restaurant started to improve. It is crucial to put yourself in your customer's shoes in order to deliver a clean and enjoyable experience to customers. This way, you can take your food service facility's reputation to the next level.
The case study proved the fact that positive customer perception is very important in the food service business. If you plan to create a positive perception and transform your restaurant's reputation, you should develop a proper cleaning schedule with the help of professionals such as those from APS Hoods. If you are in Denver, CO, reach out to us for a detailed discussion.
Case Study 2: Increased Efficiency and Productivity with Regular Commercial Kitchen Cleaning
A commercial kitchen is outfitted with a wide range and variety of cooking equipment and appliances. It produces a lot of heat, smoke, and grease. In order to have smooth and efficient operations, the grease from the cooking equipment has to be cleaned and removed in a proper manner. Professional kitchen cleaning experts use specialized tools and techniques to degrease all the machinery as well as remove all the food debris and other contaminants. Clean-up specialists also use the right set of tools and products to carry out the job.
A dirty and cluttered commercial kitchen has lower equipment efficiency and reduced employee morale and productivity. If you plan to increase efficiency and productivity, you should work with cleanup experts.
Commercial Chicken Elements
Key elements of commercial kitchen cleaning include:
Exhaust hood and vent cleaning
Cooking appliances deep cleaning
Hard surface cleaning and disinfecting
Kitchen floor cleaning
Since every restaurant kitchen has its unique cleaning requirements, you should consult with a professional company about your specific needs and then come up with an ideal regular kitchen cleaning schedule. Based on your actual needs, you can create a schedule for general and elaborate or deep cleaning on a regular basis and enjoy the benefits in terms of work productivity.
During one of our case studies, we found how greasy equipment and poor hygiene and maintenance affected the efficiency and productivity of the kitchen staff. Our experts conducted an inspection of the entire facility and then. They suggested that the restaurant develop a schedule for regular cleaning. We focused mainly on regular routine cleaning as well as deep cleaning of all the kitchen equipment, appliances, systems, and hard-to-reach areas. After the removal of grease deposits and optimization of cooking equipment performance, the efficiency and productivity of the kitchen employees saw a considerable boost. As a result of regular commercial kitchen cleaning, the overall restaurant business improved as well. 
As a restaurant owner or manager, you should maintain a clean, clutter-free, and well-organized commercial kitchen. This, in turn, will boost work productivity and reduce downtime. To find out more about this case study, reach out to one of our professionals at APS Hoods in Denver, CO.
Case Study 3: Mitigating Health and Safety Risks through Professional Kitchen Cleaning
Health departments and food safety agencies have set clear rules and guidelines for food service establishments to follow. If you operate a commercial kitchen, it is essential for you to adhere to these guidelines.
Although health and safety is an important concern in a restaurant kitchen, many food service establishments fail to comply with the rules and risk the safety of their guests and employees as a result. One surefire way to mitigate health and safety risks is to get your kitchen cleaned by professionals. By working with professional cleaners, you will be able to reduce the risk of food contamination and remain compliant with health and safety codes and regulations.
In a case study that we conducted recently, we found out that professional kitchen cleaning is essential to reduce health and safety risks. Food contamination can easily happen inside a large restaurant kitchen if proper hygiene and cleanliness are not practiced. Our cleaning focuses on cleaning and sanitizing all the surfaces and creating a safe environment for the visitors and the staff. Our professionals use the latest tools and techniques to get rid of bacteria, germs, and other food contaminants inside a commercial or community kitchen.
As a restaurant owner, it is your foremost duty to protect the health of your customers and employees. At APS Hoods, we provide professional cleaning for all types of large commercial kitchens in Denver, CO.
Case Study 4: Improving Customer Satisfaction and Retention with Clean Commercial Kitchens
In the post-pandemic world, people care more about clean and healthy spaces than anything else. When it comes to restaurants, cafeterias, dining centers, food preparation facilities, and community kitchens, focusing on cleanliness is a surefire way to improve customer satisfaction and retention.
If you plan to deliver a highly satisfying dining experience to your customers, you should maintain a neat and clean commercial kitchen. Our case study in this regard is a proof of the same. Recently, we worked with a fast-food restaurant in the Denver area on the cleaning aspect of their facility. The results have been very good. Through our professional kitchen cleaning, the restaurant has been successful in improving customer satisfaction and retention.
First, our experts visited the facility. They conducted a detailed inspection of the entire facility including the commercial kitchen and the dining area. It was found during the inspection that the equipment, appliances, and systems in the commercial kitchen were not maintained in a proper manner. Based on this, our experts developed an ideal cleaning schedule for the restaurant kitchen. We provided training to the kitchen staff to help ensure every area in the facility was clean. Most of all, we ensured that the cleaning was in line with the health and safety codes. Our services for creating clean commercial kitchens made a real difference. In a couple of weeks, the restaurant saw an increase in customer satisfaction and retention levels.
While you try to attract new customers, you should also focus on retaining your old customers to improve your business. If you want to boost customer satisfaction, reach out to one of our experts at APS Hoods in Denver, CO. You can find out how you can achieve it with professional cleaning.
Case Study 5: Cost Savings and Long-Term Benefits of Regular Kitchen Cleaning
When it comes to cost savings and long-term benefits, cleaning is generally the last thing that comes to mind. However, having a clean commercial kitchen on a regular basis can actually save businesses a lot of money in the long term. Plus, it offers other benefits in the long haul. Here is a case study that reiterates the benefits of having a clean commercial kitchen work area.
It is a known fact that having a dirty and unhealthy work area will increase the number of sick days that employees take. On the other hand, a neat and clean work area brings the number of these sick days down.
In our case studies in the past, this fact has emerged over and over again. If you plan to reduce the costs of operations and running the business in the long term, you should pay serious attention to professional kitchen cleaning. According to a report published by the US Centers for Disease Control and Prevention (CDC), employers in the country lose around $226 billion every year as a result of worker injury and illnesses. If you plan to improve your business, you will never want to contribute to this figure by having a poorly maintained and dirty kitchen area. Instead, you should focus on making the kitchen area fully healthy and safe for employees.
Regular Kitchen Cleaning
Regular kitchen cleaning creates a work area that is free from harmful germs and bacteria. A healthy environment is a must for running your business in a hassle-free and safe manner. If your employees take less sick leaves, it means more work days for every employee. As a result of this, your operations will be smooth and business will improve.
Another key benefit of regular commercial kitchen cleaning is that it keeps all the cooking equipment, appliances, and ventilation and fire suppression systems in a fully efficient and functional condition. Owing to this, the lifespan of all the machinery increases. You will save a lot of money that would be otherwise spent on getting costly repairs done. Our case study proved that restaurant businesses can actually save a significant amount of money in the long term. They get many other benefits just by keeping their commercial kitchen clean.
Still Have a Question?
Hopefully, the case studies presented above will open your eyes to the several key benefits of professional commercial kitchen cleaning and how it can take your business to the next level. If you plan to obtain all these benefits, you should reach out to one of our experts at APS Hoods in Denver, CO, and work out an ideal cleaning plan as per the specific needs of your restaurant kitchen. The actual cleaning frequency may vary from one commercial kitchen to another based on factors such as daily usage, the exact type of food service establishment, and the health and safety code regulations. Our company specializes in helping a wide range of food service businesses improve their business through proper cleaning and maintenance of the cooking equipment, exhaust hood systems, fire suppression systems, etc.
For a detailed discussion of your exact cleaning needs, you should consult one of our specialists. You can schedule your free consultation with us via a phone call or by writing us an email using the contact form.
Tags: all restaurant cleaning, Commercial Kitchen Cleaning, kitchen cleaning