Hood Vent Cleaning Colorado
Hood Exhaust System Cleaning Colorado and the Surrounding States
American Professional Services (dba APS-Hoods) is a nationwide leader in providing hood cleaning, kitchen and equipment cleaning, specialty cleaning, and installation, maintenance, and repair of hood and fire systems. Our hood cleaning is performed to the highest standards making sure that not only does it meet NFPA requirements, but that your hood system sparkles and shines after each cleaning, and your kitchen is left in great shape. We use top of the line equipment and are insured and bonded. Our technicians are thoroughly trained to provide top notch service every cleaning. Our specialty cleanings include ceiling tiles, duct exteriors, building exteriors, and more. On top of this we also provide complete kitchen and equipment cleaning. Our installations, service, and repair are carried out by Nationwide Fire Protection Corp., an affiliate of APS-Hoods. Contact us for a free quote.



Turnkey Installation
Through our affiliate Nationwide Fire Protection we can offer you Turnkey Installation services. The most expensive and intricate aspects of building a restaurant are typically both constructing and installing a proper fire suppression system and kitchen hood.
Complete Hood System Cleaning
We will clean your hood system from top to bottom. From your hoods and filters, to your duct work and exhaust fans. Filters are always included in our complete hood system cleaning.
Full Maintenance and Cleaning
Keeping your commercial kitchen clean and safe requires much more than fire extinguishers and fly paper. But, keeping up with the ever-evolving alterations in codes and standards takes valuable time away from your busy schedule and costs money that would be better spent on keeping your customer's happy.
Our fully integrated services include:
Exhaust system and Hood installation, servicing and cleaning
Pressure washing and steam cleaning
Top-to-bottom kitchen cleaning
Fabrication and installation/integration of complete exhaust systems, which includes fans; heating, ventilation and air-conditioning units; ducts; and vents.
Fire Suppression System installation, servicing and repair.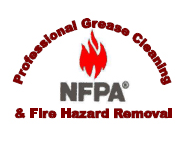 Please visit our services page or click on the service pictures below for more details.