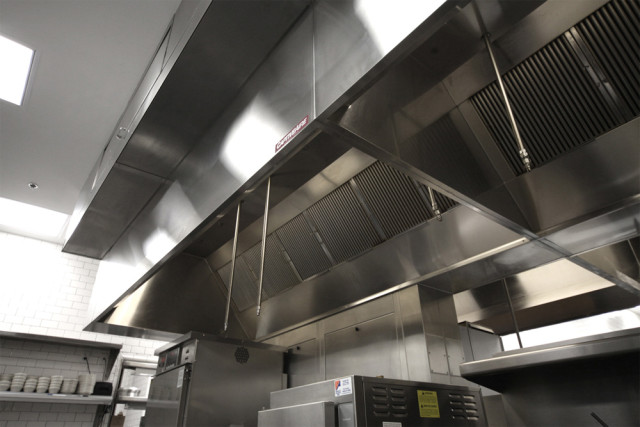 A restaurant kitchen deep cleaning is necessary for three primary reasons. For one, a dirty kitchen may produce lackluster food. A messy kitchen can also have contaminated air, which can seep out into the eating areas, leading to a less-than-stellar dining experience. Then there are all the fines you face by allowing your kitchen to reach the kind of cleanliness level health inspectors loathe.
Keep your food tasting delicious and your customers happy while ensuring your health inspector only gives you the best marks by putting the following checklist into action.
Here is the restaurant deep cleaning checklist all commercial kitchens should follow. If you need help cleaning your kitchen, call Aps-Hoods, now serving restaurants like yours in Denver, Colorado.
The Deep Clean Checklist for All Restaurant Kitchens
Daily Cleaning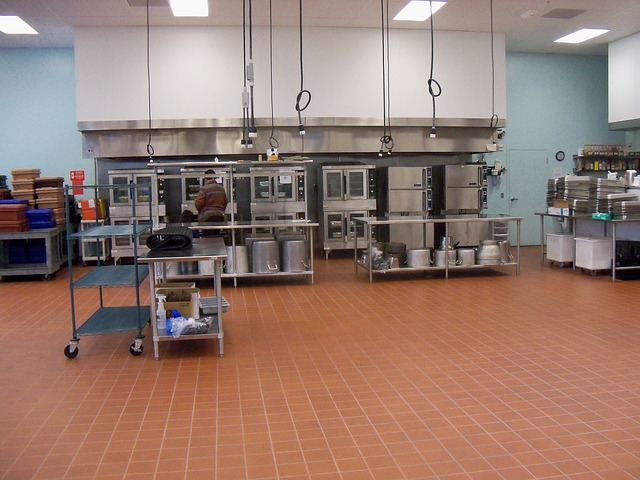 •
Clean Grills & Change Foil
Each day of operation, your cooking appliances can produce food and grease buildup. Not only does this affect the quality of the food you cook, but all that Food, Oil, and Grease (FOG) can cause the breakout of fire.
To keep your cooking appliances clean, scrub the grill, range, and flattop by following the manufacturers' recommendations. In most cases, you will want to scrape food from the flattop or grill slats before scrubbing the cooktops with a degreaser.
Don't forget to clean behind and underneath each cooking unit, as grease tends to hide in the peskiest of places. While you're at it, be sure and change out all foil liners, which can also keep a potentially dangerous fire at bay.
•
Clean Grease Trap
All the grease your commercial kitchen produces can build up, causing overflow and a potential fire hazard. Your staff should be instructed on how to open and empty the grease traps to keep them at safe volumetric levels. With most models, the trick is to open the lid before removing the water with a bucket or small pump. The grease can then be scooped out to prepare the grease traps for the following day.
Grease trap cleaning is a job better left to the experts, as only professional grease trap cleaners have the necessary equipment and training to not only remove but dispose of the built-up grease properly.
•
Disinfect Surfaces
All food preparation areas can become breeding grounds for bacteria, mold, and food-borne pathogens.
To keep your commercial kitchen clean, and prevent customers from getting sick, use a commercial-grade disinfectant that is safe for use in commercial kitchens.
Pay special attention to the surfaces where the food touches during each shift, including grills, cooktops, salad prep areas, meat slicing areas, and all others for a complete kitchen deep clean.
•
Wash Food Prep Appliances
During busy shifts, non-cooking appliances can become coated with sauces, oils, and other substances. Use a professional disinfectant to thoroughly scrub down all your can openers, mixers, meat slicers, blenders, and grinders. Units with multiple missing parts may need to be disassembled before cleaning to perform the most thorough job.
•
Wipe Down Walls
The walls of a restaurant can easily become coated with oil and grease, which lead to mold, fungus, and illness-causing pathogens. Keep your walls spotless by cleaning them with the appropriate disinfectant. Scrape any food that may have accumulated on the walls but be sure and clean that debris off the floor afterward.
•
Mop Floors
While every effort has been made to make commercial kitchen floors as non-slip friendly as possible, unfortunately, falls happen. Rubber mats can help, but so can keeping the cleanest floor possible.
First, sweep all the debris and collect the piles into a dustpan. Ensure no solid waste falls down the floor drains, as clogs and overflow can result, making your job much harder. Mop the floor with a powerful commercial kitchen floor cleaner. Make sure you get into every nook and cranny, everywhere food and grease may want to hide.
•
Wash Beverage Dispenser Heads
Caked up soda dispensers make drinks taste foul while throwing the pour mixture off balance. To keep your beverage dispenser heads flowing freely with just the right mixture, remove the heads and soak each one in a sanitizer solution. To be extra thorough, hand-wash each one with a dedicated brush, then dry and towel dry.
While you are cleaning the dispenser heads, empty out the drip pan and sanitize every side, front and back the same way. Wipe down the entire surface of the dispenser to keep it free of smudges, buildup, and bacteria. And finally, empty the ice bin and clean the sides of the interior before cleaning the ice chute inside and out.
•
Disinfect Waste Disposal Area
Commercial kitchen garbage disposal areas and dishwashing stations must be cleaned every day. Your staff should be vigilant about following a strict protocol when it comes to the garbage disposal and commercial washing areas, as doing so will very much please the health inspector.
All spills must be cleaned up as soon as they happen, as stagnant water can lead to all sorts of health issues. Wipe down the sinks as often as possible using a commercial-grade disinfectant and remove all trash the moment the bins are full.
After each trash change, clean the garbage cans with chlorine to kill any bacteria and pathogens left behind. Sweep and mop the floors and thoroughly clean the dishwasher. The dishwashing unit should be cleaned of all debris before the interior is sprayed with regular water to rinse food, oil, and grease away.
•
Clean Hood Filters
Your range hood filters are bound to become grease-city before the end of every long shift.
To clean the filters, remove each one from the main housing, and gently wipe off any excess grease with a paper towel.
Most filters easily slide or pop out of the underside of the unit. Slip the filters into a sink or bucket filled with hot water. Add to the water a non-corrosive, metal-safe cleaner that is designed for hood filters. Usually, this amounts to a cup of granular or 4 ounces of liquid cleaner for every gallon of water.
Soak the filters overnight, then rinse them clean the following morning. The hoods will then be ready for immediate use.
Weekly Cleaning
•
Sanitize Walk-Ins
Staff members tend to enter and exit the cooler and freezer multiple times on a daily basis, and sometimes food gets spilled around. Your staff should always be trained to keep the doors to the walk-in cooler and freezer closed. The door should never be propped open for any reason, for example, nor should anything be blocking either door.
The condenser coil and fans can be cleaned at least twice per year, but they should be checked weekly for the best results. Cleaning the walls of the walk-in units is easy, as a simple solution of soap and water works best. Never use harsh chemicals in your cooler and freezer, as those substances can harm the metal surfaces.
Make sure all surfaces are thoroughly scrubbed, including the doors and floors, to keep mold, debris, and pests away.
•
De-Lime Sinks
Your sinks may look clean after a thorough scrubbing, but they may have accumulated limescale. To de-lime, a sink means to clean that white-colored deposit that tends to build on the inside of pipes, kettles, and pots.
Limescale is caused by the minerals leaching from the water and will have to be cleaned. While the sinks should be cleaned daily, the weekly cleaning regimen will involve using a non-abrasive cleaner and all-purpose cleaning spray to give the sink a thorough deep clean.
•
Clean Ovens
Your commercial ovens pull a lot of weight each week. Therefore, each one should be cleaned of all food particles, grease, and other debris. If this cleaning isn't performed on a weekly basis, smoke and fire can result, not to mention costly heating inefficiencies.
To clean your ovens, use a dedicated hand brush to sweep out any crumbs from each unit's interior. Remove the racks and wash them separately by dunking them in soapy water.
For stubborn debris, use a scouring pad or wire brush to keep the racks clean. Wipe down the walls and doors of the oven with warm water or an industrial-strength oven cleaner. Finally, clean the doors and fans to promote maximum airflow. Some oven doors are removable, making them much easier to clean.
•
Clean Floor Drains
Floor drains are easy to miss when performing a weekly deep cleaning, which is why keeping a restaurant deep cleaning checklist is so handy. Above all, instruct your staff to keep the drains free of as many solids as possible. Many people are unaware, but mop water filled with particles is one of the most common causes of commercial kitchen drain clogs. Make sure all particles are filtered out before the mop water is dumped down the drain.
To keep your drains clean every week, begin by flushing out loose debris using hot water. For best results, stay away from chemical-based drain cleaners. Instead, use a mixture of baking soda and vinegar, which works to break down built-up materials within the pipes.
If a drain becomes clogged, you can eliminate the problem with a snake drain or drain auger, which may require the services of a professional plumber or commercial kitchen deep cleaning service.
Monthly Cleaning
•
Clean Coffee Machine
Over time, a coffee machine can develop buildup, gunk, and grime. This can affect the taste and quality of the coffee, leading to poor customer experience. Descaling can help your coffee maker produce the choicest blends. Use a white vinegar and water solution by filling the coffee pot with one-third vinegar and two-thirds distilled water. Turn the machine on and allow the coffee maker to fill the pot with the heated solution.
Dispose of the brewed byproduct, then remove the spray head. Use a soft-bristled brush with warm water to scrub the spray head until all debris is gone. While you are at it, scrub the funnel and filter it in a similar manner.
Poor a pot of warm water into the coffee maker and brew a pot, then repeat the process until all traces of vinegar are gone. Reattach the spray head and give the exterior of the machine a thorough cleaning with a food-grade disinfectant.
For any grime that is built-up on the outside of the maker, use a baking soda and water solution along with a microfiber cloth before wiping the machine down and drying to remove any trace of moisture.
•
Empty Grease Traps
Grease traps can be located inside or outside your kitchen, depending on the size of your commercial kitchen operation. Deep cleaning your grease trap can prevent the local water supply from becoming contaminated. You can also avoid potentially hefty fines by keeping your grease trap as clean as possible.
You know it is time to clean your grease trap when 25% of the liquid consists of grease or oil. This is usually once per month for a restaurant-style layout.
It is recommended that you hire a professional to clean the grease trap, as the job can get extremely messy. If you are doing the job yourself, make sure you empty and clean the trap thoroughly.
While you are at it, go on a grease hunt by washing behind all the fryers, flat tops, stove, and oven with a degreasing agent. When you are finished, use a polishing agent on any stainless-steel units for a healthy sheen.
•
Clean Ice Machine
Failing to clean your ice machine could put a hefty dose of bacteria into each customer's drink. A deep clean of the ice maker is more than a simple empty and scrub down.
To ensure the best job, we recommend that you hire the services of a professional kitchen cleaning service who can scrub down each individual component of your ice machine, and some disassembly may be required.
If you are doing the job yourself, turn off the machine, unplug the water supply and power connection, then discard all the ice. Drain the water from the ice maker while you're at it.
Check your manufacturer's instruction manual for which cleaner to use inside and outside the machine. Some require scrubbing with a nickel-safe cleaner, while others need a mild phosphoric acid solution.
Flush all the water from the system and clean all the condensers to ensure they remain free of food and grease.
Finally, clean all parts that touch water or ice with a commercial kitchen deep cleaning solution or bleach to kill any microorganisms that remain. Be sure and rinse the machine thoroughly after this deep clean and allow it to air dry.
You can then wipe down the exterior before plugging the unit back in and allowing the ice maker to resume its regular operation.
•
Wash Ventilation Hoods
Your monthly deep clean is never complete until your ventilation hoods are sparkling clean.
Vent hoods are designed to keep exhaust fumes from permeating throughout your kitchen. The stainless-steel units also collect grease and debris. Over time, the buildup can occur, leading to a smoky kitchen and risk of fire.
To clean your greasy ventilation hoods, unplug the unit and then remove the grease receptacles, which are usually located on the sides of the hood.
Do not throw the collected grease in the trash, but instead, store it in a dedicated container for later disposal.
Soak the receptacles in hot water with the manufacturer's recommended cleaner, then remove the filters and spray them with a chemical degreaser or all-purpose cleaner.
Scrub the exhaust hood with a degreaser and soft cloth and be sure and clean the fan blades.
This is another job we recommend that you leave to a professional, as restaurant vent hood cleaning can be tedious. Furthermore, all grease must be removed, which is sometimes tough for a do-it-yourselfer, leading to the risk of fire down the road.
By hiring professionals to do the job, you can protect your investment while keeping your commercial kitchen sanitized all year long.
Professionals can also inspect and provide HVAC cleaning services to ensure your restaurant is always well ventilated for a healthy and customer-friendly environment.
Get Regular Commercial Kitchen Cleaning from the Denver, CO Experts
This commercial kitchen deep cleaning checklist should give you some idea of how extensive the process can be. The fact is, while a deep clean of your restaurant sounds simple enough, all the hard work may be too much for you and your staff to manage. There is a lot that can go wrong, and your main goal should always be to keep both your customers and the health inspector happy.
Aps-Hoods can help you do both with complete commercial kitchen deep cleaning by experienced professionals. We service in Denver, Colorado. If you are located in either of those areas and you want a commercial kitchen that is always clean, we have the training and equipment to get any sized job done. Call us now for a free estimate.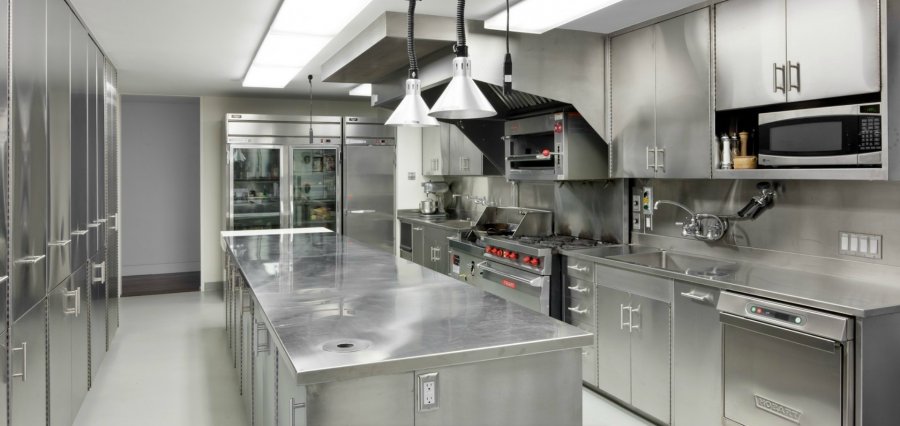 Some more related links: