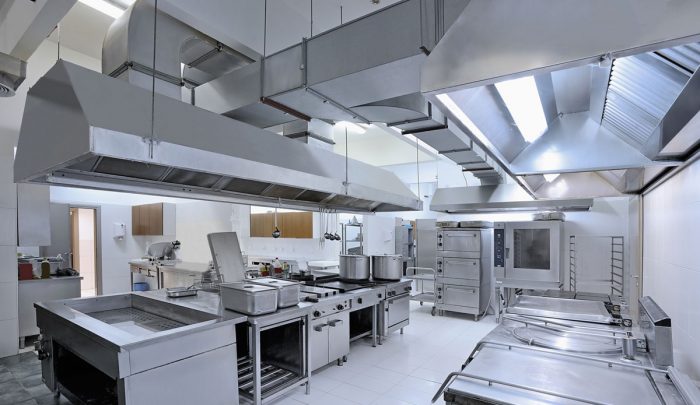 Commercial Hood System – Denver, CO :
A commercial kitchen needs powerful equipment to vent smoke, heat, grease, and food particles away from food and personnel so that they are out of harm's way. Too much smoke can make the air unbreathable and can lead to poor food quality. Your customers also won't want to stick around if there is too much soot in the air. Likewise, too much grease and oil can lead to a breakout of fire. This makes a ventilation hood a wise investment for commercial kitchen owners.
Not only is a commercial hood system necessary for safety and health, but you need the proper ventilation equipment to comply with National Fire Protection Association Standard #96, otherwise known as NFPA #96). That's because commercial vent hood systems are one of your first lines of defense against deadly fire.  
Here is all you have to know about how commercial hood systems work so you can remain up-to-code and protected from fire and poor air quality.
Call APS-Hoods for a free estimate on your Commercial Kitchen Hood Cleaning & Kitchen Exhaust Cleaning needs.
Ventilation Hoods Balance the Air
The primary use of a commercial kitchen vent hood is to remove the foul air and replace it with good, breathable air. The hood itself is located above the cooking appliance. As the appliance does its thing cooking the food, powerful fans will waft all that smoke and debris up through the hood and into the shaft. That is where the magic happens.
From Hood to Fan and Back Again
Every commercial hood system has a powerful exhaust fan that helps to remove the bad air and effluent, which is a fancy word for smoke, grease, heat, and cooking by-products.
The type of fan you have will depend on the appliance you are using, the type of food you cook, and the position of your cooking appliance. Most hoods are positioned overhead, but they can also be wall-mounted.  Ask your ventilation system installation team for details on the type of hood system that is ideal for your commercial kitchen layout.
When the exhaust fan removes the air away from the building, a return air fan will be used to supply make-up air. This is the air that replaces all the cooking effluent so that the air stays breathable, balanced, and safe for customers and staff alike.
As you can imagine, the fans you use have to be powerful enough to remove and replace the air at the proper volumes. Not only that, but your commercial hood system, fans, and ducts help your HVAC system work more easily. After all, can you imagine how much power would be required to force your heating and air conditioning system to fight against grease and smoke to keep your restaurant cool or warm?
All these fans and ducts and your commercial vent hood must work together to keep grease and harmful vapors at bay. As you can imagine, these systems can become soiled and overloaded with grease over time. Most hoods contain grease traps on either side of the hood, and these filters must be cleaned regularly.
You must also ensure that your commercial hood and the vents connected to your hoods and fans are cleaned regularly. Not cleaning your commercial vent hood components can lead to buildup and, eventually, malfunction.
Do you leave the cleaning up to your commercial kitchen staff and possibly your wait staff, as well? You can and many restaurant owners do. However, it is recommended that you combine your staff's cleaning with professional commercial hood cleaning services. Only then can you be assured that the proper degreasing solutions and equipment will be used to keep your equipment clean and working as it should for years to come.
The Necessity of Commercial Hood Cleaning
You will know that your commercial vent hood system is backed up or not functioning normally when you see more smoke in the air than normal. You may smell foul odors from outside the building, and your HVAC system may seem to be on the fritz.
If you are keeping your restaurant's grease trap clean, that can help against backups. But make sure you are also keeping your vent hood traps clean. Clean all fan components and use a powerful degreaser on the equipment and in all the interconnecting ducts.
If the front door of your vent hood opens easily without a suction feeling, that is an indication that your commercial hood system is clogged with grease or other debris. Or that your fans aren't working properly. Either way, it may be time to contact a commercial kitchen vent hood service, who can repair your components and provide you with a full cleaning job, whichever you prefer.
Benefits of Professional Vent Hood Cleaning
Not only will cleaning your commercial hood system keep your kitchen safe and air breathable-clean, but you will save money. An efficient vent hood system uses less energy than one that is clogged and forced to work overtime.
Therefore, to save time, money, and future frustration, contact APS-Hoods, now serving commercial kitchen owners throughout Denver, Colorado. Using the proper equipment and years of experience, we can keep your vent hood system working optimally and cleaned professionally.
Your customers will thank you and you will remain health code and fire code compliant. When your air is pure, the food is untainted and tastes terrific, and you are able to show code inspectors that you have been keeping up with all the necessary ventilation protocols, you'll be doing yourself a great service for your restaurant's success.
Are you ready to keep your kitchen safe and the health inspector at bay? Contact us today to receive a free quote in Denver.