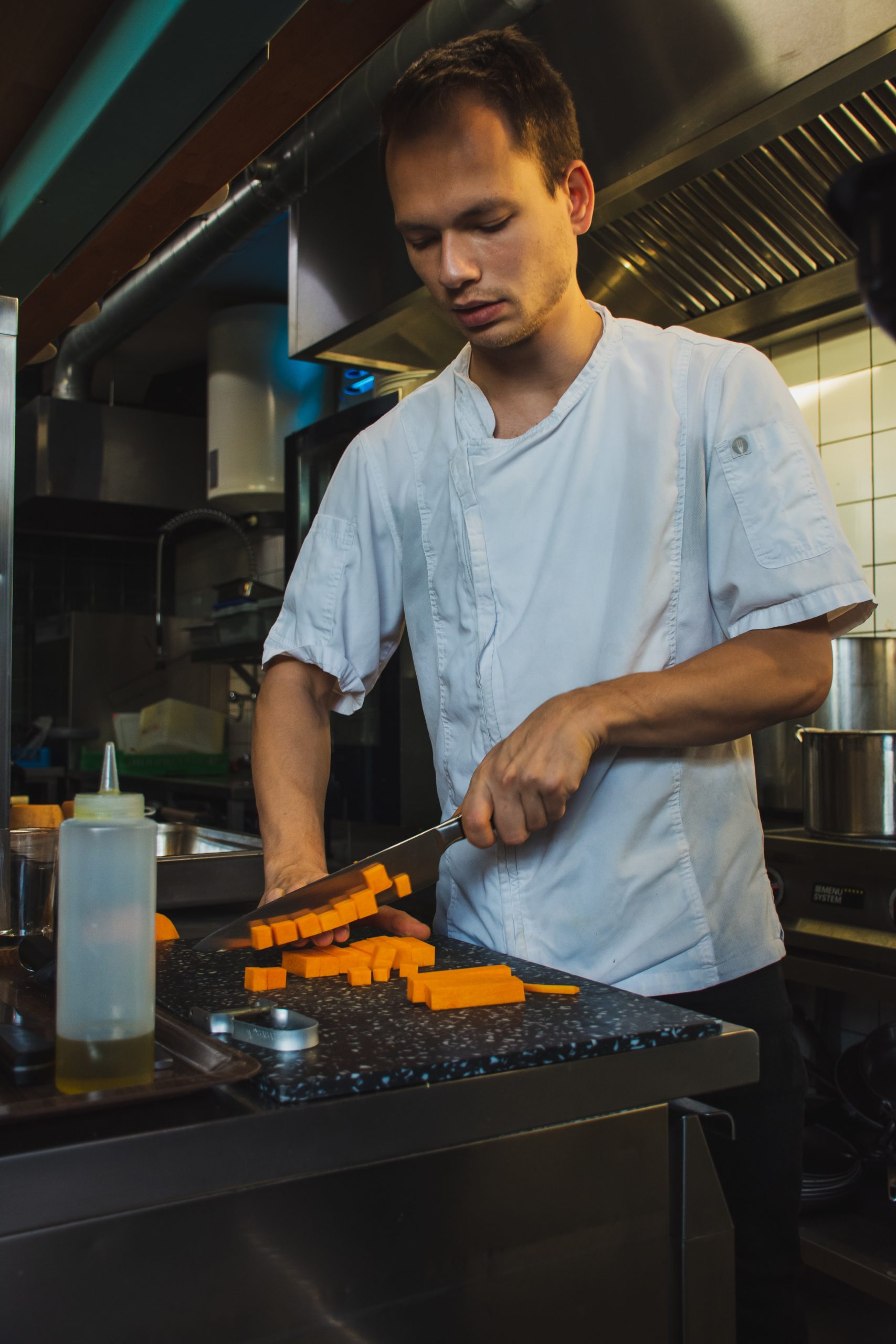 Running a restaurant or other type of commercial kitchen business requires you to maintain your business at every angle. One area where many business owners tend to lack is in the cleaning of all air ducts and ventilation systems throughout the establishment. Over time, the air ducts in a restaurant can become caked with grease and other particulates, leading to restrictions in airflow, and even risk of fire.
As time goes on, your business may require expensive duct repair, because all that gunk can make your air ducts too restrictive for proper airflow to get through, leading to more expenses and danger. Yes, that's right. The more buildup there is in your restaurant duct system, the more impure the air will be in your restaurant. This means that your staff and customers will be breathing air that has been contaminated with cooking and other wastes. Not only that, but your HVAC and air make-up systems will have to work overtime, putting those systems at risk for breakdown.
To make a long story short, if you don't properly maintain your ducts with proper cleaning, you're facing large expenses, the risk of fire, and potentially business disruption if systems need to be replaced or fire causes your business to close.
Here is how to maintain your restaurant's ductwork and all accompanying systems to keep your restaurant code compliant, safe, and presentable for staff and customers alike.
Beware of the In-House Approach to Exhaust Hood and Duct Cleaning
Like most business owners, you'll always look for ways to save. This might mean time or money savings but retaining more of those things is always top priority.
With this in mind, many restaurant owners strive to save time and money by having their staff clean their commercial exhaust hoods, exhaust fans, and all accompanying ductwork.
Here are five reasons why that is the wrong approach.
Your Staff is Not Fully Qualified
Depending on how busy your restaurant gets, your ductwork and associated commercial hood systems likely get exposed to a significant amount of heat and grease. Over time, this grease can build-up, requiring the use of powerful, industrial-size cleaners.
Unless you have restaurant-grade pressure washing machines, powerful and safe chemical degreasers, and all the necessary equipment to clean your restaurant's kitchen exhaust system thoroughly, you're putting your business, staff, and customers at risk.
You May End Up Spending More in the Long Run
Each bit of grease and debris that are left behind by inexperienced staff members can contribute to a future fire hazard. Your kitchen exhaust fan and make-up air systems may also become overloaded, resulting in an impure environment and expensive potential breakdowns.
Your Business Requires Constant Cleaning
Your staff would have to work overtime to maintain the type of restaurant hood and duct cleaning that would be required to keep your business safe from fire and other risks all year round. Your staff is too busy opening for business, serving customers, and closing down at night. In many cases, professional commercial duct and hood cleaning requires the cleaners to work long into the night, when your business is closed to the public. Unless your staff is willing to work overtime, costing you even more money, it's best to hire professional vent hood cleaners for commercial kitchen establishments.
You Must Remain Fire Code Compliant
Only professionals who are experienced with commercial hood installation and cleaning will understand how to maintain a clean environment that will pass any local and Federal agency inspection.
Your staff simply don't have the certification or expertise to handle a job of such magnitude. Commercial vent hood cleaning and kitchen duct cleaning are major jobs that require professional-grade tools and years of experience, which are qualities your staff is unlikely to possess.
You'll Save More Time & Money with the Experts
When you hire ventilation hood installation and repair experts to clean your commercial kitchen duct systems, you know you're getting a fast and efficient service that works with your schedule.
You won't have to pay staff overtime to clean your ducts and other commercial kitchen equipment, nor will you face expensive mistakes by going the in-house cleaning route.
Expert vent hood and duct cleaners have the tools, chemicals, steam, and related machines and techniques to rid your restaurant of grease and buildup while keeping your business code compliant.
How ventilation systems Hoods & Ducts Are Cleaned in a Commercial Kitchen Environment
When it comes time to find a commercial kitchen cleaning service, you want to look for a few qualities.
Experience
You want to know that the service you hire to clean your commercial ducts, hoods, exhaust fans, and HVAC systems has worked on your type of business and equipment before. Having this level of experience allows the cleaning professional to troubleshoot any problem quickly, leading to less costly and more efficient repairs.
Expertise
Your commercial vent hood cleaning service should employ only those who understand commercial kitchens and the ways in which they operate. The service personnel performing the duct cleaning should be familiar with the top brands and know-how to simultaneously repair ductwork, vent hood systems, and replace equipment if necessary.
One-Stop-Shop
Only a commercial kitchen cleaning equipment that provides all its services in-house can fully help your business remain safe and compliant. This means that the service personnel can perform all duct cleaning, service, and repairs without having to turn to expensive and potentially inexperienced contractors.
Budget-Friendly
Professional ventilation hood installation, maintenance, and repair experts know that you require regular cleaning services in order to remain code compliant. The best companies work with you to give you a competitive quote on all commercial kitchen cleaning services without hidden fees or other charges.
Local
The company should operate close to where your business resides. This is because you never know when you might require emergency ventilation hood cleaning or grease trap cleaning, for instance. With grease and oil and high heat providing such a risk of fire and debris-filled air, you want to know that professional commercial kitchen cleaners are always just a phone call away.
How a Professional Vent and Duct Cleaning Company Will Clean Your Restaurant
The first step to cleaning your commercial ventilation hood systems and all associated ductwork is to come out and assess your restaurant. This step is usually completed when you get your free estimate, which most commercial kitchen cleaners do provide.
Look over your estimate carefully and ensure that it includes everything necessary in order to prevent dangerous grease buildup and prevent future problems.
This includes a thorough cleaning, maintenance, and potentially repair of all ventilation hoods, exhaust fans, ductwork, HVAC systems, make-up air systems, grease trap, and all other relevant components.
A professional will be able to walk you through this process to ensure you have peace of mind that your ventilation and duct hood cleaning are always in the best of hands.
Working Within Your Schedule
The act of providing your restaurant with a comprehensive duct and hood cleaning is not a quick affair. It will take hours, so generally, these services are performed during the times when your business is closed.
If your restaurant business is open 24/7, this won't prevent the commercial kitchen cleaners from doing a thorough job. It just means that you'll need to find an experienced service that will provide the least disruption to normal service as you have your systems scrubbed and made code compliant.
Shutting Down Necessary Systems
In order for your ducts and ventilation hood systems to be cleaned as you prefer, all necessary appliances, machines, and equipment will need to be switched off. This is to ensure that there is no harm to personnel, as well as to protect the safety of your equipment. These machines are easier to clean when they're not in operation.
Covering Appliances & Machines
The cleaning of commercial kitchen equipment, ducts, hoods, and exhaust fans can get messy. For this reason, all cooking and other surfaces will be covered to keep them clean and safe.
Pair and Split Up
Most of the time, your commercial ventilation hood and duct cleaning will be performed by pairs of experienced personnel. Once all the necessary equipment has been shut off, the next step is for your commercial kitchen cleaners to split up. One will go up to the roof while the other will stay in the kitchen.
Commercial Ductwork and Ventilation Systems Pressure Washed
Once on the roof, the commercial kitchen cleaning expert will use powerful machines and chemicals, as well as steam, to pressure wash any lingering grease out of the ductwork. Once the cleaning begins, all the flushed away grease and debris will flood down into the kitchen area. This is why it was necessary to cover everything.
The kitchen vent hood cleaning expert inside the kitchen area will use equipment to catch all the flushed grease and debris, allowing it to be responsibly disposed of.
With all of the restaurant's HVAC, make-up air systems, and other roof-based ventilation equipment clean and disinfected, both commercial kitchen cleaners will meet back up in the kitchen, where the true cleaning begins.
ventilation systems Hood Cleaning
The areas over the stoves and other commercial kitchen equipment are most prone to grease and debris buildup. These areas, if not cleaned properly, can become literal hotbeds for the breakout of fire. These systems will be disassembled and cleaned inside and out. This includes ventilation hoods, exhaust fans, and any associated ductwork.
Since you took the time to find a one-stop-shop for commercial kitchen cleaning services, you know that your personnel will be able to replace fans, wiring, ductwork, or any other systems that appear to be defective during the cleaning process.
Commercial Duct Cleaning
Next, the kitchen cleaning experts will ensure that all ducts are flushed of grease buildup and debris that can cause your HVAC system to malfunction and kick dangerous impurities into the air. A professional kitchen cleaning service will test all of your equipment to ensure that it's always operating as it should. These tests are crucial for preventing future problems and saving you loads of time and money in the long run.
The Cleanup Process
The goal of a professional commercial kitchen cleaning service will be to provide you with fast, thorough, and efficient service. That means that you can expect your cleaning crew to work quickly as they flush grease from the roof to the kitchen, then clean the kitchen area with meticulous attention to detail.
During this cleanup process, all the ventilation hoods, exhaust fans, and ducts will be checked for quality assurance, and all appliances and machines uncovered for the next business day.
When the service is complete, you'll be able to walk into your kitchen smelling cleaner, more breathable air, and witnessing your ventilation hoods, ducts, exhaust fans, and all associated systems gleaming from a cleaning job well done.
We are known for our high attention to detail and the ability to clean even the most elaborate of the duct and vent hood systems for all types of restaurants and commercial kitchen establishments.
Call APS-Hoods for a Free Quote
Your kitchen business may be serving customers on the daily, but you're doing yourself a disservice if you fail to clean your ventilation hoods and ducts properly and on a regular basis.
If you live in and around Denver, Colorado, call APS-Hoods and we can provide you with professional commercial kitchen cleaning services. Our experts have years of experience and are trained on all top brands of commercial kitchen equipment.
From ventilation hoods and exhaust fans to ductwork and every other system in between, APS-Hoods can provide you with a free quote on thorough cleaning that gives you peace of mind and keeps your business code compliant.
Call APS-Hoods for a free estimate on your Commercial Kitchen Hood Cleaning & Kitchen Exhaust Cleaning needs.
How Often Do Each of Your ventilation systems Need to be Replaced?
The ventilation system in your commercial kitchen or food prep facility can prevent the air from becoming polluted and can also prevent fires. If you have recently installed your vent hoods or it's been a couple of years, replacement isn't likely. Even in the busiest of kitchens, these components are designed to last years into the future, and many come with warranties that protect against the risk of fan breakdowns and other anomalies. Yet if you have had your vent hood system for fifteen years or more, you may want to consider a replacement. Here are the signs to look for when you're wondering if a new vent system may be worthy of your investment.
Signs to Replace Your Vent Hoods
Tons of Grease Buildup
If anything will catch on fire quickly, it's a grease-laden vent system. When grease gets caked into your fans and vents and throughout the various components that comprise your system, the slightest spark can create a dangerous situation you won't want to encounter. To save your employees, equipment, building, and customers, keep your ventilation system free of grease at every turn. While some buildup is normal during the average shift, too much is a hazard. Use a heavy-duty cleaner nightly and schedule regular vent hood cleaning and maintenance to keep your equipment grease-free. If the grease builds up over a long period of time, it can turn into an uncleanable mess, and replacement might be your best and least-costly option in the long run.
Working Too Hard
If your ventilation systems is huffing and puffing and yet seems to be pushing even less air through than before, that's a good sign that your vent system needs to be overhauled or replaced. In some cases, a simple fan replacement can do wonders, but only a professional ventilation hood expert should make that call. Scheduling regular maintenance can keep the problem of not enough airflow in check, but outdated systems may be helpless and replacement may be your only recourse.
Changes in Production
If you have recently changed your menu or if you are suddenly producing more volume in your kitchen, your old vent hood system may not be able to keep up. This isn't something you want to find out weeks into the new way of doing business. It's far better to schedule a maintenance and cleaning call if you do suspect that your equipment isn't in the best working order before things get out of hand. New and energy-efficient vent hoods by top manufacturers will keep production ramping up without sacrificing quality, and you'll even save on energy costs.
Changing Your Vent Hood Filter
Of course, some ventilation systems can seem to be malfunctional when changing your filter is all the situation calls for. Make sure you are changing or at least cleaning your hood filters regularly to prevent grease buildup and other problems. And, of course, to keep your ventilation system operating like new.
Conclusion
The bottom line is that you should never make the decision to replace your vent hoods all on your own. Get an expert's opinion by scheduling regular vent hood cleaning and maintenance or by calling for a free estimate on a complete replacement. Only a professional will be able to give you an honest assessment of whether your equipment needs to be maintained, fixed, or replaced altogether. For more information on vent hood maintenance, cleaning, and replacement, visit Aps-Hoods, your choice for commercial kitchen ventilation systems, food truck construction, and more. Authorization to post is granted, with the stipulation that Millionairium and Farazandeh are credited as sole source. Linking to other sites from this document is strictly prohibited, with the exception of herein imbedded links.