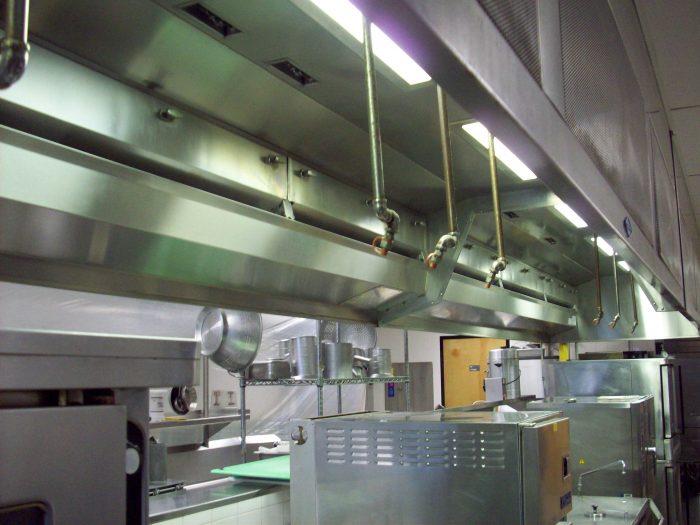 Hood Exhaust Cleaning – Denver: Every restaurant owner strives to maintain a clean restaurant, but this task becomes even more difficult the busier your eatery gets. Keeping your HVAC system clean is a significant aspect of restaurant cleanliness, and this holds especially true for your commercial kitchen exhaust hood system.
The Importance of Clean Vent Hoods
Having proper ventilation in your restaurant's kitchen is critical for employee and customer health, but also food sanitation. When grease, soot, and debris are ventilated safely from the kitchen and out of harm's way, the results are myriad: Lower utility bills, increased employee productivity, and even calmer employees and customers. Food quality will also be improved, leading to a restaurant that is always highly reviewed and visited.
The Dangers Posed by a Dirty Vent Hood System
A poorly ventilated kitchen, on the other hand, poses numerous risks to personnel and customer health, and it can hinder foot traffic. After all, who wants to spend time in a restaurant where the air is arid, unhealthy, and stinky? Few, if anyone, will want to spend time in a bistro, café, or another type of restaurant with that type of air quality. Let your HVAC and vent hood exhaust system go uncleaned and unmaintained for too long, and your local health inspector might just penalize you or shut-down your restaurant entirely.
How to Clean & Maintain Your Exhaust Hood System to Improve Restaurant Quality
Scrub Your Vent Hoods & Ducts
Your vent hoods and ducts are responsible for whisking away all the impurities produced by the heavy cooking your kitchen is accustomed to engaging in daily. To properly clean the vent hoods and all the ductwork they're attached to, it helps to disassemble the system as much as you can. This lets you get to the minuscule parts for a thorough and detailed cleaning. Whatever you do, make sure you unplug all equipment before cleaning. This helps you prevent any surprises, such as a dangerous electric shock, during the cleaning process. Once the power source is disconnected, remove the grease receptacles on either side of each hood, as well as the filters. Soak the receptacles and filters in hot water that has been treated with a degreasing agent and leave them to soak while the cleaning process is ongoing. Apply the same degreasing agent to a soft cloth and give the vent hoods themselves a good scrubbing. You may have to spend some time getting the vent hoods and ducts free of all grease and debris. However, this meticulous job is necessary if you want a clean vent hood system that's free of grease and safe from the outbreak of fire.
Degrease the Exhaust Fans
When we refer to exhaust fans, we're talking about any fans that are responsible for directing grease and debris away from your kitchen, which includes all fans on the rooftop. The fan blades and motors that power those blades must be treated with the same attention-to-detail that you used on the ventilation hoods. Any grease that's left behind on the fan blades themselves or within the motor casing can cause a potential shutdown in the future. At the very least, your system can run inefficiently with caked up grease on the blades and motors, leading to more expensive energy costs and the deadly risk of fire. Don't take the risk. Instead, spend lots of time ensuring the fan blades and motors are spotless before continuing on to the next stage of proper vent hood cleaning and maintenance.
Clean Your Grease Trap
A busy kitchen is never without a full grease trap. For optimal results and to prevent the outbreak of fire, it's best to clean your grease trap every four to six weeks. If you let your grease trap go too long between cleanings, not only can grease and food particles clog the sewer or septic system, causing an inconvenient and very expensive shut-down, but the grease trap can overflow, leading to sewer backup and a very messy commercial kitchen cleanup job. Proper grease trap cleaning requires the necessary equipment. All personnel should wear a gas mask, coveralls, or at least clothing that covers the skin, and rubber gloves. In order to clean a grease trap, it helps to understand how they work. The baffles inside the trap effectively separate the flow of wastewater from fats, oils, and grease (otherwise referred to as FOG). The FOG rises to the top of the tank, which allows the cleaner water to pass through the trap before it enters the sewer system. Now that you know how the grease trap works, you're ready to begin cleaning. First, empty the water from the 3-compartment sink or automatic dishwasher and wait for the water inside the grease trap to cool, which usually takes around ten minutes. Next, remove the lid, which in most cases involves a crowbar. In some cases, a wrench will be necessary to remove the bolts in order to open the grease trap so that the inside can be emptied and cleaned. Using a scraper, begin removing the grease sludge from the top of the tank. This layer can grow to be up to two inches thick in some cases. Once all the sludge has been removed, the remaining contents of the grease trap must be bailed out. A shop-vac can be used to clean out the remaining sludge in the bottom of the trap, then do your best to clean all grease and debris from the pipes within the trap. Once cleaned, the lid can be replaced, and normal activity can resume. The sludge will need to be thrown away properly. In some cases, this requires a double garbage bag and kitty litter to solidify the material before disposal.
Perform a Deep Fat Fryer Inspection
If your restaurant uses a deep fat fryer, a thorough inspection should be made to ensure your unit is performing optimally. As a general rule, you should inspect and deep clean your fryer every three to six months. The cleaning of a deep fryer is referred to as a "Boil out," which is the term for emptying out and replacing the old oil with fresh, new oil. To begin, drain the deep fryer and discard all the oil, grease, and fat into an oil caddy or pre-approved oil discharge container. A fryer cleaning rod can then be used to remove any remaining debris from the drain line. Before refilling the fryer, rinse the fryer with hot water to remove the excess undrained oil and fat. Fill the fryer with cool water to ¾" from the top. Next, add a deep fryer cleaning agent, which will work to scrub the rest of the fat away. Boil the solution for twenty minutes, then drain the fryer slowly. Once the water has completely drained, use a long-handled brush to clean the sides, top, and each of the heating elements. Rinse the fryer thoroughly to remove any oil residue, then add your new oil. While you're at it, add fry powder or oil stabilizer to the fresh oil, which will help the solution last longer between cleanings.
Clean the Floors, Walls & Ceiling
FOG can also land on the floor, where it can hide in all the nooks and crannies. It can splatter on the walls and even get onto the ceiling tiles. Most restaurants have specific cleaning protocols for staff to follow at night. The same establishments may have cleaning crews that come and do a regular and more thorough job. Still, it pays to be vigilant to keep your restaurant and personnel safe, as well as to keep the health and fire inspectors at bay. It is important to instruct staff and your cleaning crews to use a degreasing agent on the floors, walls & ceiling, along with their usual cleaning solutions. Any emulsified grease that results from this cleaning should be squeegeed down the drain. A professional commercial kitchen cleaning team may repeat this process five to seven times, depending on how much grease is produced by the degreasing process.
Maintain Your Equipment to Keep Your Restaurant Clean & Safe
In addition to making sure your kitchen is debris and grease-free, it helps to check and maintain your commercial kitchen equipment. Inspecting your exhaust hoods, fans, grease trap, and the deep fryer is necessary to prevent malfunctions and downright shutdowns. If parts or entire appliances need to be replaced, you'll want to discover the fact during one of these checks and not during a lunch or dinner rush. You have been forewarned. When it comes to the installation, maintenance, and cleaning of your exhaust hoods and all associated equipment, you should only trust Aps-Hoods, now serving clients throughout Denver, Aurora, Lakewood, and Centennial. Contact us now for a free estimate and keep your restaurant clean, safe, and busy all year round.