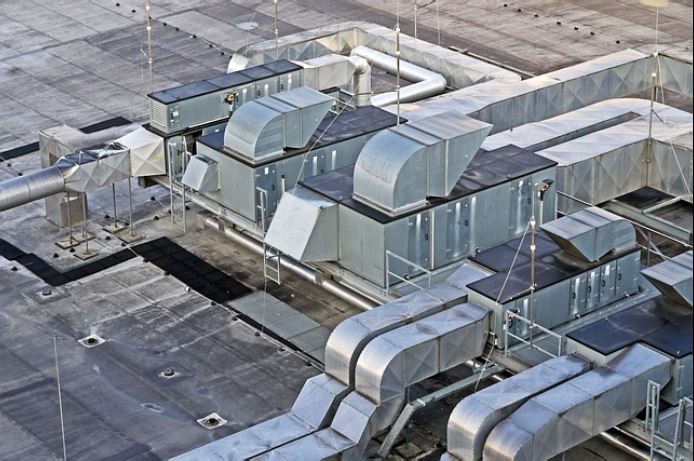 Image Source
Denver, CO –
While commercial kitchens always run hotter than dining areas, in the summertime–restaurant kitchens become can become hazardously hot. Furthermore, restaurant owners find that their energy bills–from cooling, fan use, and unbalanced air, etc.–increase dramatically. This ends up leeching resources from their profits.
It also makes summer an ideal time to fine-tune and check your commercial kitchen HVAC system professionally. Here are some common problems that may be plaguing your restaurant in the warmer months:
Call APS-Hoods for a free estimate on your Commercial Kitchen Hood Cleaning & Kitchen Exhaust Cleaning needs.
Cool Air Is Pulled Out Through Exhaust Fan
Is your air conditioning bill incredibly high, while your establishment always seems inadequately cool? What may be happening is that your cold, conditioned air is being circulated out of your exhaust hood due to a lack of make-up air. Instead of just doing its job of pulling gasses and hot air from above the stove, the exhaust hood can sometimes suck out the desirable air from inside your building. This often creates a vacuum effect in your entire restaurant, where it becomes difficult to open doors without them slamming you upon closing. The solution to this problem is as simple as
installing a makeup-air unit
.
This kind of unit in your kitchen will generate much needed negative air pressure that will disallow unpleasant smells from flowing out into your general building, while also not letting your air-conditioned air to so easily escaping through the vents.
Grease Filters Making Your Ventilation Ineffective
Spring, and especially summer, tend to be the busiest and most profitable month for any restaurant. People are out and about on the town, looking for new eateries to discover.  This brings many more people to your establishment than during the harsher seasons of the year. However, the increased amount of cooking also results in clogged grease traps, which may need to be changed out more often than recommended.

Clogged grease filters can cause your kitchen to overheat. Then, your air will become unclean, as a dirty filter cannot function at top capacity. This will cause both the kitchen and dining area to become smoky or otherwise unpleasant in odor. Moreover, your air conditioning bill will rise ever higher, while your exhaust fan will need to work harder to compensate for all these issues. This makes for employee health dangers, customer discomfort/dissatisfaction, and higher bills for you!

It is easy for even the most disciplined restaurant crew to forget to monitor their grease filters, but it is necessary to keep tabs on the situation to maintain the optimal function of your HVAC system. It is smart to schedule routine filter changes throughout the Spring and Summer when business really picks up.

Learn more about: Grease Management Tips for Restaurant Cleanliness & Fire Prevention For an air balancing test to determine whether your cold air is being cycled out of your establishment or, for grease filter service, call APS Hoods. We will help your restaurant to remain safe and help you to save money on energy bills. Authorization to post is granted, with the stipulation that Millionairium and Farazandeh are credited as sole source. Linking to other sites from this document is strictly prohibited, with the exception of herein imbedded links.